Michigan grape scouting report – Aug. 11, 2021
Veraison season is here. Third generation of grape berry moth is predicted to be starting in southern Michigan.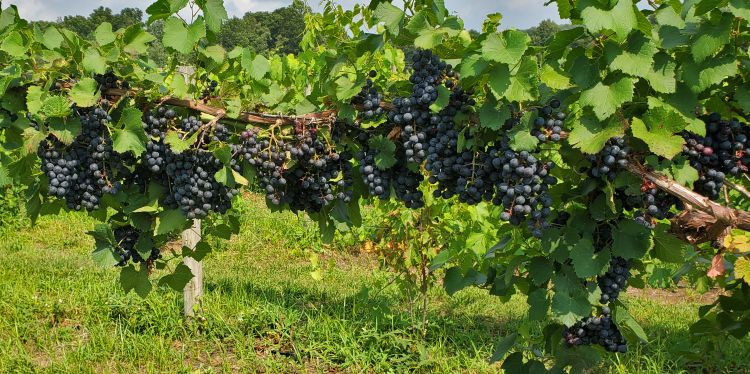 Announcement
There will be no scouting report next week. The Michigan State University Extension grape team will be busy discussing how to assist Michigan's grape growers even better next year. Don't worry, the scouting reports will resume in two weeks.
Weather
Last week started cool and dry with high temperatures in the mid-70s statewide. Temperatures climbed through the week, topping out in the upper 80s in southwest Michigan, mid-80s in the rest of the state. Higher humidity returned mid-week bringing unsettled air. Scattered showers brought variable rain starting Friday to the southwest region, statewide on Saturday. The unsettled weather pattern will continue through much of this week. Total rain amounts from this past week so far are 0.5 to 3 inches in southwest Michigan, 0.25 to 2 inches in southeast Michigan, and 1 to 3 inches in northwest Michigan.
The heat and humidity will continue in southern Michigan with high temperatures in the upper 80s, mid-80s in northern areas. Scattered chances of rain are expected through this week. A cold front will pass through the state beginning in the northwest on Thursday, reaching the southeast by Saturday.
Last week, we picked up an average number of growing degree days (GDD),145-150 GDD base 50. The southwest region is 445 GDD base 50 ahead of the northwest region. Statewide, we are only a couple days ahead of the five-year average.
Northwest Michigan GDD summary from March 1 – Aug. 9, 2021
Southwest Michigan GDD summary from March 1 – Aug. 9, 2021
Southeast Michigan GDD summary from March 1 – Aug. 9, 2021

Northwest stations

GDD 50 F

Petoskey (Petoskey)

1469

Traverse City (NWMHRC)

1596

Old Mission (Old Mission)

1553

Average for northwest region

1519

Average last week

1374

Southern stations

Benton Harbor (SWMREC)

2007

Lawton (Lawton)

1991

Fennville (TNRC)

1793

Average for southwest region

1964

Average last week

1814

Romeo (Romeo)

1899

Average for southeast region

1928

Average last week

1781
Vine growth
In southwest Michigan, veraison has begun. Red hybrid wine varieties such as Marquette, Regent and Geneva Red are in different levels of color change. Vinifera grape cultivars such as Cabernet Sauvignon, Tempranillo, Pinot gris, Pinot meunier and Petite Sirah are also showing signs of early veraison. There have also been reports of veraison beginning in Concord as well as the table grape, Vanessa.
In northern vineyards, some advanced white varieties like Pinot gris and Pinot blanc are showing signs of veraison and a few berries are also changing color in Pinot noir. See this chart for grape growth stages.
Horticulture
Hedging is being done in vineyards in northern Michigan now. Hedging's main goal is to remove excess primary and lateral shoot growth from the canopy's top and sides, preventing shading and shoot entanglement between vine rows and allowing worker and tractor traffic through the vineyard. Hedging reduces canopy size by cutting primary and lateral shoots, but it does not directly reduce the vine's inherent vigor. When done in early to midsummer, hedging can further promote growth by inducing lateral shoot growth in vigorous sites.
Hedging is usually performed from fruit set to véraison, when primary and lateral shoots begin to bend above the last set of catching wires (45-degree angle). It is important to keep leaves, fruit and developing buds exposed to light in dense canopies with excessive vegetative growth. Hedging too early in the growing season should be avoided because it can cause lateral growth and canopy density to increase.
At this time of the season, clusters greatly benefit from consistent sun exposure to reach the target fruit maturity. Together with leaf removal in the cluster zone, it is also important to apply crop control at the pre-veraison stage. This can be done using the green drop technique. Green drop is a grape-growing technique used to ensure the harvest of only the highest quality grapes. Grape clusters that are unlikely to ripen need to be removed. Near the end of veraison "green" fruit that are lagging behind the veraison stage are removed. This reduces the variability in the ripening of the fruit to be harvested.
Diseases
At this time of year, the main diseases to focus on are downy mildew and powdery mildew. These diseases are causing particular trouble for growers this year. The recent waves of excessive rain and high humidity have created good conditions for repeated infection events. If they are permitted, fungicides that are broad-spectrum/contact like captan are effective products for resistance management. Viticultural practices that reduce canopy wetness such as good irrigation timing, leaf removal and good weed management can reduce these diseases in a vineyard.
The main concern with downy mildew at this time is late season defoliation. So far this season, we have observed downy mildew more frequently than normal due to the high relative humidity and longer dew periods. Defoliation will impact winter hardiness and survival, as well as health of the vine next year. Downy mildew is caused by a fungal-like organism, so many site-specific systemic fungicides that target other spring diseases do not work on downy mildew. Effective fungicides for downy mildew include products in FRAC codes 4, 11, 21, 40 and 45 as well as phosphorus acid salts and some biologically-based products.
If powdery mildew is the only concern, there are a number of products that are effective (FRAC codes 3, 7, 11, 13, U8, 50, and U13 as well as sulfur).
Since many parts of the state are around veraison, this is also an important time to consider botrytis management. Several strategies contribute to good botrytis bunch rot management including opening up the canopy, properly applying fungicides, and using resistant cultivars when possible. Good botrytis control depends on getting good coverage. Just before bunch closure is the last chance to apply a fungicide to the inner part of the developing cluster. The most effective products for botrytis are site specific and prone to resistance development. A Michigan Grape Fact Sheet is now available for managing botrytis bunch rot.
Remember as you choose a fungicide, check the guide for potential phytotoxicity of certain sprays on Concord grapes especially (this has been particularly noted for fungicides like Revus Top). Phytotoxicity risk is higher with high temperatures and quickly growing vines. Also there is a significant phytotoxicity risk with specific contact products such as copper and sulfur for Labrusca type grapes (Concord and Niagara).
It is important to remember to manage fungicide resistance and avoid applying similar products back-to-back. This is particularly important with site-specific systemic fungicides. To reduce the development of resistance with systemic fungicides:
Do not make more than two applications per season of the same FRAC code.
Do not make two consecutive applications of the same FRAC code.
Rotate with unrelated fungicides in a different FRAC code that have efficacy on the target pathogen.
Include a contact multisite fungicide into a program (e.g., sulfur, captan, oils or biological fungicides).
Black rot has been showing up in several vineyards around the state in the past week or two. This is extremely late in the year. The infections likely occurred several weeks ago but symptoms are just becoming visible now. The same recent wet weather conditions that have been favorable for powdery and downy mildew development have also increased the severity of the recent black rot infections. Some treatments for powdery mildew will also be effective in managing black rot infections but at this point it is really too late to target these infections.
This is a good time to scout for suspicious issues related to other vine stressors. Many of these problems can be abiotic including nutrient related issues and graft incompatibility, but some of the biotic problems can be caused by grapevine trunk diseases or grapevine viruses. If you are interested in taking samples and testing, you can send them to MSU Plant & Pest Diagnostics. Please see these articles on grapevine trunk disease and sampling for grapevine viruses.
Insects
The beginning of egglaying from the third generation of grape berry moth was predicted to begin last week in southern Michigan. The earliest eggs should be hatching now. Management of this generation through August is important because this generation has the potential to reduce harvest.
Contact insecticides targeting the emerging larvae should be applied 100 GDD base 47 after the start of egglaying (about four days later). Calibrate sprayers to target sprays onto clusters where the eggs and larvae are. Use enough water and air to ensure canopy is penetrated and clusters are completely covered.
There are a number of broad-spectrum insecticide options that have activity against young larvae such as Altacor, Delegate and Verdepryn. Imidan is also effective against grape berry moth but must be applied in water that is pH 5-5.5 for maximum activity, plus it has a 14-day re-entry interval. Multiple pyrethroid insecticides and the carbamate Sevin are also registered and can provide a week of protection, but they can also disrupt biological controls. For more detailed information to help with choosing the right insecticide, see: Mid-season management of grape berry moth
So far this season, the levels of berry moth infestation have been much lower than usual across southwest Michigan. This is good news and we hope it stays that way. With the timing of this third generation, we expect some of the larvae developing in August to continue through to adult stage for a fourth generation. This is just an early warning to keep an eye on this as we approach September and to continue scouting your own vineyards, especially if you have had historically high populations of grape berry moth. We will have more information on this in later reports.
Upcoming events
Longtime Michigan State University Extension small fruit educator Mark Longstroth is retiring from extension duties. He is having his retirement party on Aug. 18 from 4-7 p.m. at Modales Winery, 2128 62nd St, Fennville, MI 49408. All are welcome. Please RSVP. Contact Melissa Franklin at 269-657-8213 or frank126@msu.edu by Aug. 10 to RSVP or any time for more information on the event.
The Michigan Grape Society will be sponsoring one last evening Grower's Social event before harvest begins. This event will be hosted by Michigan State University Extension at the Southwest Michigan Research and Extension Center on Thursday, Aug. 26, 2021. The event will begin at 6 p.m. with a discussion about season extension and winter protection through the use of high tunnels in grape production. Food and drink will follow. There will be limited attendance. Pre-registration is highly recommended.
Related articles