Michigan grape scouting report – July 22, 2020
Summer meeting season is here. Look here for a list of upcoming grape educational events.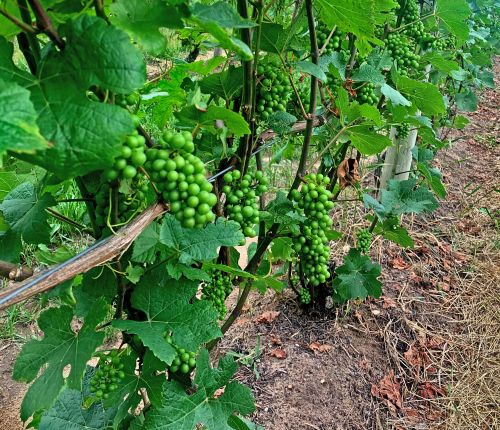 Weather
Last week's weather was very variable. For many days, highs were near 80 in northern grape areas of Michigan, and in the mid-80s in southern areas. Saturday, July 18, was hot and humid with highs around 90. Cold fronts came through Wednesday-Thursday and Saturday-Sunday, bringing cooler air and rain. Southwest Michigan received about a half-inch from the two rain events. The southeast region had over an inch. The northwest saw over 2 inches. The next week will see a similar pattern, with highs in the 80s to around 90 and chances of rain on Wednesday, July 22, and again Sunday-Monday.
With the variable week, we still picked up an average number of growing degree days (GDD) last week: 145-170 GDD base 50. The southwest region is 365 GDD base 50 ahead of the northwest region.
Northwest Michigan GDD summary from March 1 - July 20, 2020
Southwest Michigan GDD summary from March 1 - July 20, 2020
Southeast Michigan GDD summary from March 1 - July 20, 2020

Northwest stations

GDD 50 F

GDD 47 F from wild bloom (grape berry moth model)

Petoskey (Petoskey)

1049

816

Traverse City (NWMHRC)

1152

890

Old Mission (Old Mission)

1094

850

Avg for NW region

1110

Average last week

965

Southern stations

GDD 50 F

GDD 47 F from wild bloom (grape berry moth model)

Benton Harbor (SWMREC)

1513

1270

Lawton (Lawton)

1488

1192

Fennville (TNRC)

1349

1097

Avg for SW region

1476

Avg last week

1310

Romeo (Romeo)

1403

1130

Avg for SE region

1423

Avg last week

1252
Note: Wild grape bloom dates are estimates. See "Mid-season management of grape berry moth" for bloom dates.
Vine growth
Grapes in southern Michigan are at berry touch. Tight clustered varieties such as Vignoles are at bunch closure. Many growers have been doing mechanical leaf removal and continuing shoot positioning on most vinifera varieties. This allows sprays to reach the clusters more easily, increases air circulation and improves sunlight exposure. Now is the time to accurately estimate vine yields. With a good estimate, you can determine if, when and how much fruit you should remove at thinning time. The Michigan State University Extension bulletin "Predicting Harvest Yield in Juice and Wine Grape Vineyards (E3186)" provides tools to reduce both annual yield and quality variability among years.
In northern vineyards, most vinifera are at buckshot berry stage. Some tight cluster varieties are at berry touch or bunch closure. Growers are starting to perform leaf removal while they are tucking shoots in the catch wires. See this chart for grape growth stages.
Diseases
For an overview on the general diseases and management options, see "Early season vineyard disease management." At this time of year, the disease focus for most grape growers around Michigan is on downy mildew and powdery mildew management. Powdery and downy mildew leaf and cluster infections have been observed statewide. Black rot cluster damage is showing up throughout the state. The window to control this disease has closed for most varieties in southern Michigan, and is closing for growers in northern areas of the state.
Downy mildew requires wet leaves to develop. Rain is the most common source for leaf wetness. As little as 0.5 inches of rain is enough, but warm nights with high humidity and heavy morning dews such as those most have experienced in the last few weeks are also good for development. During buckshot berry, downy mildew infections that occurred in previous weeks may become visible, especially with enough moisture. Fungicides applied later than one week post-bloom protect against defoliation but have limited control over fruit infections.
Unlike the other grape fungal diseases, powdery mildew doesn't need leaf wetness to infect, just humid conditions. Even with low ambient humidity, the humidity inside the shaded canopy is higher. Opening up the grape canopy for air movement helps reduce powdery mildew and allows better spray penetration. Shoot positioning and cluster zone leaf removal can help. For more information on how weather conditions affect powdery mildew development, see "Why some seasons are worse for powdery mildew" from Good Fruit Grower.
With several grape varieties at bunch closure, now is an excellent time to control botrytis bunch rot. This is particularly important in vinifera and hybrid grapes. Several strategies contribute to good botrytis bunch rot management. These include opening up the canopy, properly applying fungicides and using resistant cultivars when possible. Good botrytis control depends on getting good coverage. Fungicide resistance management is important for botrytis control. The most effective products for botrytis are site specific and prone to resistance development. A new Michigan Grape Fact Sheet is now available for managing botrytis bunch rot.
A complete list of fungicides for all these diseases with efficacy and other details can be found in the E154 Michigan Fruit Management Guide from Michigan State University Extension. Check the guide for potential phytotoxicity of certain sprays on Concord grapes especially (this has been particularly noted for fungicides like Revus Top). Phytotoxicity risk is higher with high temperatures and quickly growing vines.
Insects
Note: Thoroughly scout before assuming insects are an economic problem.
Grape berry moth populations are active this year with the usual variation among vineyards, highlighting the importance of scouting. In southwest Michigan, we are now finding mature larvae in clusters. Egglaying should have started at the beginning of the week for much of northern Michigan.
Growers with problems from grape berry moth last year should scout their vineyards and see how sprays applied earlier in July have worked. For high pressure sites, a follow-up spray two weeks after should be applied to reduce pressure from grape berry moth until we reach the growing degree day targets for the third generation, which will occur in August. Previously applied insecticides have probably lost their activity by now, so in high pressure sites, further protection will be needed through late July.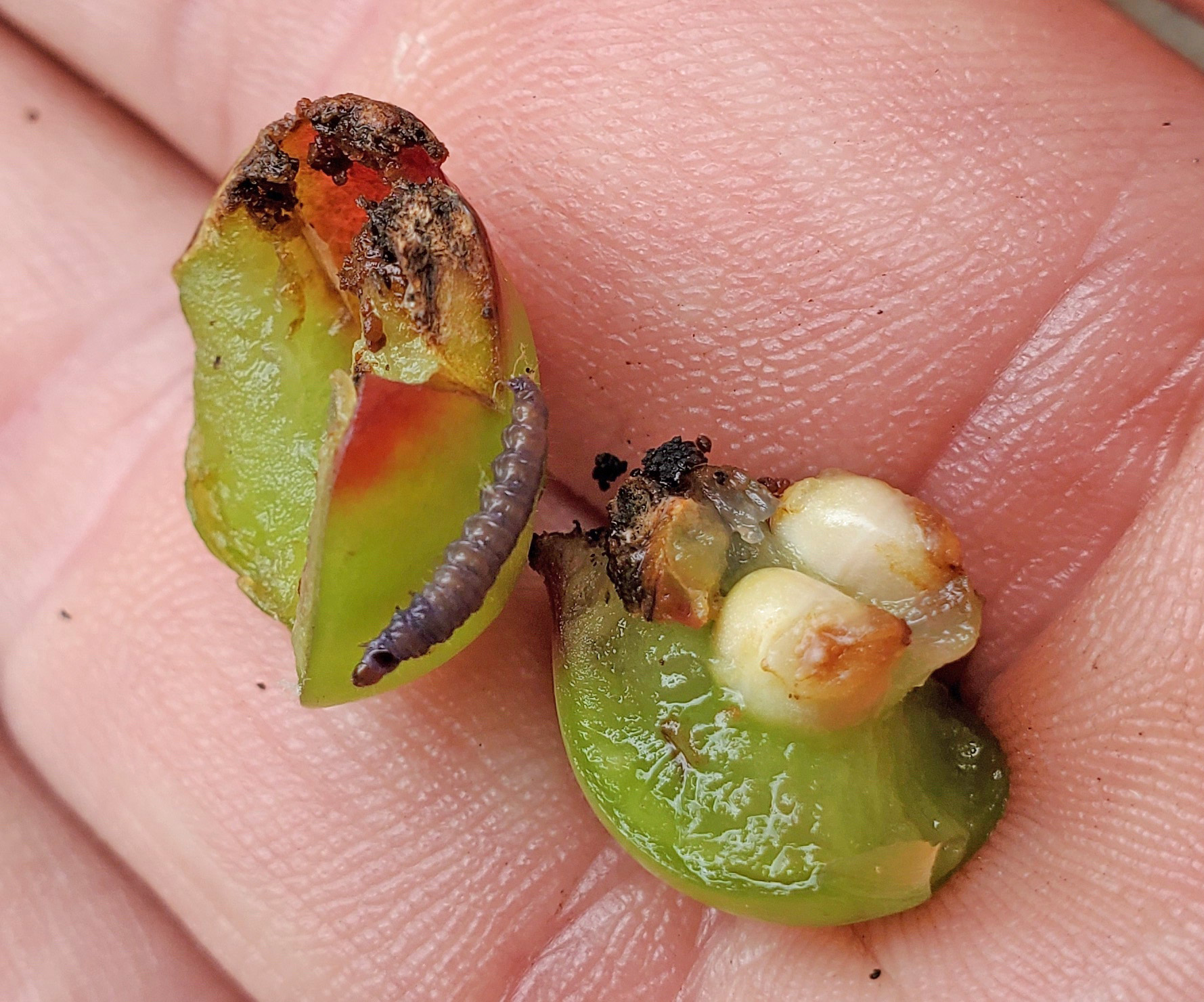 There are a number of insecticides that target larvae. For more detailed information on choosing the right insecticide, see "Mid-season management of grape berry moth." Since grape berry moth attacks berries in the clusters, good spray coverage is critical for control. Be sure to use enough water to penetrate the canopy and cover the clusters. A spreader/sticker can also help cover the confined spaces inside the canopy.
Potato leafhoppers have been reported throughout the state. Grape leafhoppers are also being seen in northern vineyards. Leafhoppers feed on leaves. Potato leafhopper feeding on some sensitive grape varieties can cause yellowed and cupped leaves and stunted growth in young vines. Grape leafhopper feeding causes stippling on leaves that can become red/brown when the damage is severe. Most mature vines are tolerant of damage from these insects, and control isn't often warranted.
Japanese beetles continue to be reported throughout the state. Japanese beetles feed between the leaf veins causing a lace-like skeleton on heavily damaged leaves. They seldom feed directly on clusters. Japanese beetles are generally only considered a pest of new vineyards where vines are more sensitive to leaf feeding.
Treatment recommendations for these insects can be found in the MSU Fruit Management Guide (E-154).
Upcoming meetings
Grower meetings have moved online. MSU and many other organizations are using Zoom for meetings. Here is more information on Zoom.
This year's Viticulture Field Day in southwest Michigan has moved online. Instead of a full day program, the event will include five days of lunchtime webinars, each highlighting one MSU researcher's viticulture work. The event will be held July 27-31 from 12-12:45 p.m. each day. View details and registration information.
The grape grower organization, Parallel 45, is hosting two webinars the next few weeks. Registration for any/all webinars in their series can be found here: 2020 Northwest Michigan Viticulture Webinar Series.
Horst Caspari will be presenting on "Vineyard floor management/cover crops." This webinar will be July 24 from 12-1 p.m.
A representative from Enartis will be presenting on "How to improve quality in underripe and compromised fruit with enological tools." This webinar will be Aug. 7 from 12-1 p.m.
Related resources