Michigan grape scouting report – June 22, 2022
Most of Michigan will experience a hot and dry week.
Weather
The coming week is expected to be hot and dry. It was mostly sunny and hot last week and the beginning of this week. In the north, scattered showers and thunderstorms are forecasted for the next few days. Wednesday and Thursday will be mostly sunny and slightly cooler back to normal temperature on Friday and Saturday. Southern Michigan will be sunny and dry for the week. Scattered showers and thundershowers are possible statewide Saturday and Sunday. Early next week will be dry, but colder than the previous week.
Daytime temperatures have been in the upper 80s far to mid-90s for the last few days. After a distinct drop in highs into the 80s on Tuesday and Wednesday temperatures will increase back to the 80s to near 90s Friday and into the weekend. Lows on Wednesday and Thursday in the high 50s to low 60s. returning to the 60s this weekend on Thursday. The final few days of June and the first few days of July, the medium-term forecast predicts milder temperatures when compared to this week.
With warmer temperatures last week, we picked up over 100 growing degree days: 119GDD in Petoskey region and 175 in Benton Harbor GDD base 50.
Southwest Michigan GDD Summary from March 1 through June 20, 2022
Southeast Michigan GDD Summary from March 1 through June 20, 2022
Northwest Michigan GDD Summary from March 1 through June 20, 2022
| | | | |
| --- | --- | --- | --- |
| Enviroweather station | Current GDD 50 F | GDD 50 F last week | Collected the past week |
| Benton Harbor (SWMREC) | 870 | 695 | 175 |
| Fennville | 768 | 612 | 156 |
| Lawton | 873 | 699 | 174 |
| Average for southwest Michigan | 859 | 689 | 170 |
| Romeo | 746 | 601 | 145 |
| Average for southeast Michigan | 800 | 650 | 150 |
| Old Mission | 550 | 424 | 126 |
| Petoskey | 515 | 396 | 119 |
| Traverse City (NWMHRS) | 582 | 453 | 129 |
| Average for northwest Michigan | 552 | 428 | 124 |
Vine growth
In southwest Michigan, juice grapes and most hybrids are past bloom. Early hybrid varieties such as Marquette and Marechal Foch are at buckshot berry at the Southwest Michigan Research and Extension Center. Some vinifera such as pinot noir and Riesling are also finishing bloom while others like Cabernet Sauvignon are in bloom now.
In northern Michigan, clusters are still expanding on all vinifera cultivars, and some of the early varieties, such as Chardonnay, are at the beginning of flowering (Photo 1). For the majority of vinifera cultivars, the shoot length is between 15 and 20 inches. In the Tip of the Mitt region early hybrid cultivars have begun to flower and Vinifera cultivars are in the immediate pre-bloom stage (Photo 2).
See this chart for grape growth stages.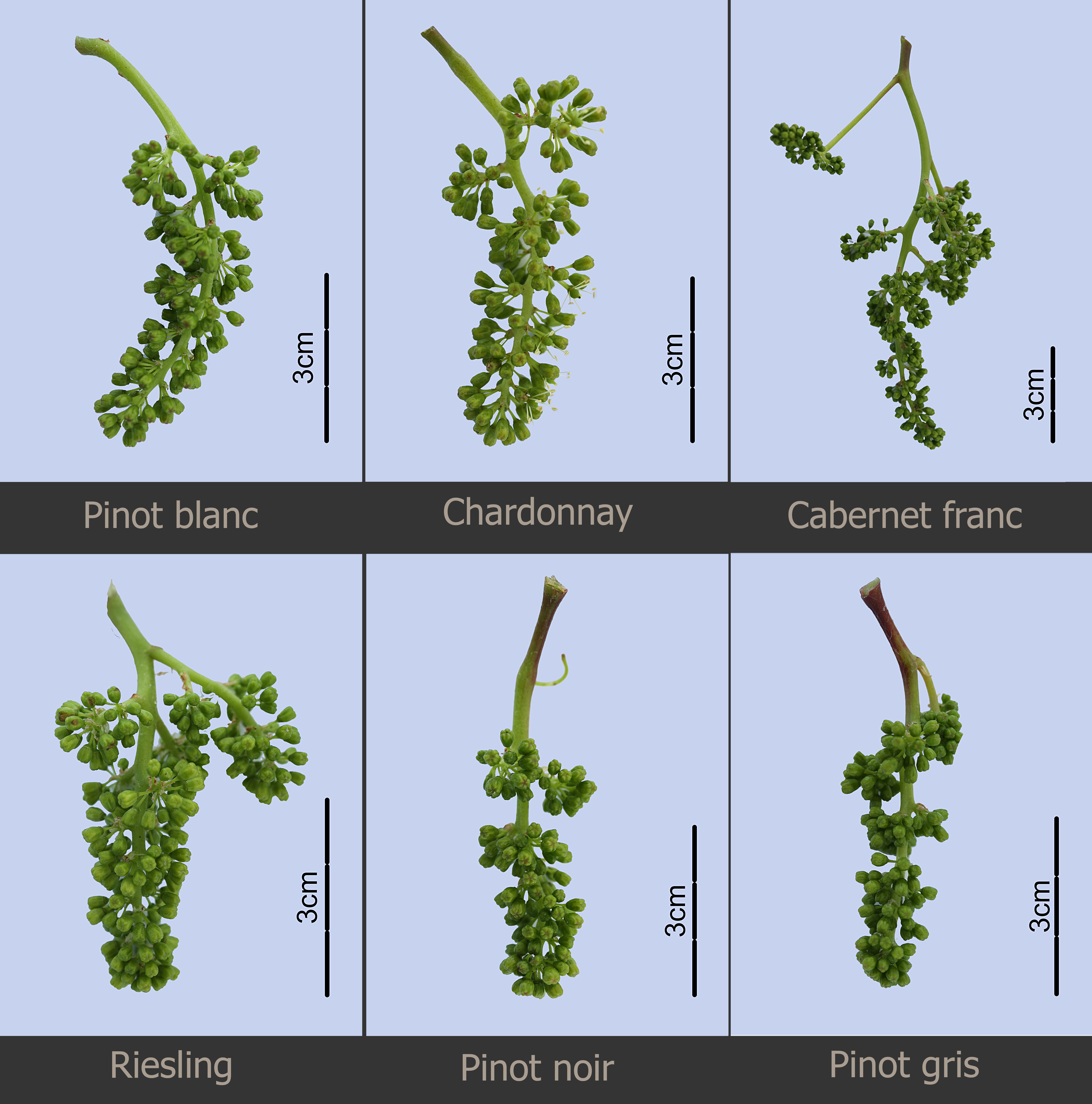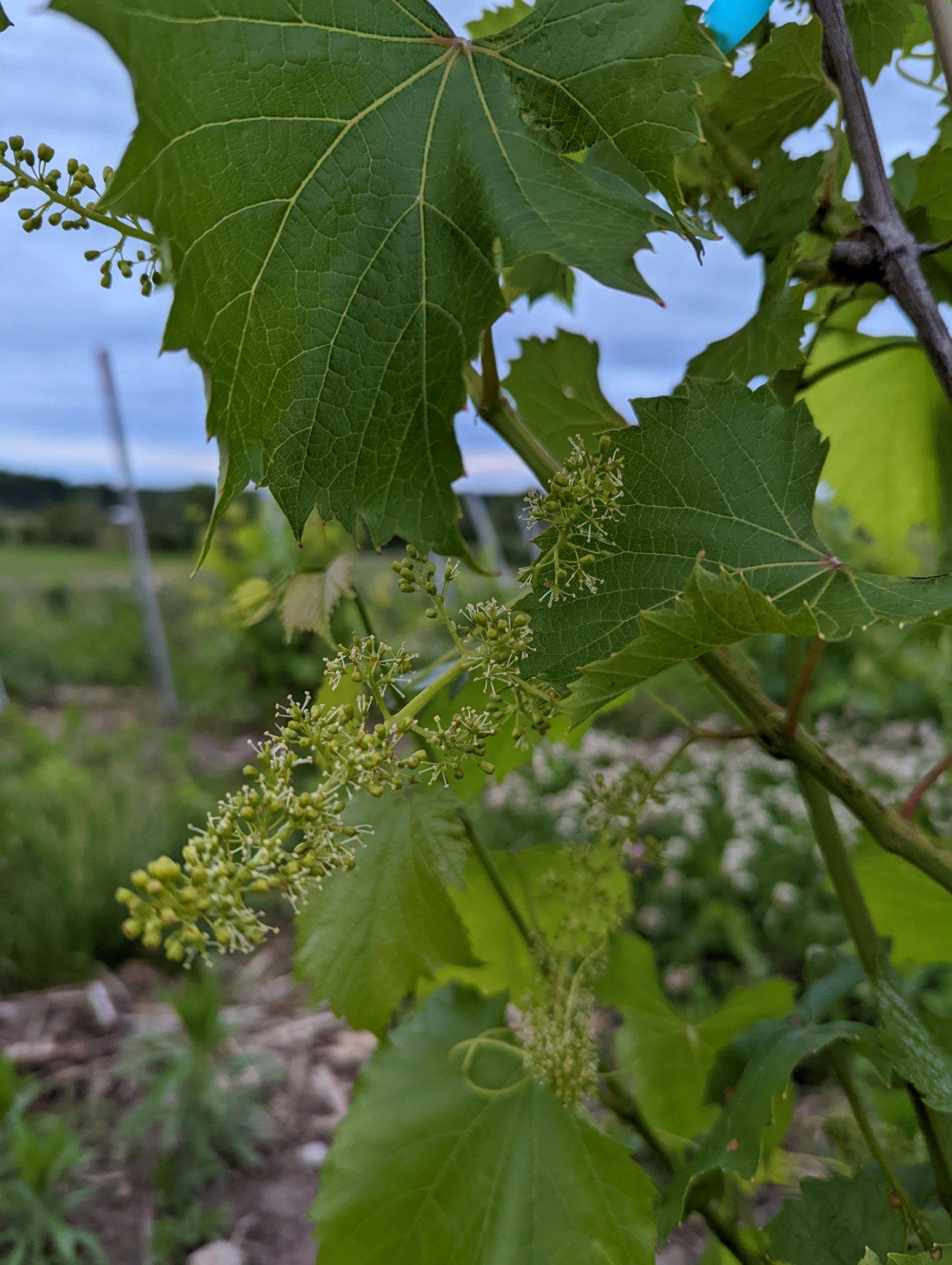 Horticulture
Shoot thinning and trunk cleaning should be underway in many varieties in the southern vineyards. Northern vineyards should begin thinning soon as well. Shoot thinning is an important canopy management tool to improve air circulation, minimize disease pressure, reduce shading, improve spray penetration and ultimately improve fruit quality at harvest. Thin shoots when they are 5-12 inches long and still easy to break off from the woody tissues.
See this article on Early Season Vineyard Management for more information on shoot thinning.
Diseases
At this time of year, the disease focus is on phomopsis, black rot, anthracnose and powdery mildew. For more information on pre bloom fungicide options and the impacts of rain on disease spread, check out this previous grape scouting report or this article on early season disease management. This week some growers have been finding sparse downy mildew (Photo 3) and downy mildew infections on flower clusters in vineyards (Photo 4).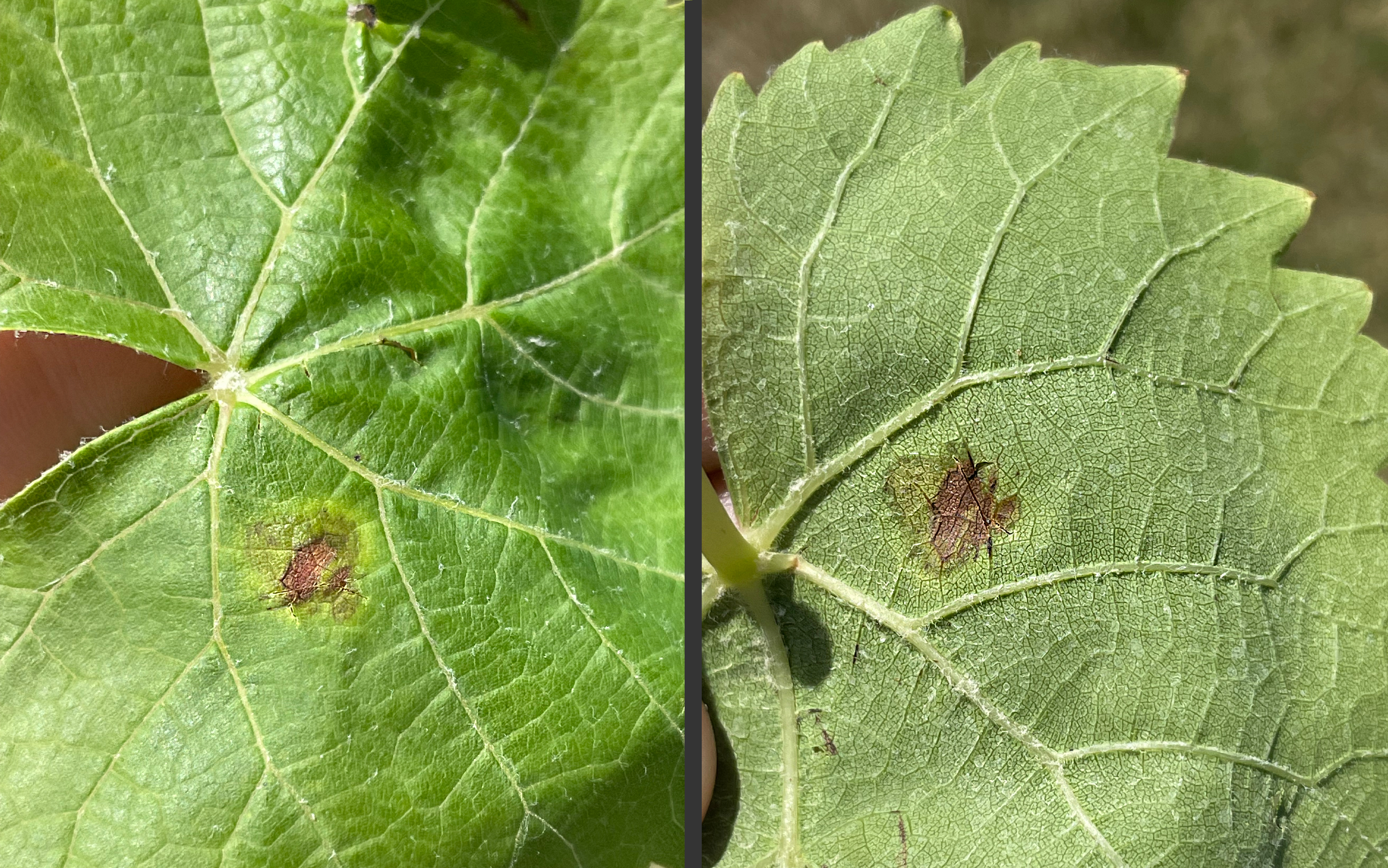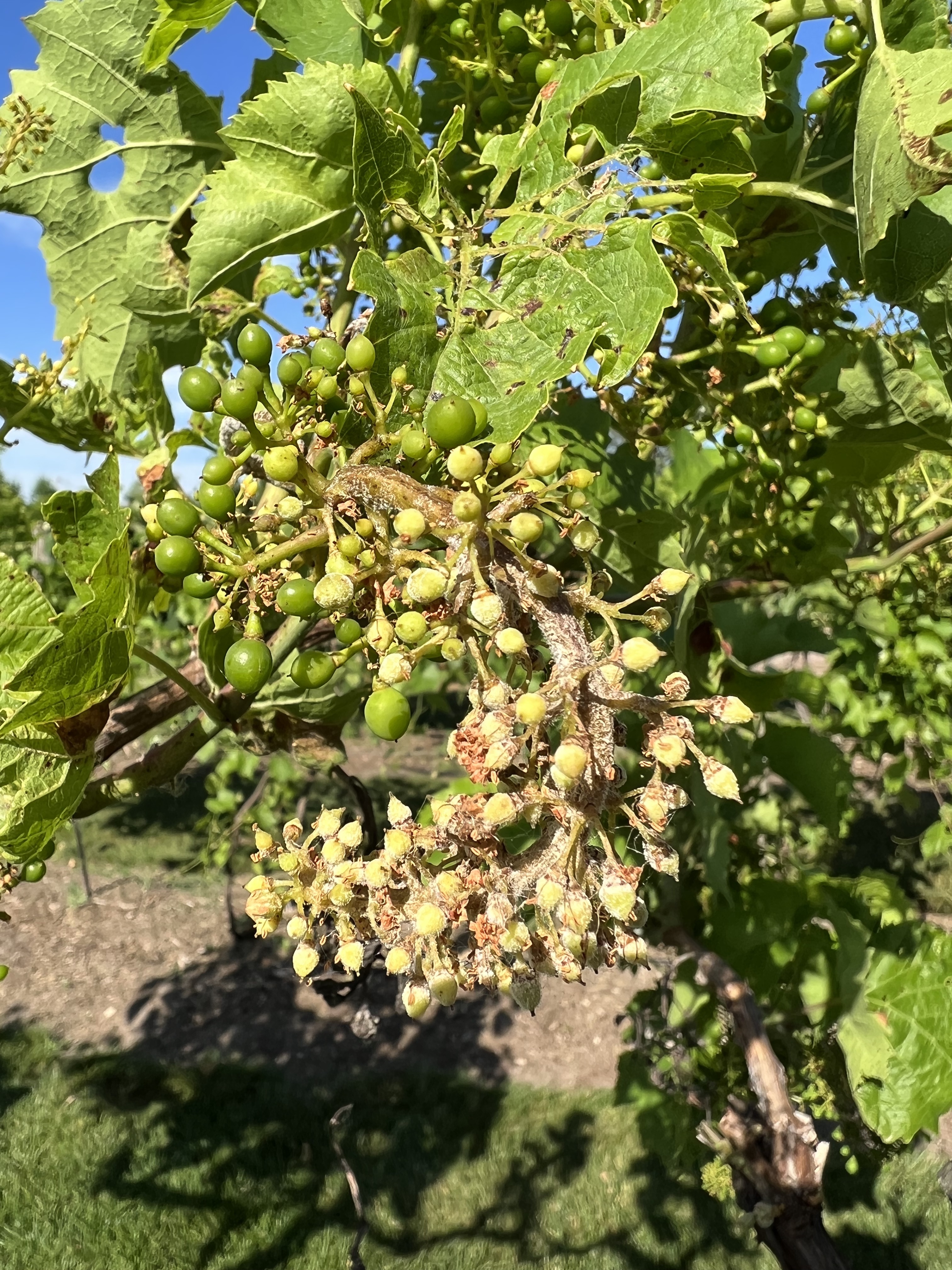 As bloom continues in southwest Michigan, start choosing fungicides that control all the fruit diseases. For example with downy mildew we are most concerned with fruit infection at this time and sprays should be timed prior to bloom and at bloom for optimal control. Downy mildew is caused by a fungal-like organism, so many site specific systemic fungicides that target other spring diseases do not work on downy mildew. Effective fungicides for downy mildew include products in FRAC codes 4, 11, 21, 40 and 45 as well as phosphorus acid salts and some biologically-based products.
With the exception of powdery mildew, these spring disease infections typically require rain events. It only takes 0.1 inches of rain above 50 degrees Fahrenheit to trigger a possible infection. Viticultural practices that reduce canopy wetness such as good irrigation timing, leaf removal and good weed management can reduce many of these diseases in a vineyard. Typically, DMIs (FRAC 3), captan and EBDCs (FRAC M3) are effective for phomopsis, black rot, and anthracnose.
Insects
Grape berry moth has been observed in a larger population this week and the moth trap has caught up slightly from last week. The average catch was 100, with the highest catch being 318 in a single trap. Damaged clusters have not increased since last week, and many growers have used an insecticide as a post-bloom spray within the last 10 days. The Tumid galls are still being formed. The grape tumid gallmaker-Vitisiella (formerly Janetiella) brevicauda larva of the small gall-midge fly generates grape tumid galls (Cecidomyiidae).
Most Michigan grape growers should be on the lookout for rose chafer and potato leafhopper at this time of year. Van Buren, Leelanau, Grand Traverse and Emmet Counties have reported rose chafer damage.
Feeding rose chafers can damage the leaves, flowers, and buds of grape, blueberry, raspberry, blackberry, and strawberry plants (Photo 5). Because adults can consume large amounts of plant tissue, the rose chafer beetle has the potential to harm Michigan's small fruit crops. This light tan beetle with a darker brown head and long legs emerges in June and has been observed feeding on most small fruit and tree fruit crops recently. Sightings of these insects have increased in recent weeks throughout Michigan's fruit-growing regions, and growers should be especially cautious if they have crops on sandy soils, where this pest is more common.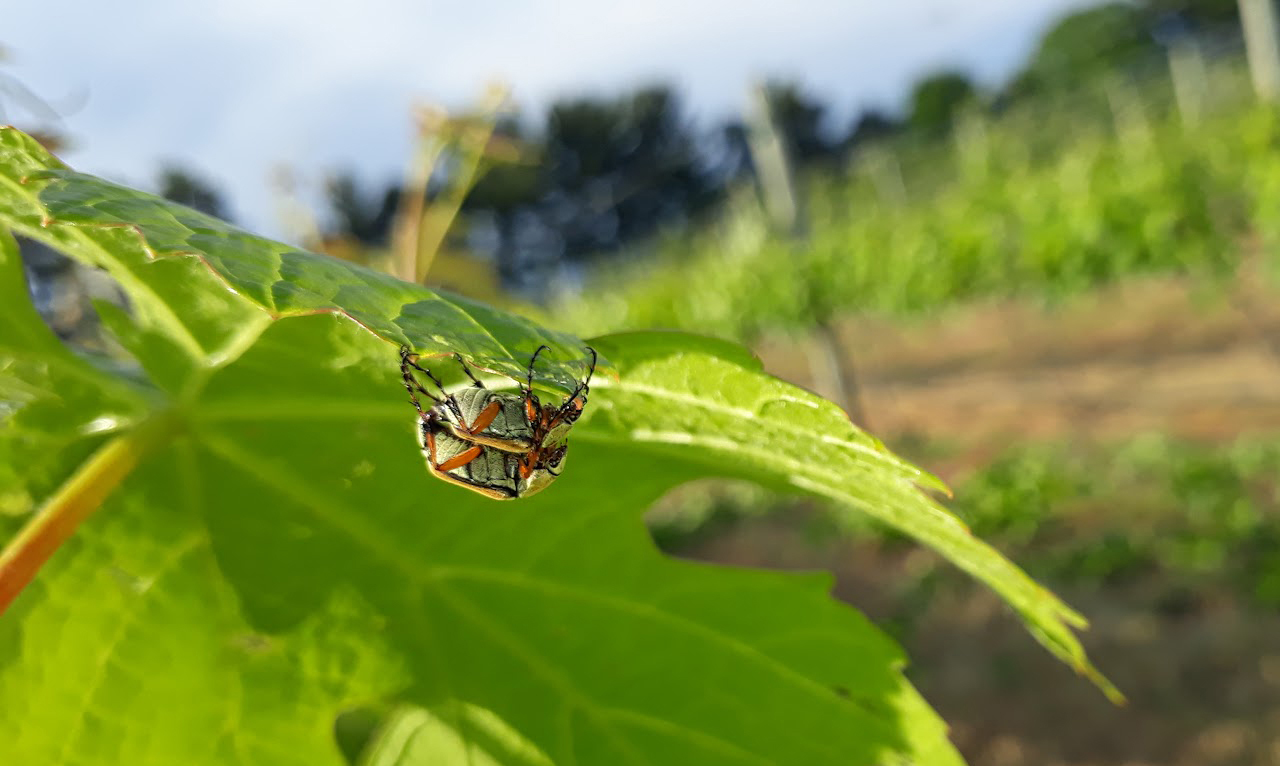 Upcoming events
The Southwest Michigan Viticulture Field Day will return to the Southwest Michigan Research and Extension Center for 2022. As tradition holds, the event will be the last Wednesday of July (July 27, 2022) and will include presentations of ongoing research in southwest Michigan. The event will once again conclude with a steak dinner and local wine tasting. Registration for the Viticulture Field Day is online through the Michigan Grape Society's website.
Register for Dirt to Glass 2022: Elevating Michigan Wine from the Ground Up. Michigan State University Extension is hosting a new conference for the Michigan grape and wine industry. Dirt to Glass 2022: Elevating Michigan Wine from the Ground Up is the first ever of its kind in Michigan and this year it will take place in Traverse City on August 25-26. This year's Dirt to Glass conference will focus on soil health, soil identification and soil fertility. Each year, the conference chooses a specific area of study based on the results of an annual educational needs assessment survey. Registration by July 10 is required.
Tile Drainage Field Day 2022. Linking Soil Health, Nutrient Management, and Water Management for Improved Water Quality. The event will be held Thursday, Aug. 25, 2022, at 13000 Bird Lake Rd., Camden, MI 49232.
Extracurricular enjoyment
Calling all vineyard pet owners!
Do you have a photogenic vineyard dog or cat?
Maria Smith (OSU), Annie Klodd (UMN), and Cain Hickey (PSU) are assembling a 2023 vineyard pets calendar as a fundraiser for viticulture scholarships, and would like to feature your vineyard pet. This project came about after years of Maria and Annie meeting so many great dogs on their vineyard visits and discussing how fun it would be to have a calendar of them.
The American Society of Enology and Viticulture is seeking to represent pets from across 13 Eastern U.S. states. One pet for each state will be featured each month and one for the cover. If you are interested in having your pet featured on the calendar, please send a high-resolution photo of your pet in the vineyard to Maria Smith (smith.12720@osu.edu). Please include your name, your vineyard name, and your pet's name along with the photo by June 30 to be considered. Pets of all kinds are welcome!
Calendars will be made available for purchase, and all proceeds will be donated to the American Society of Enology and Viticulture-Eastern Section Scholarship Fund, which supports viticulture and enology students.
Related articles
---
This work is supported by the Crop Protection and Pest Management Program [grant no 2021-70006-35450] from the USDA National Institute of Food and Agriculture.