Michigan grape scouting report – May 18, 2022
The heat helped grapes throughout the state move quickly over the past week.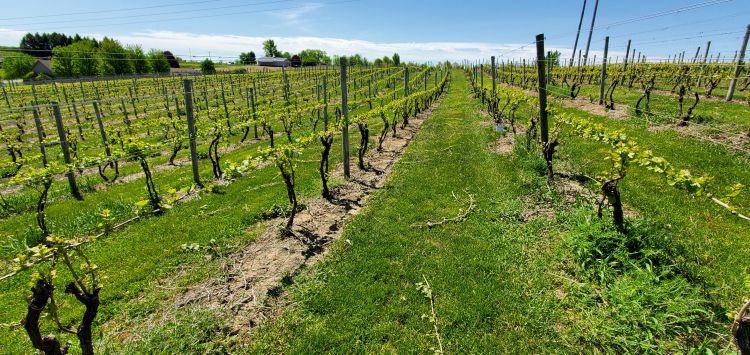 Weather
Last week was hot. Western Michigan reported high temperatures at or near local records. Most of the week. highs were around 90 on the west side of the state, lows around 60. Southeastern Michigan reported low to mid 80s a few degrees cooler in northern parts of the state. The state cooled into the 70s by the weekend. Rain passed through mainly the southern parts of the state on Sunday and Monday, with rain amounts of near a tenth of an inch in southwestern areas like Berrien and Van Buren Counties and over a half inch in southeastern areas like Macomb County.
This week will be cooler than last week. Southern Michigan is expecting most days to be in the 60s with highs near 80 on Thursday and Friday. Northern Michigan will be about 10 degrees cooler. Rain is expected Wednesday and again Friday for much of Michigan.
With the hot week, we picked up a lot of GDD last week: 115-145 GDD base 50. The southwest region is 105 GDD base 50 ahead of the northwest region.
Vine growth
In the southwest, buds started swelling in the second half of April. Bud break in juice grapes and hybrid wine cultivars occurred around the first of May. With the cool start to May, development was slow, but last week's heat rapidly moved it along. Juice grapes and early hybrids have up to 10 inches of shoot growth. Later hybrids and early vinifera are around 4-6 inches of growth. Later vinifera cultivars are around 2-3 inches of growth.
Because of the rapid growth, many varieties have pearl bodies, sometimes called sap balls, peppering the new shoots. These small balls of hardened sap are common in the spring with the rapid growth and are not harmful to the crop in any way.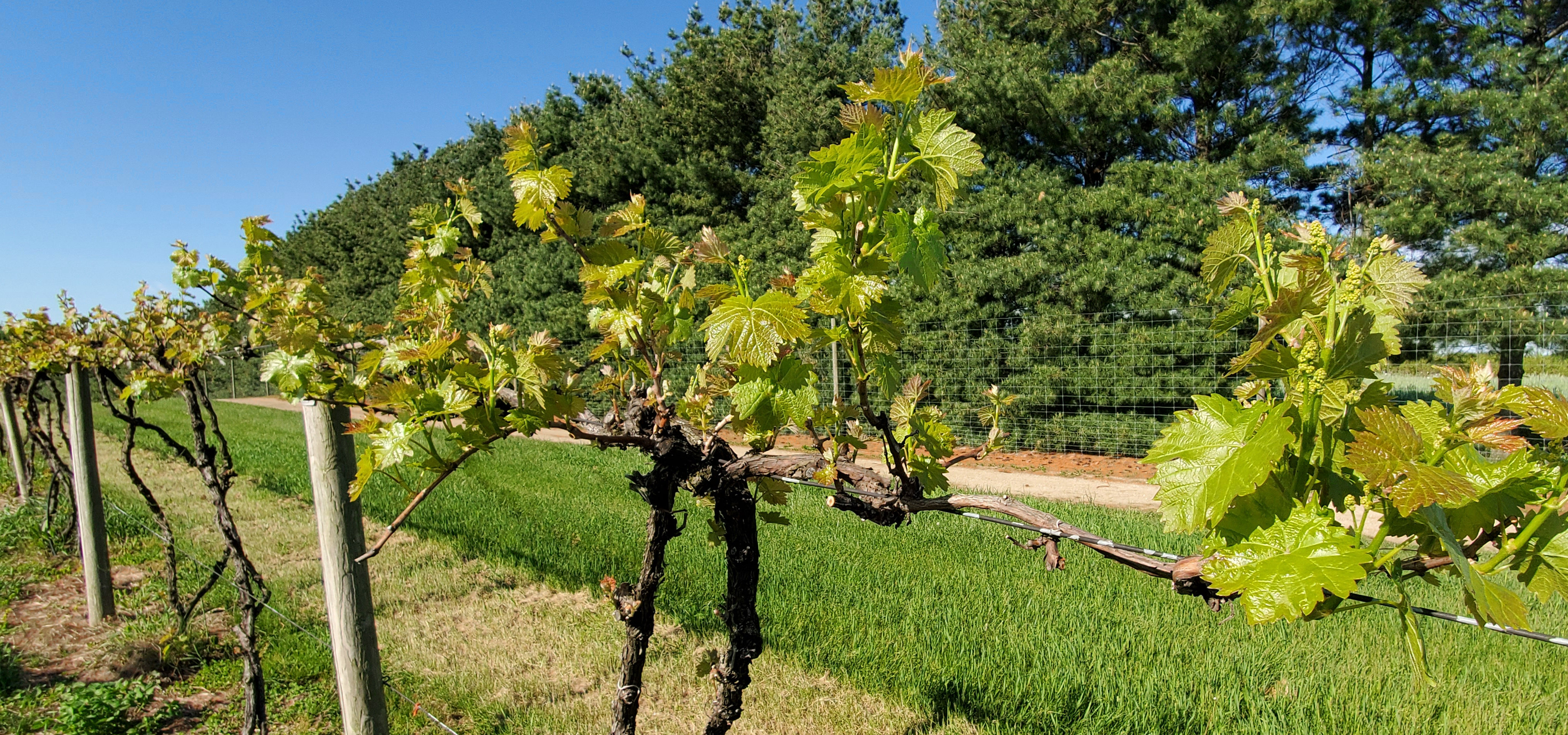 The Leelanau and Grand Traverse Bud break for early varieties in northern vineyards occurred on May 14 this year. Currently, most vinifera cultivars are 1-2 inches of growth. Last year, the Leelanau and Grand Traverse counties experienced a bud break on May 20. We are one week ahead of vine growth so far in northern Michigan.
See this chart for grape growth stages.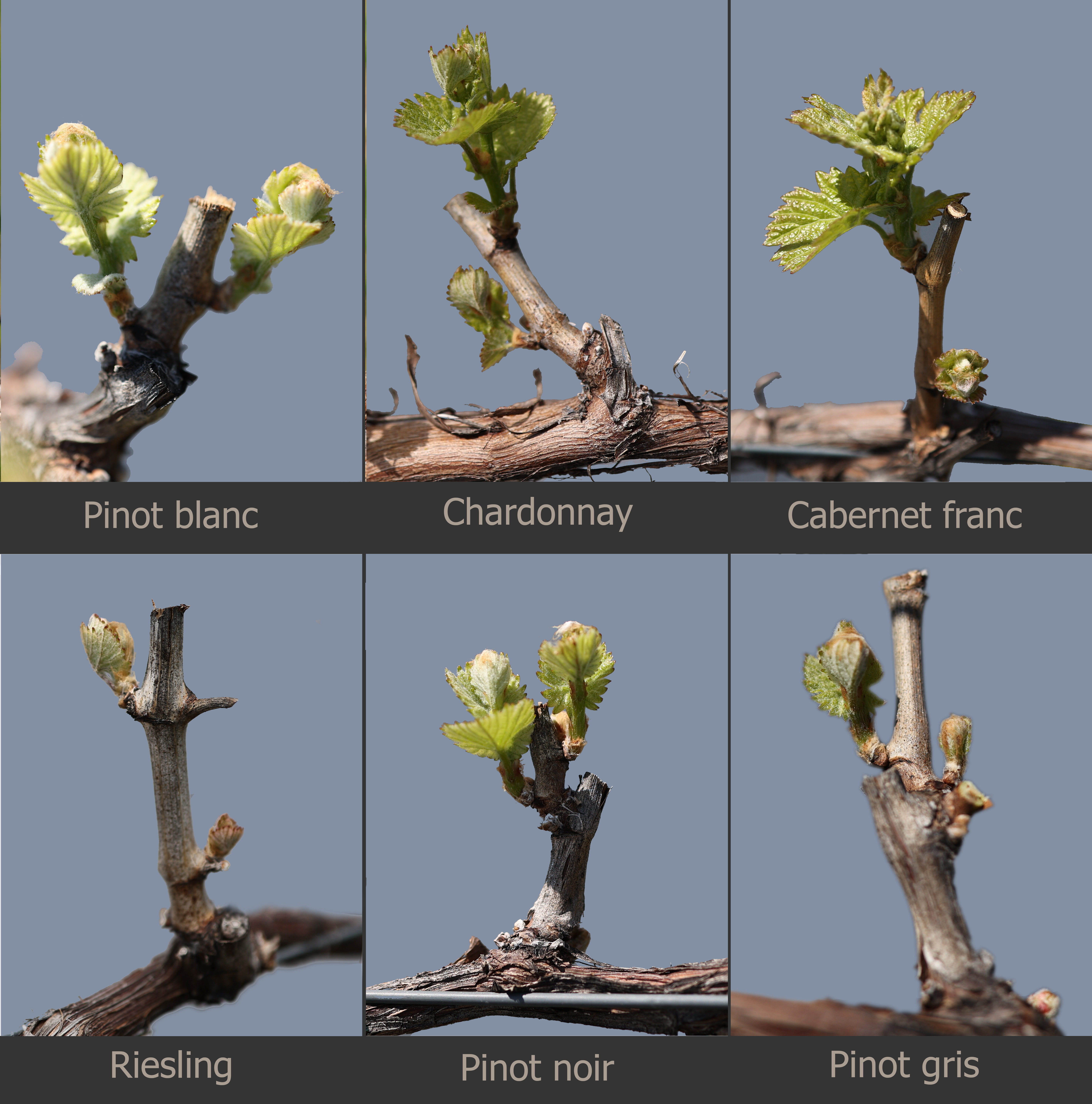 Horticulture
Fertilizer prices are high this year due to global supply chain issues. Accurate fertilizer application rates this year are important for the vines and the wallet. See this article on early season vineyard management or last week's grape scouting report for more fertilizer information.
Shoot thinning will begin in the southern vineyards in early varieties soon. Shoot thinning is an important canopy management tool to improve air circulation, minimize disease pressure, reduce shading, improve spray penetration and ultimately improve fruit quality at harvest. Thin shoots when they are 5-12 inches long.
Diseases
At this time of year, the disease focus is on phomopsis, black rot, anthracnose and powdery mildew. Since we have had significantly warmer weather and a mild winter there is likely more spore dispersal occurring currently as well as a high amount of overwintering inoculum (on shoots, dried clusters and canes) that was not killed during a harsher winter.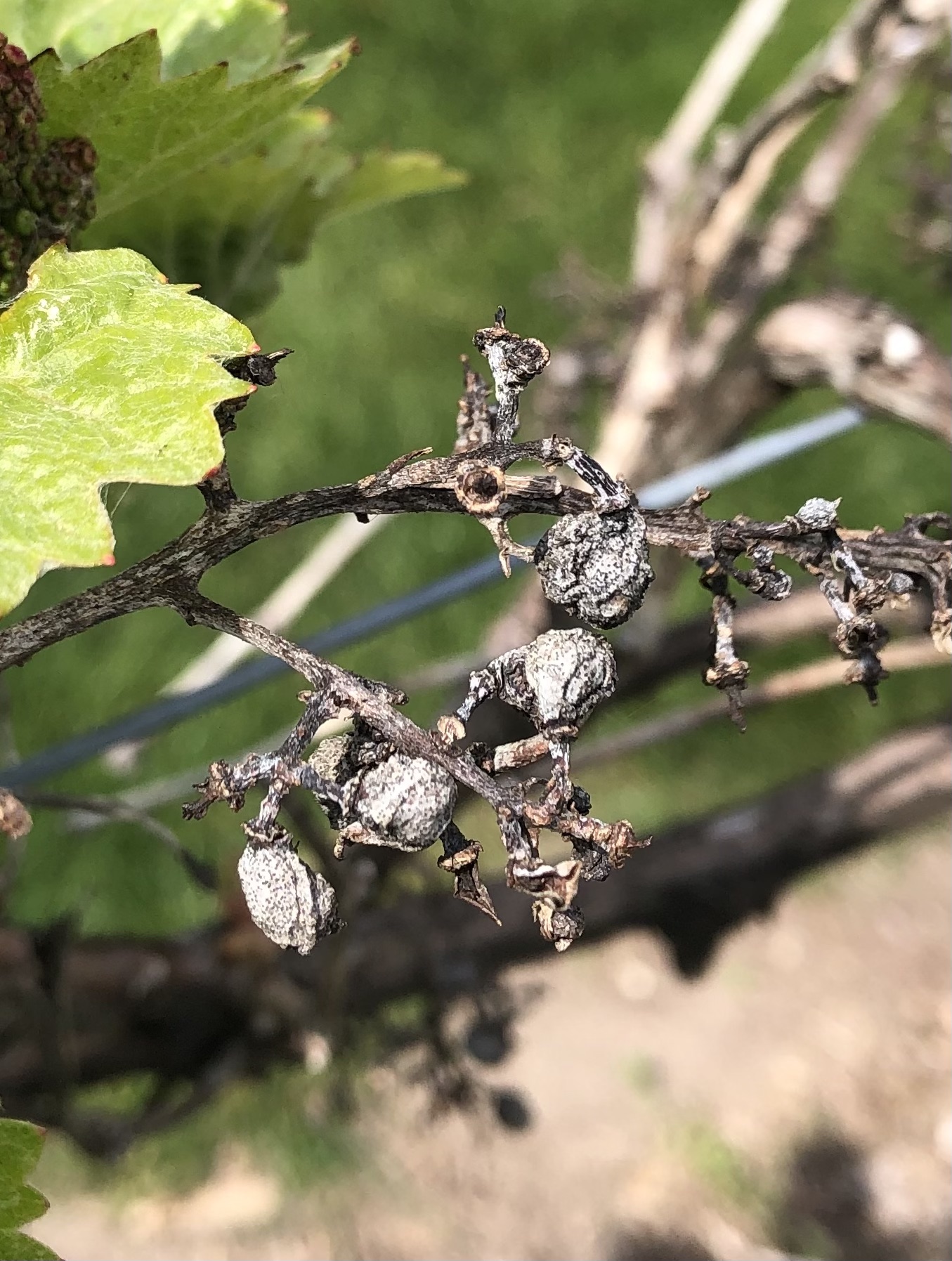 Now that shoots have expanded contact fungicides that include broad-spectrum/contact fungicides like the EBDCs (FRAC M3) and captan are effective and function similar to dormant applications by sanitizing the vineyard before bloom. Copper, sulfur and early season oils may also be utilized (especially if a grower is organic), which try to suffocate fungal spores and infected tissues or kill on contact. Be careful when using oil with certain products as it can increase the risk of phytotoxicity. For more information on fungicide options and the impacts of rain on disease spread, check out last week's grape scouting report or this article on early season disease management.
Insects
A few sporadic insects have been seen on shoots in southwest Michigan, with most being beneficial insects. The warm evenings over the past week have provided ideal conditions for emergence of male grape berry moths, and the catches in monitoring traps jumped from just a few per trap last week to hundreds captured this week. These moths being caught are males. Males typically emerge before females in the spring. Without females, these males are highly attracted to traps so we get these high catches.
The trap numbers show that winter survival was good and population potential will be high going into 2022 especially if you had berry moth problems in a vineyard last year. Female moths will start emerging as the clusters start blooming in the coming weeks.
Wild grape bloom is used as the biofix for grape berry moth models. Biofix for this insect has been around the last week of May or the first week of June for many parts of southwest Michigan in recent years. Do not be fooled by the "pearl bodies" currently visible on the shoots. These are dry droplets of sap released when there is rapid shoot growth.
Related articles:
---
This work is supported by the Crop Protection and Pest Management Program [grant no 2021-70006-35450] from the USDA National Institute of Food and Agriculture.