Michigan spotted wing Drosophila update – July 9, 2019
With warmer weather, spotted wing Drosophila (SWD) populations are beginning to climb. Protect susceptible crops.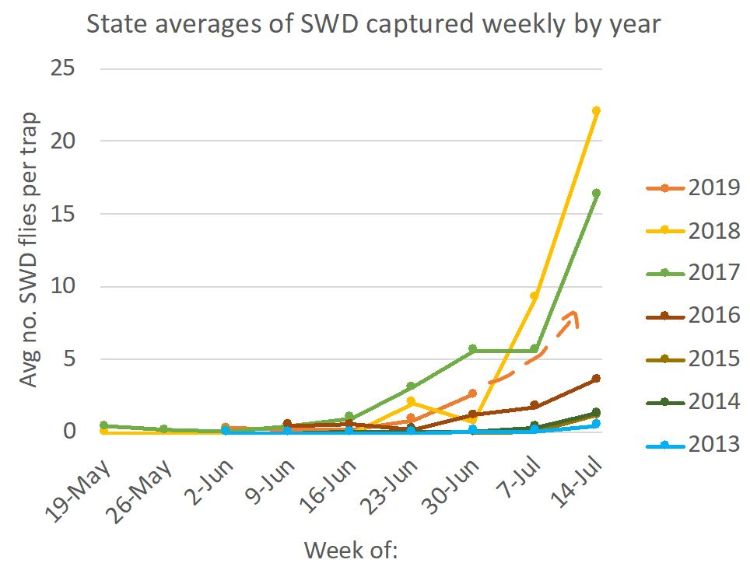 Given the slow start to the season in terms of spotted wing Drosophila (SWD) population build up and fruit ripening across the state, we thought it would be useful to compare Michigan State University Extension's SWD trapline data from this year with previous seasons to see how this year is stacking up. With the warmer weather, SWD populations have built up to levels that are somewhere between the 2016 and 2017 levels at this time in the season (see graph). With 40% of traps in our network catching SWD flies, looking forward in time it would be safe to assume that the population surge is underway.
Given how quickly this pest can reproduce and how devastating it can be, if your crop is at a susceptible stage, a cover spray of an insecticide that is rated excellent against this pest would be warranted to prevent infestation. Remember to rotate insecticide classes once you begin your spray program. You can determine how well your program is working by trapping for flies and sampling fruit using the salt test in the days prior to harvest.
Crops that will become susceptible as they ripen include strawberries, summer and fall raspberries, sweet and tart cherries, blueberries and most other thin-skinned fruits including wild berries often found in woodland edges (e.g., honeysuckle, black caps, mulberries and dewberries).
Check out the most recent versions of SWD management guides offered by MSU Extension.
Refresh your ability to identify SWD with MSU Extension's Spotted Wing Drosophila Identification Guide.
For more information on effective insecticides registered for use to control SWD, refer to MSU Extension's Michigan Fruit Management Guide for 2019 (E-154).