Michigan youth and volunteers attend National 4-H Dairy Conference
Increased knowledge of the dairy industry and a side helping of life skill development were on tap for six Michigan 4-H'ers at the 2018 National 4-H Dairy Conference.
Increased knowledge of the dairy industry and a side helping of life skill development were on tap for six Michigan 4-H'ers at the 2018 National 4-H Dairy Conference.
The youth-led conference drew about 200 4-H members, adult volunteers and staff members from across the U.S. and Canada. It was held Sept. 30 to Oct. 4 in Madison, Wisconsin, in conjunction with the annual World Dairy Expo.
The Michigan 4-H delegates were Addy Battel of Huron County, Olivia Coffey of Allegan County, Rebecca Dunn of Branch County, Matthew Poling of Hillsdale County, Olivia Walker of Lapeer County and Katie Wilson of Isabella County. They were accompanied by adult 4‑H volunteers Cathy Fry of Isabella County and Regina Coffey of Allegan County, as well as Melissa Elischer, dairy educator with Michigan State University Extension's 4-H Youth Development Programs.
The conference first started in Chicago in 1954, but was moved to Madison in 1970 when the World Dairy Expo opened. Conference delegates attend to learn about the national and international dairy industry, explore dairy-related careers, network with dairy-passionate youth and agricultural partners, tour Wisconsin farms, engage in dairy science experiments, and visit the World Dairy Expo.
In additional to taking part in educational sessions throughout the conference, youth delegates are also at the helm introducing speakers, greeting other delegates and special guests at meals, thanking conference sponsors, and taking a lead role in ensuring the conference's success. During registration, every delegate chooses a leadership team to be on and has specific tasks assigned to them throughout the week. These teams work together to ensure the conference runs smoothly and that delegates are active participants in the experience. As a result, youth develop life skills such as how to lead a meeting, time management, responsibility, and much more.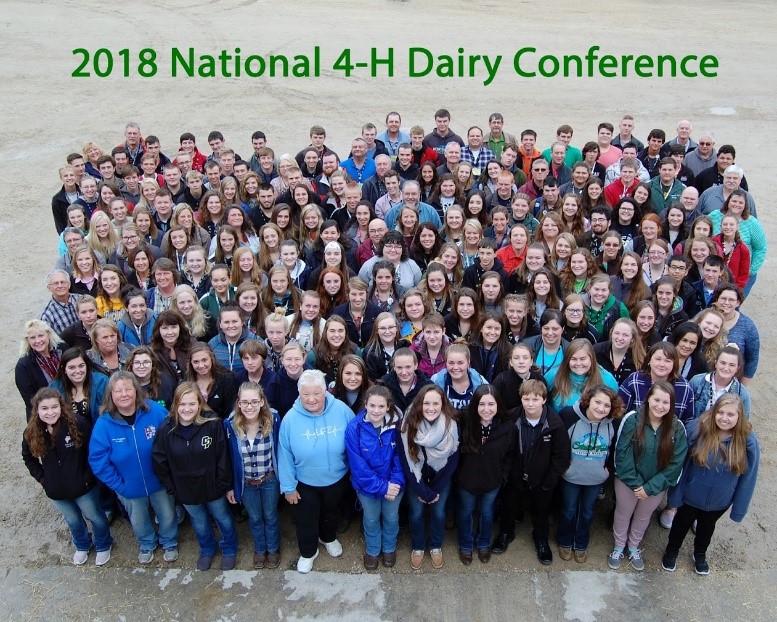 The Michigan group used words such as "amazing," "awesome" and "exciting" in their rave reviews of the conference. Katie Wilson said the event was "one of the best experiences I've had! I learned so much and had a ton of fun. My favorite parts were visiting World Dairy Expo and exploring with my awesome new friends."
"The dairy conference was an amazing experience," agreed Matthew Poling. "I made a lot of friends and a lot of new connections. I would highly recommend anyone thinking about going to do so."
Olivia Walker commented, "From the people I met, the connections I made, and all the activities I participated in, I will forever hold the memories from the trip close! I was able to meet and interact with industry professionals and kids alike who share the same passion for dairy and agriculture as I do. I learned so much about the dairy industry that will help me to be successful in my future! I highly recommend this trip!"
Five of the six Michigan youth delegates attended the conference with financial support from the Michigan Milk Producers Association. They competed for the scholarships during the 2018 4-H/MMPA Milk Marketing Tour at MMPA headquarters in Novi in June.
The 4-H/MMPA Milk Marketing Tour is free and open to anyone aged 15 to 18 (as of January 1) who hasn't attended before; registration information will be available in spring 2019. Youth delegates to the National 4-H Dairy Conference must be ages 15 to 18 and have been enrolled in 4-H dairy science projects for at least three years. Registration for the 2019 conference will open in July.
For more information about either event, contact Melissa Elischer by phone at 517-432-4306 or by email at elischer@msu.edu.