Michigan 4-H'er receives national honors for photographs
Paw Paw resident Megan Miller won two honors for her photographs submitted for the 2014 4-H photo and video contest offered by eXtension, America's online learning network.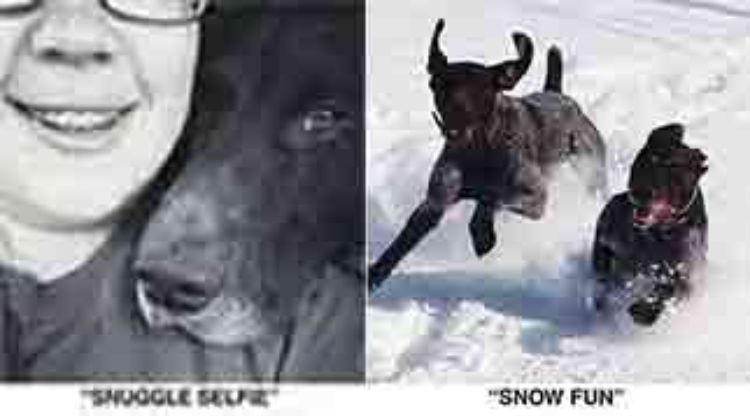 Each year, eXtension, America's online learning network, offers a 4-H photo and video contest. The contest is a national showcase for 4-H members to express their love for companion animals and show off their photography or video expertise. This year, Paw Paw resident Megan Miller won two honors for her photographs submitted for the 2014 contest. The sixteen-year-old is a member of the Young Explorers 4-H club and has been involved with 4-H for nine years.
"4-H has helped me grow as a person by opening opportunities for me to learn new things, not just with animals but with leadership opportunities," she said.
Megan's photo, "Snuggle Selfie," won a silver award and displays her compassionate relationship with Willie, her 4-year-old German shorthaired pointer. Her second photo, "Snow Fun," received an honorable mention. It captures her two dogs, Willie and Tigger, frolicking through the snow. Both of Megan's photographs placed in the top 10 in the contest. Entries were required to focus on one of the following areas:
Animal health and/or nutrition.
Good husbandry and/or grooming.
Training and/or showing.
Human/animal bond.
Companion animal service or citizenship.
In addition to photography, Megan's involvement in Michigan 4-H has allowed her to learn a variety of skills.
"I have gained confidence in my ability to try new things such as shooting sports, making friends from other 4-H groups, mentoring younger club members and speaking to others, including teachers, judges and other exhibitors," she said.
Van Buren County program coordinator Janice Zerbe has also noticed exceptional growth and development in Megan.
"It is amazing to look back and see how much Megan has changed over the years; she is no longer shy or afraid of talking in front of others," she said.
Through her involvement in several clubs - Young Explorers, Van Buren Voyagers and Porter Busy Fingers - as well as many projects including dogs, cats, poultry and Project FISH, Megan has been able to apply the life skills she has learned in both in- and out-of-school settings.
"Megan has done speeches in school about 4-H, and her teachers have asked how she has become so confident in her speaking ability. She gave the credit to her 4-H involvement," Zerbe said.
Last year, Megan was also recognized as the Outstanding 4-H'er for Van Buren County.
"We ask outstanding 4-H'ers to participate in local events and parades, and to attend other club meetings and local community meetings to promote 4-H. Megan assisted me with four local 4-H Science Blasts this past summer and also came to Van Buren County 4-H Leader's Association meetings to give updates about what she had been doing," Zerbe said.
Making an impact at the community level is also something Megan has fostered as a result of 4-H. Not only does she believe she has grown in multiple ways, but she also enjoys sharing with others how much the youth development organization can change a young person.
"4-H has kept me very busy for the past nine years, but it has been rewarding. I have made the best of friends from 4-H who understand what I experience," she said.
Megan credits her family members for her initial eagerness to become involved with 4-H.
"I started by only showing dogs, but I have tried new things since, and with each experience my family has become more and more involved," she said. "My brother showed dogs for a few years and now wants to become a volunteer, and both of my parents volunteer as leaders in the Young Explorers and Van Buren Voyagers. 4-H creates a feeling of community."
The two photos that received awards are important to Megan because they allow her to show the relationship she has with her dogs.
"It's exciting that I could show how important 4-H is to me and all that 4-H includes, like compassion for animals."
To learn more about activities that Megan and her family participate in through 4-H, visit the Michigan 4-H website.