Michigan ArtShare and Michigan State University Extension announce a "Call for Art" program
Michigan ArtShare is pleased to announce this opportunity for artists in Michigan.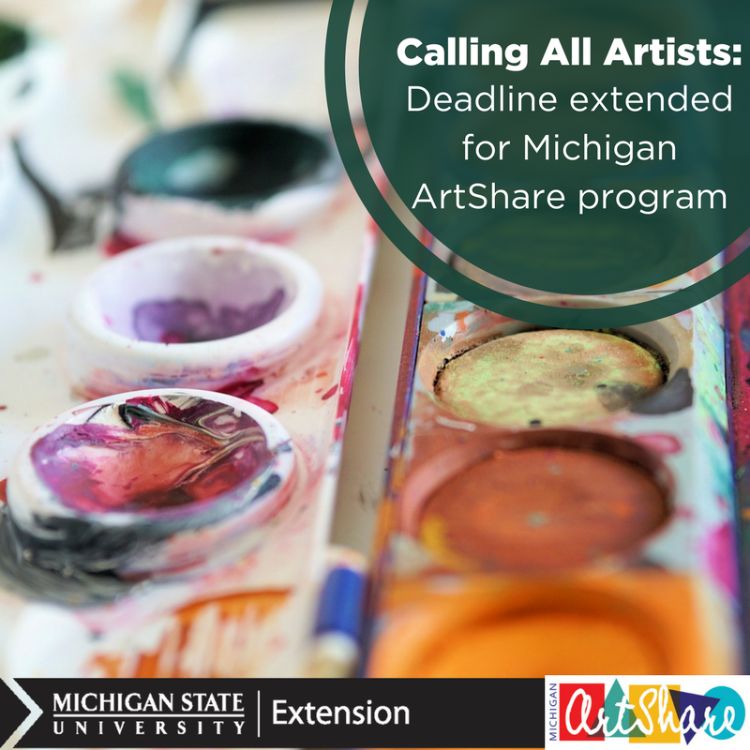 Michigan ArtShare is creating a "Looking-At-Art-Images" education program named Art Share, utilizing a 'critical thinking practice' called Visual Thinking Strategies (VTS). VTS is a facilitation method created by Phillip Yenewine, a former Director of Education at MOMA in New York, where viewers look at narrative-based images and interpret what they think is happening in the image. This facilitation method utilizes active listening, paraphrasing and observation to create a unique collaborative environment where viewers explore, investigate and problem-solve visual information. Michigan ArtShare is creating an art education program for 1st-through 3rd-grade viewers that will be available through Michigan State University Extension offices throughout the entire state of Michigan.
The project goal is to use narrative images created exclusively by Michigan artists for the students to view using the VTS method, instead of using images from art history or other states or countries. This enables Michigan's children to become more visually literate and creative problem solvers, and they will do so by looking at professional Michigan artist's images and becoming more familiar with their work.
The ArtShare education program will select 12 pieces of art for each grade (1st-through 3rd) for a total of 36 pieces. Artists will receive a $250 stipend for each selected work to be included in the education program. Michigan ArtShare will accept applications for Art Share through July 15, 2017. The ArtShare program will be launched in Detroit's Brightmoor neighborhood in September of 2017 and will be made available through MSU Extension offices across the state of Michigan.
To apply, please read the Art Share Call for Art guidelines and then fill out an application form.
Art Share is a cooperative project of Michigan ArtShare and MSU Extension and is supported in part by the Michigan Council for Arts and Cultural Affairs Project Grant.