Michigan lighthouses: Beacons of coastal tourism opportunities
Great Lakes lighthouses serve as beacons of Michigan's rich maritime heritage, offering a window to explore Great Lakes history, tourism development opportunities for coastal communities, and a great deal of family fun.
Lighthouses are iconic landmarks widely recognized as beacons of our coastal history and maritime heritage. Michigan's Great Lakes coastline boasts an amazing collection of more than 120 lighthouses, lighting the length of our state's spectacular Great Lakes coastline. These historic sites offer many great opportunities for you to visit, explore and enjoy Michigan's wealth of Great Lakes lighthouses.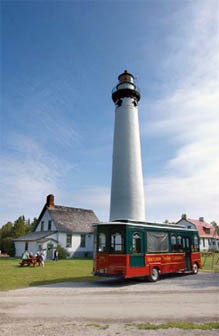 Around northern Lake Huron, these lighthouses reflect particular value for these communities seeking to foster sustainable coastal tourism opportunities. A source of community pride, local residents' value family lighthouse visits and many help protect these historical landmarks volunteering with local historical societies or lighthouse friends groups. A recent guide to Sustainable Coastal Tourism in Northeast Michigan, by Michigan Sea Grant and Michigan State University Extension, illustrates the benefits of community investment in protecting these resources, while promoting awareness and education that incorporates maritime heritage as part of the coastal tourism experience for visitors to the region.
Northeast Michigan, known for spectacular coastal natural resources, reflects a growing culture of maritime heritage tourism. The region boasts the NOAA Thunder Bay National Marine Sanctuary — the only such sanctuary in the Great Lakes and focused solely on protecting and promoting maritime heritage. These communities share their enthusiasm for lighthouses by hosting a Great Lakes festival– the 19th Annual Great Lakes Lighthouse Festival to be centered in Alpena, Michigan, October 10- 13, 2013. Statewide Pure Michigan maritime tours and local U.S. 23 Huron Shores Heritage Route partnerships also promote lighthouse tours across this region. These tours offer information online for those interested in learning more about visiting these landmarks by way of road.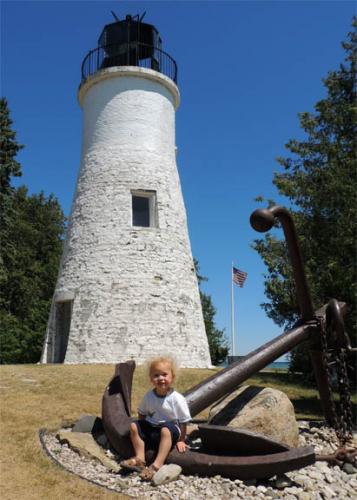 A visit to Northeast Michigan is an historical treasure for lighthouse enthusiasts. Community members, and visitors alike, can explore the best of the region's coastline by way of these historic lighthouses, where you can:
Lighthouses offer an adventure in learning and family fun. Whether appreciating a lighthouse in your local coastal community or a visiting tourist, lighthouses are a worthwhile stop as part of your summer adventures along our Great Lakes shorelines. A diversity of opportunities awaits your next lighthouse visit:
Family fun – climb the lighthouse, enjoy the view, and explore the waterfront.
Experience history first hand – many lighthouses offer historical exhibits and interpretive learning opportunities.
Enjoy the amazing wildlife and coastal habitats of the diverse shorelines, ranging from sandy beaches and dunes, cobble shores and coastal wetlands.
Visit them all – and keep a lighthouse passport!
Contribute to stewardship, support agencies or local organizations that care for these historic landmarks.
For more photos of Michigan lighthouses, visit Michigan Sea Grant online Library of Great Lakes Images. To learn more about touring Northern Lake Huron lighthouses, visit the 'Lights of Lake Huron' driving tour.