Michigan youth explore 20 critical global issues in the World Food Prize Michigan Youth Institute
While focused on global food security and hunger, the World Food Prize Michigan Youth Institute includes a wide variety of social, environmental and economic issues that appeal to youth.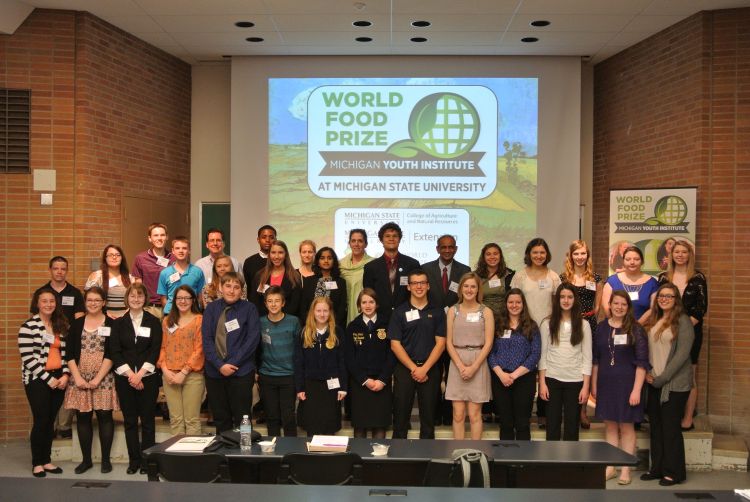 Youth are quite often some of the most passionate and engaged people working on a wide variety of social, environmental and economic issues. As a community-based educator with Michigan State University Extension, I work with many young people who are active in shaping their community, and the world, based on their perspectives on important topics. I often hear youth say they want to "make a difference" in the world, but many young people aren't sure where to start. For youth interested in "big issues" and making a difference, the World Food Prize Michigan Youth Institute provides Michigan youth with a unique and valuable opportunity to explore a wide variety of critical global issues and to make recommendations for addressing these issues to leading experts and scholars.
The World Food Prize Michigan Youth Institute is an experience designed to inspire and engage youth as the next generation of globally minded leaders engaged in addressing a variety of vital topics broadly related to global food security. Michigan youth in grades 8-12 select, research and write a scholarly paper about a global food security topic in a foreign country of their choice. Students then present their research to peers and experts, and experience how MSU is leading the way in addressing global food security during an exciting day on the campus of MSU in East Lansing, Michigan.
The most outstanding youth at World Food Prize Michigan Youth Institute will be selected to represent Michigan as delegates to the World Food Prize Global Youth Institute in Des Moines, Iowa. This experience qualifies them to apply for scholarships and prestigious paid internships, which will have them working side-by-side with leading food security researchers in the United States or around the world.
While the World Food Prize Michigan Youth Institute is framed primarily around food, hunger and agriculture, the 20 "food security factors" youth may choose from to research and write about in their papers are very diverse and appeal to a wide variety of social, environmental and economic interests young people may have. To write the research paper, youth choose a country other than United States of America and select one of the 20 "key factors" affecting food security in that country.
The 20 "key factors" to select from are:
Plant Science. Increasing crop yields and improving disease/drought resistance through research and breeding of improved plant varieties.
Water Scarcity. Managing water scarcity and adapting farming practices to reduced water supplies with improved irrigation technologies and conservation practices.
Biofuels. Balancing the demand on global food and energy supplies and ensuring that developing nations also benefit from the use of biofuels.
Animal Health. Preventing the transmission of disease in livestock and poultry with improved management, investments in vaccine development, and proper application of medications to avoid antibiotic-resistance.
Climate Volatility. Responding to climate volatility by adapting agricultural practices and policies to increase carbon sequestration and support ecological resilience to erratic weather, rising temperatures/drought, saltwater intrusion, and shifting plant diseases and pest infestations.
Sustainable Agriculture. Developing and implementing sustainable agricultural practices (no-till, crop rotation, integrated pest management, etc.) to combat erosion, desertification and soil depletion and reduce pesticide/herbicide use and minimizing environmental degradation associated with industrial agricultural practices (improved animal waste disposal, conservation buffers, etc.)
Animal Agriculture. Implementing sustainable practices for raising livestock and poultry (management intensive grazing, integrated livestock/poultry grazing and poultry/vegetable production systems, fish pond farming systems, etc.).
Spoilage and Waste. Reducing spoilage and improving the quality and shelf life of food products with improved food preservation techniques and increased processing capacity (flash-heating, aseptic processing, freeze drying, bulk storage, etc.).
Water and Sanitation. Increasing access to safe, potable water supplies, toilets and pit latrines, and education on proper sanitation/hygiene and food preparation techniques to reduce the transmission of food and water-borne disease.
Dietary Diseases. Addressing obesity, heart disease, diabetes, and other dietary diseases through nutrition education, access to nutritious foods, and healthy behavior (dietary diversification, food selection, portion-size control, exercise, etc.)
Malnutrition Alleviating. Micronutrient deficiencies (iron, vitamin A, iodine, zinc) and protein-energy malnutrition through improved access to nutritious food, fortification, supplementation, school-feeding programs, nutrition education, emergency therapeutic feeding, etc.
Human Diseases. Reducing the burden of illness and infectious diseases like HIV/AIDS, Tuberculosis (TB), Malaria, etc., to improve human health and nutrition and raise agricultural production.
Demographics. Addressing the challenges and opportunities posed by population growth and urbanization.
Conflict Resolution. Preventing and resolving political and armed conflict with diplomatic initiatives.
Human Rights. Addressing gender, cultural and economic discrimination and improving access to credit and securing property rights for the poor and marginalized.
Education. Investing in education, training and extension for improved implementation of agricultural research and technology.
Good Governance. Reducing corruption by promoting the rule of law, government accountability, democratic principles and transparency.
International Trade. Removing discriminatory international trade policies to improve market access, promote fair trade and increase economic development.
Foreign Aid. Assisting vulnerable populations and improving the effectiveness of humanitarian relief and food aid in conflict zones and disaster sites.
Farm to Market. Improving access to markets through infrastructure development (roads and railways, internet, mobile technologies, electricity).
Guidelines and instructions for writing the research paper for World Food Prize Michigan Youth Institute, as well as sample papers, can be downloaded from the World Food Prize website.
Each youth wishing to participate in the World Food Prize Michigan Youth Institute must write a two-to-five page research paper. Youth submit their completed research papers and register for the 2017 Michigan Youth Institute by March 31, 2017. Teachers and other adult mentors who assist youth in writing their research papers are also encouraged to attend the World Food Prize Michigan Youth Institute. They must register by March 31 on the registration website.
Youth who submit a research paper and register for the program will attend the World Food Prize Michigan Youth Institute on May 11, 2017, on the campus of MSU. There is no cost to attend the program. During the Michigan Youth Institute, youth will give short, 3-5 minute presentations highlighting the findings and recommendations included in their research papers to adult experts and peers in small round-table groups. Participants will spend a portion of the time touring MSU research facilities and meeting with faculty, students and staff to see first-hand how MSU is engaged in addressing some of the world's biggest challenges related to food security.
The World Food Prize Michigan Youth Institute is coordinated by Michigan 4-H in partnership with the MSU College of Agriculture and Natural Resources, Michigan State University Extension, Michigan FFA and the World Food Prize Foundation. To learn more about the program, contact MSU Extension educators Makena Schultz (517-432-7603 or schul430@anr.msu.edu) or Brian Wibby (906-315-2662 or wibby@anr.msu.edu).
To learn about the positive impact of Michigan 4-H youth leadership, civic engagement, citizenship and global/cultural programs, read our 2015 Impact Report: "Developing Civically Engaged Leaders." Additional impact reports, highlighting even more ways Michigan 4-H positively impacted individuals and communities in 2015, can be downloaded from the Michigan 4-H website.