Microsoft grant expansion helps 4-H youth become digital ambassadors and create change
This year, Michigan is one of 15 states receiving National 4-H Council grants from Microsoft to implement the 4-H Digital Ambassadors Project in Michigan.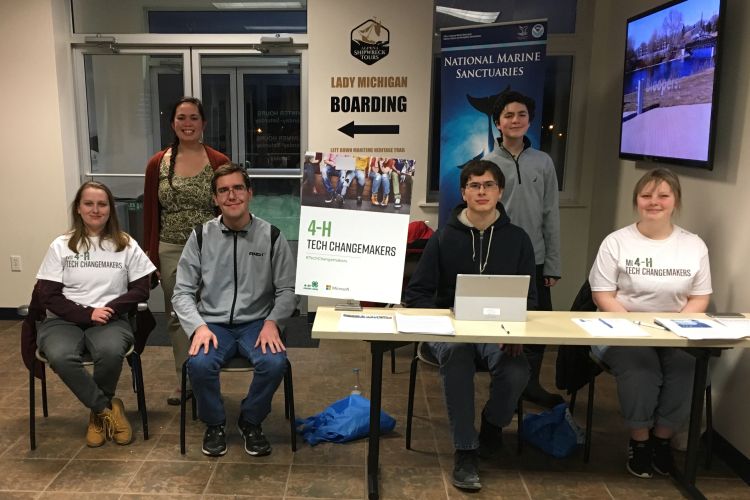 4-H Tech Changemakers
Last year, Washtenaw and Wayne counties were among eight 4-H communities nationwide to receive the 4-H Tech Changemakers grant from Microsoft. This year, that grant has been renewed and expanded to include Alpena County. This grant equips young adults with the digital skills and resources to make a positive impact on their communities.
Alpena County 4-H members are addressing the problem of marine debris. Their plan was to build a rewards program for the businesses in the county to collect reusable containers. The rewards program is still in the early stages of design, but changes in the county are starting to occur.
"There are a few businesses that have moved to some plastic-free practices on their own, so we are trying to highlight those businesses through our social media to spread the word and celebrate their decisions," said Hannah Hazewinkel, 4-H Tech Changemakers coordinator. "Our hope is that soon these business owners will become 'coaches' to other business owners who want to make the switch."
Wayne County 4-H members are tackling the issue of addiction across the nation. The youth have learned from resource professionals that addiction comes in many forms. To make resources available to people in need, they have developed a website, wayne4change.org. The youth are also creating educational games to feature on the website as another resource and learning tool.
Washtenaw County 4-H members are using technology to support teens facing mental health challenges. Their goal was to create a "web of peer support" and identify various resources that students can turn to in times of need. Their goal is to provide support to reduce the number of teen suicides and encourage positive mental health activities. This project has been acknowledged by the school districts and political decision makers, who have invited 4-H and other community teens to converse on the subject.
"The process each county has been going through to create a better community has been rewarding," said Jake DeDecker, Michigan 4-H state leader. "Each county has worked hard on designing a project that will change the community and help each and every person grow and feel comfortable to try new things within their community, and to make a difference along the way."
The 4-H Tech Changemakers looks to expand to other communities and school districts to implement their ideas and projects.
4-H Digital Ambassadors
This year, Michigan is one of 15 states receiving National 4-H Council grants from Microsoft to implement the 4-H Digital Ambassadors Project in Michigan.
This project involves teens taking their digital and technology skills to their communities in the Upper Peninsula counties of Dickinson, Gogebic, Iron and Menominee.
"There are over 20 million people who lack knowledge of the internet access and over 380,000 households in Michigan lack access to fixed broadband internet," said Anne Kretschmann, MSU Extension 4-H program coordinator. "However, access to broadband infrastructure is only one piece of the equation. Potential users must be comfortable with and educated on how to use the technology in order to improve their quality of life and the health of their community.
"Our proposal empowers 4-H youth to help close the rural broadband internet gap and make a positive impact in their communities through education. During community workshops, youth will teach technology skills such as using a word processor and accessing the internet and social media safely."
Kretschmann continued, "4-H has a strong tradition in rural communities spanning over 100 years which makes 4-H youth well poised to help bridge the gap as Digital Ambassadors. In this capacity, youth can engage people with the latest technology, so that they can use this new connectivity to improve education, health care and agriculture, as well as transform businesses."