Hipple honors her father's legacy with a planned gift for the gardens
Karen Hipple documented a planned gift to create an endowment for the Michigan 4-H Children's Gardens in memory of her father, Per G. Lundin, Michigan assistant state 4-H leader from 1925 to 1956.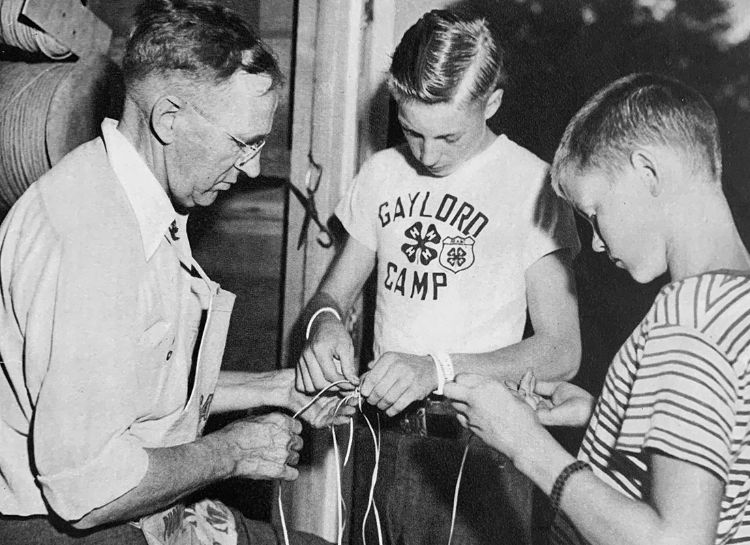 Karen Hipple, of Scottsdale, Arizona, grew up in East Lansing the youngest of four daughters. Their father, Per G. Lundin, worked for Michigan State University (MSU) Extension as the assistant state 4-H leader on MSU's campus for 31 years until he retired in 1956.
Hipple went on to graduate from MSU in 1962 with a bachelor's degree in elementary education and became an elementary school teacher. She married and had one son. For many years, she resided in the Birmingham, Michigan and St. Louis, Missouri areas before moving to Scottsdale.
Although she settled away from her hometown, Hipple never forgot the place she loved and called home for many years – MSU. To commemorate this special time of her life, Hipple documented a planned gift in memory of her father's legacy, which when received will create the Per G. Lundin Fund for the Michigan 4-H Children's Gardens.
"It is with great love and admiration that Karen has chosen to honor her father with this gift that will benefit the Michigan 4-H Children's Gardens," said Kristi Bird Hutchings, Hipple's niece. "My grandfather's career was devoted to 4-H and the impact he made on many 4-H youth across the state was phenomenal. Aunt Karen and her sisters had a great appreciation for their father's work, having heard many conversations that took place around their kitchen table while they were growing up."
Lundin served MSU Extension as assistant state 4-H leader from 1925 to 1956 and as part-time 4-H agent in Schoolcraft County in 1923 and 1924. Lundin is known for his work in developing the 4-H handicraft, electrical and poultry programs in Michigan. He also authored many 4-H bulletins in archery and fire prevention in addition to his specialty areas. A native of Sweden, Lundin received his bachelor's degree from MSU in 1920 and taught agriculture at Manistee High School before taking a full-time position with MSU Extension.
Once the endowment is funded, it will annually support the delivery of Michigan 4-H Children's Gardens educational programs. The outdoor Michigan 4-H Children's Garden opened in 1993 as one of the five major gardens of the MSU Horticulture Demonstration Gardens. It was the first garden in the United States developed specifically for the education of young children on a university campus. With over 150,000 annual visitors, the Michigan 4-H Children's Gardens have grown to include the original outdoor 4-H Children's Garden, the Indoor 4-H Children's Garden and the Smith Schoolyard Demonstration Garden.
"It is Karen's hope that by sustaining the ongoing mission of the gardens, her gift will help promote an understanding of the importance plants play in our daily lives, nurture the wonder and curiosity in a child's mind, and provide a place of enrichment and delight for children of all ages," Hutchings said.
A planned or deferred gift is a donation that is arranged by the donor, typically through a will, trust or estate plan, to be allocated at a future date, often after the donor has passed away. Planned gifts can be funded with cash, equity or property through a variety of gift vehicles.
In recognition of naming MSU a beneficiary of her trust, Hipple has been recognized as a member of the MSU Landon Society. Similarly, planned gift donors to the Michigan 4-H Foundation are recognized as members of the A.G. Kettunen Society.
If you are considering a planned gift, endowment or other special gift to support 4-H, contact Amanda Masters at (517) 884-4691 or by email at amasters@msu.edu.