Microsoft grant helps Michigan 4-H'ers address critical issues
Michigan 4-H'ers are addressing major issues within their community with digital solutions thanks to a new National 4-H Council partnership with Microsoft.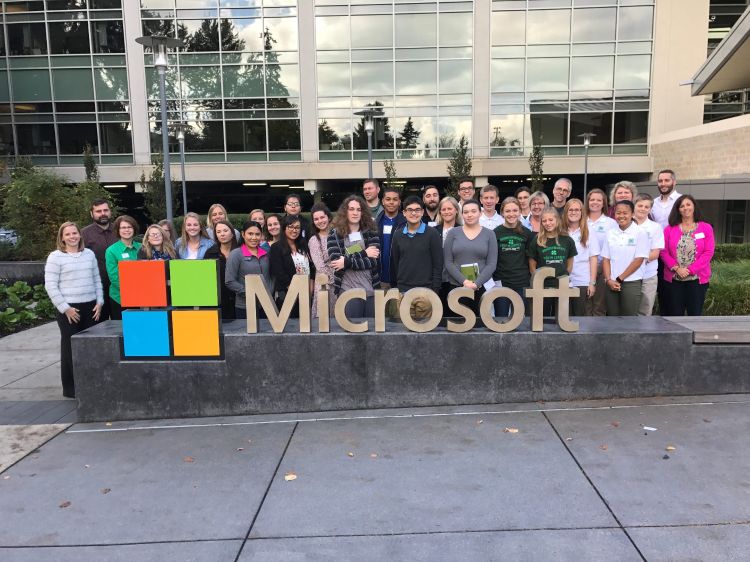 Washtenaw and Wayne counties were among eight 4-H communities to receive the 4-H Tech Changemakers grant from Microsoft to equip young people with the digital skills and resources they need to make a positive impact in their communities through grassroots strategies.
Last fall, 4-H teens representing these communities were invited by National 4-H Council and Microsoft to Microsoft's headquarters in Redmond, Washington. During the three-day 4-H Tech Changemaker orientation, Microsoft's employees guided youth through an intensive community issues identification process to identify areas where 4-H members could make the best better in their local communities.
The teens were asked, "What if you were in charge of deciding which issue in your community should be addressed?" and, "What if technology could be a solution to that issue?"
4-H'ers in Wayne County are tackling the issue of rising substance abuse across the nation and within their own communities. Pursuing the development of a website or application, the youth plan on making substance abuse-related resources more easily accessible to those in their area.
"The Microsoft grant is important because Michigan 4-H has the very big job of supporting and nurturing youth leaders with comparatively very little resources to do that," said Mark Cowan Jr., Wayne County 4-H program coordinator.
"This grant will help us connect young people with technology that will empower them to make a difference in the communities that they live in. Young people will be most affected by the systemic issues in their communities, and we have the responsibility to partner with them and amplify their voices and actions to make positive change," Cowan said.
"I am looking forward to building close relationships with my community and the resources that I want to offer," said Ronell Austin, Wayne County 4-H member. "With the help of Microsoft, I believe that I can guide my community towards the right direction and give them easy access to any help that they desire. Technology is the future, so it is imperative for me to have as many people as I can on the web, searching for the help or resources they need."
In Washtenaw County, 4-H members are looking to support teens facing mental health challenges by using technology.
"We all seem to know that technology is the future for this teen generation, but we haven't yet created all the needed tools to utilize it while staying physically and emotionally safe," said Sheri Montoye, Washtenaw County Michigan State University (MSU) Extension 4-H program coordinator.
"This grant helps put teens and 4-H at the forefront in conversations about teens and technology, and we are learning that although adults express an interest in hearing from teens about this topic, they aren't sure how to include teens in a meaningful way," Montoye said.
Washtenaw 4-H Tech Changemaker teen leaders Joel and Suhjin quickly agreed on teen mental health as their issue. Their goals are to create what they call a "web of peer support," and identify a toolbox of resources for teens dealing with mental health issues in their school community. With a resource to turn to in times of distress, the 4-H'ers aim to provide support to reduce the number of teen suicides and encourage positive mental health activities.
Local teens have a strong sense that their peers are suffering and looking for support. Joel and Suhjin didn't know until they began researching this topic that the county teen suicide rate is currently at a 40-year high. They also didn't know that according to a Common Sense Media and SurveyMonkey survey, 47 percent of parents today think their children are addicted to smart phones. Instead of simply blaming technology and society for teen problems and doing nothing, the teens regularly meet and engage with local stakeholders to tackle this issue in their community.
To begin building that web of peer support as well as increase understanding of new technology, the teens invited additional teens to get involved with planning a 2-hour event that took place on April 10 called "Teen Tech Café." The event was set up in a local high school media center to allow for both the exploration of new technology and provide a safe teen-centric after-school space.
Ten youth participants used Microsoft Surface Pro tablets to explore various technologies including Lego EV3 robotics, 3D graphics programs, Scratch and Python. They also explored some phone-centric activities using "Text, Talk, Act," a Creating Community Conversations initiative led by the National Institute for Civil Discourse, which engages people in impactful conversations on mental health. The local library technology department used the first 15 minutes to demonstrate the many uses of a Surface Pro. Additionally, the president of the senior center (who retired from IT work at The University of Michigan) and the mayor were in attendance to observe the day's events.
"The event for us is only a starting point. We know that we can change this into something much more impactful. This is something to build off of," said Suhjin.
The teens felt this event, made possible with a donation of more than 20 Surface Pro devices from Microsoft, was a success. The donated tablets will be used for technology learning opportunities across the county. Although there is more to do on this project, participants advanced the local conversation around both teen mental health and technology.
4-H Tech Changemakers will explore replicating this idea in other school districts in the county. They are already working closely with a local senior center located near the high school to host an ongoing teen space for cross-collaborative tech education in the future. The teens are also working on an electronic survey of teens and adults in the area to gather ideas on addressing teen mental health issues using technology as a solution.
"We are already thrilled with the conversations this grant has started in our community, and are looking forward to the additional new partnerships between teens and adults that we will build in the coming years from the seeds we have already planted," Montoye said.
Thanks to this partnership with Microsoft, 4-H members in Washtenaw and Wayne counties will continue to make a lasting influence on important issues that they, their peers and their community face. The partnership is part of Microsoft's Rural Airband Initiative that strives to promote digital skills training for community members of all ages.