MSU Academic Quadrathlon Team Finishes 2nd in Midwest Competition
Highlighting their accomplishments were 1st, 2nd, and 2nd place finishes in the Laboratory Practicum, Written Exam and Quiz Bowl, respectively.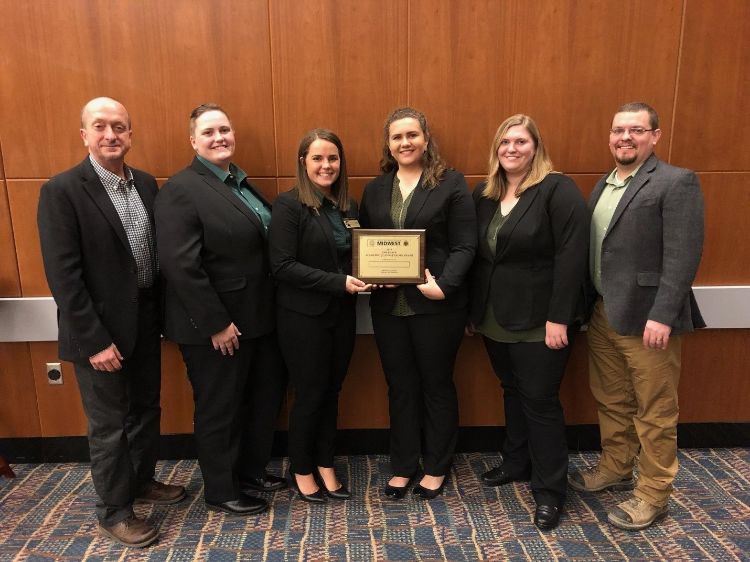 The MSU Academic Quadrathlon Team placed 2nd out of 11 teams at the 2019 Midwest Academic Quadrathlon (AQ) held March 10-11, in association with American Society of Animal Science Midwest Section and American Dairy Science Association Midwestern Branch Scientific Sessions and Business Meeting in Lincoln and Omaha, Nebraska. Members of the MSU AQ Team were Hannah Campbell, Marisa Henry, Andrea Luttman and Claire Vincent (see accompanying photo and bio's below). Highlighting their accomplishments were 1st, 2nd, and 2nd place finishes in the Laboratory Practicum, Written Exam and Quiz Bowl, respectively. The AQ Team from the North Dakota State University took home top honors.
The Academic Quadrathlon is a regional event involving undergraduate student teams from various Midwestern schools or universities. Teams test their skills and knowledge in four events: Laboratory Practicum, Written Exam, Oral Presentation, and Quiz Bowl. In the Laboratory Practicum, the team demonstrates its ability to perform physical skills involving handling in 11 species or a disciplinary areas. The Written Exam covers aspects related to animal science including physiology, nutrition, genetics, and products. In the Oral Presentation, the students were given a topic to discuss dealing with animal agriculture. In the Quiz Bowl, questions may be on any topic that relates to animal agriculture. Members of the AQ Team also had opportunity to meet and interact with professionals in Animal Science and Dairy Science during their time in Nebraska.
Team Bios
Marisa: Marisa LeeAnn Henry, a senior at Michigan State University, hails from Ellington, Connecticut. She is an Animal Science major in the College of Agriculture and Natural Resources and the Honors College, with a concentration of Animal Biology and Pre-Veterinary Medicine. Growing up in Connecticut, she showed horses on the Hunter and Jumper Circuit. Marisa's love and passion for the horse industry has followed her through her education at MSU, including training and showing a 3-year-old Arabian gelding for MSU at the Region 16 Horse Show in Lexington, Kentucky, in 2017. Since her freshman year, Marisa has worked for Dr. Stephanie Valberg from the College of Veterinary Medicine in the Equine Neuromuscular Diagnostics Laboratory. She has worked on immune-mediated myositis and antioxidant supplement trial research. She has coauthored two publications: "An E321G MYH1 mutation is strongly associated with no exertional rhabdomyolysis in Quarter Horses" and "Prevalence of the E321G MYH1 variant for immune-mediated myositis and nonexertional rhabdomyolysis in performance subgroups of American Quarter Horses." Marisa has presented her research at the MSU CVM Phi Zeta day in both 2017 and 2018 and is planning to present research at the MSU Undergraduate Research and Arts Forum in April 2019, the Undergraduate Animal Science Research Forum in April 2019, and the Equine Science Society Symposium in June 2019. Following Marisa's graduation, she plans to pursue a master's degree through the Comparative Medicine and Integrative Biology Program at the MSU College of Veterinary Medicine under Dr. Valberg. Once completed, she plans to continue her education by achieving a Doctor of Veterinary Medicine, specializing in equine rehabilitative medicine. Her career goal is to become a leading rehabilitation specialist and researcher in the equine industry and to provide specialized care for some of the top horses in the country.
Hannah: Hannah Rae-Lynn Campbell, a first-generation college student from Sumter, South Carolina, is a junior in the Honors College and the College of Agriculture and Natural Resources at MSU, majoring in Animal Science with a Production Animal Scholars concentration and a minor in Plant, Animal, and Microbial Biotechnology. She is also a student at the University of Wisconsin-Madison studying Poultry Science through the Midwest Poultry Consortium Center of Excellence Scholarship and Internship program. Hannah is the President of the MSU Avian Science Club, where she eagerly welcomes the opportunity to advise and lead students who are interested in poultry and organize professional and social experiences within the industry. Hannah is the Duck Race Chair of Sigma Alpha, the Professional Agricultural Sorority at MSU. Through this position she organizes a 5K run and walk, where all proceeds benefit the Michigan 4-H Foundation in providing scholarships to Michigan high school seniors that will be attending the MSU College of Agriculture and Natural Resources. Hannah works as a farm-hand and animal caretaker at the MSU Poultry Teaching and Research Center, and as an undergraduate research assistant under Dr. Joseph Folger in the MSU Mammalian Reproduction Biology and Genomics Laboratory. Last semester, she also was an undergraduate teaching assistant for the Animal Nutrition and Feeding course offered by Dr. Mike VandeHaar. Hannah's passion and love for the poultry industry and agriculture started at the young age of 8, and it hasn't dulled since. She is an extremely dedicated individual in everything she devotes her time to and is well known for her strong, motivated and passionate personality in the MSU CANR community. After graduation in May of 2020, she hopes to attend Veterinary School to specialize in poultry and production animal medicine.
Claire: Claire Elizabeth Vincent is a sophomore at Michigan State University studying Animal Science with a concentration in Animal Biology and Pre-Veterinary Medicine. She is from Yale, Michigan. Her passion for Animal Science stems from being involved in 4-H since she was 9. Through 4-H she has shown sheep, beef and swine, and is the junior leader for her club's sheep and swine projects. At home she maintains a small flock of ewes to produce show lambs. At Michigan State, Claire is an active member of the Block and Bridle Club. She has participated in the Little International Showmanship Contest, Beef Expo and the Livestock Judging Contest. Claire is the Co-Chair of this spring's 2019 Beef Expo Junior Show. Since 2017, she has been employed by MSU Culinary Services. Last summer, she worked for SEMCO Energy, Port Huron, Michigan, in the safety department. Before graduating, Claire aspires to be a member of the Michigan State Livestock Judging Team. Her plan is to apply to veterinary school with a focus on food animal production.
Andrea: Andrea Luttman, hailing from Lansing, MI, is a senior at Michigan State University in the College of Agriculture and Natural Resources studying Animal Science with a concentration in Animal Biology. Andrea transferred to MSU in 2016 after attending Lansing Community College. During her time at MSU, Andrea has been dedicated to developing practical skills both on the farm and in the lab. Her first year at MSU was spent in the lab of Dr. Patrick Venta from the Department of Microbiology and Molecular Genetics where she completed an equine genotyping project. Andrea will be second author on the pending manuscript, "Development of a 20-plex tetranucleotide microsatellite panel for the horse: extension from a candidate gene study for Friesian horse megaesophagus". Since then, Andrea has worked as an undergrad research assistant for Dr. Mike VandeHaar and at the MSU Sheep Teaching and Research Center. Currently, Andrea continues to work under Dr. VandeHaar as well as to work under Dr. Cathy Ernst and Dr. Tasia Taxis. With Dr. Ernst, she is developing Open Educational Resources for the department's undergraduate genetics course. This project is part of a grant aimed at studying the impacts that online resources have on student learning. Under Dr. Taxis, Andrea is assisting with data management for a large out-of-state dairy farm. Andrea will be graduating with high honors this May. She will be remaining at MSU in the fall as she begins the Biomolecular Science program through the College of Natural Science. This is a competitive straight PhD program that covers six different departments and allows students to rotate through various labs during their first year. She plans to earn a doctoral degree in genetics before pursuing a career in animal breeding and genetics. Andrea hopes to specialize in sheep genetics, influencing efficiency and genetic progress through selective breeding within the industry.