MSU In-Person Agriculture & Food Industry Fair 2023
September 26, 2023 3:00PM - 6:00PM
Spartan Stadium Office Tower 4th floor, 535 Chestnut Rd, East Lansing, MI 48824
---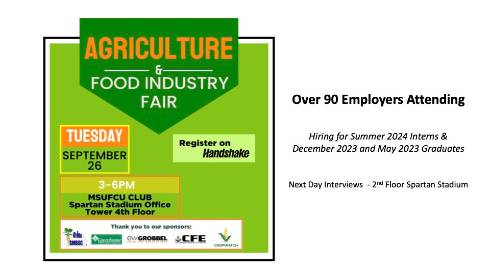 MSU will host an in-person career fair for agriculture and food industry on Sept. 26, 2023 at the MSUFCU Club.
Explore opportunities for internships and full-time employment in agribusiness, sales, marketing, logistics, research & development, technical roles, production agriculture, or food production. Employers represent all aspects of Agriculture & Horticulture such as agronomy, dairy, equine, livestock, poultry, companion animal, fruit & vegetable, landscape & turfgrass industries and all segments of the Food Industry from product development, quality assurance, manufacturing, and operations.
The evening before the fair (Monday, Sept. 25) the Food Science, Biosystems Engineering and Food Marketing Association Clubs are hosting a pre-fair mixer the evening before the fair where eight employers will be presenting. This event is open to all students.
Students interested in attending the event can register on Handshake.
https://app.joinhandshake.com/career_fairs/39477/student_preview
Get Directions
---