MSU Extension and local food pantries work together to support clients with diabetes
These efforts provide resources for those in need.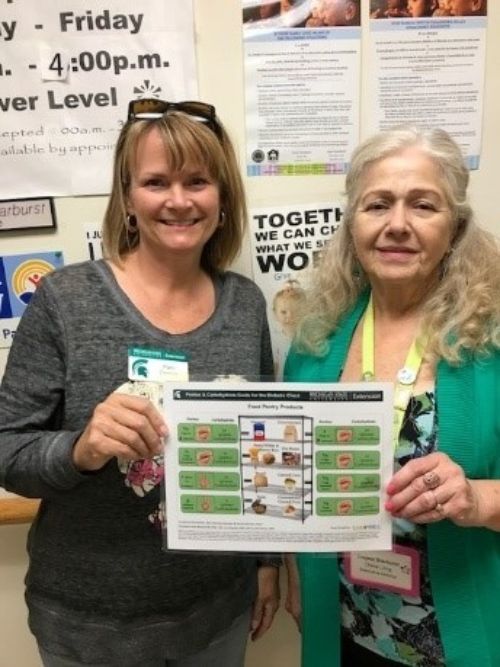 For individuals with diabetes, food choices at the pantry can be a challenge. Area food pantry directors and Michigan State University Extension have worked together to better serve clients with diabetes.
Food insecurity and diabetes

Food-insecure individuals who are struggling to manage their diabetes health look to pantries and food banks for support. The challenge is to maintain a well-balanced food plan. According to America's Health Rankings 2020, Michigan has seen an increase in diabetes diagnosis in adult populations. Those with yearly incomes at or below $25,000 per year also showed the highest prevalence for diabetes. Both age and household income are common indicators of food insecurities.
Food pantries are challenged with stocking staple foods that support a well-balanced food plan. Food supplier Feeding America confirms that fresh fruits, vegetables, fresh meats, and dairy can be in low supply or too costly for food pantries budgets.
Clients with diabetes help target areas of need
MSU Extension educator Pam Daniels said, "We thought a good place to start was with the clients themselves. What resources or support did they want to see? Where are the biggest challenges?" So a needs assessment in the form of a survey was designed, and ten local food pantries participated in an MSU Extension needs assessment project. The strategy was to identify areas to improve services and resources for clients with diabetes.
This survey, which was available solely to food pantry clients with diabetes, asked them to self-report in the following areas:
Confidence in selecting appropriate food.
Carbohydrate knowledge.
Skill in label reading.
Foods that have the highest effect on blood glucose.
Stress as it relates to diabetes self-management.
Frequency of reporting diabetes health issues to their healthcare team.
A total of 300 surveys were collected and reviewed. Using the information gathered from those surveys, Michigan State University Extension created Navigating the Food Pantry with Diabetes resources.
Food pantry directors asked MSU Extension to go one step further, requesting more internal resources for their staff and volunteers. "Our staff would benefit from knowing the right things to say to clients with diabetes and how to do that inclusively and respectfully," said Diane Long, director of Project Starburst Food Pantry.
MSU Extension developed a free online professional development course called Navigating the Food Pantry with Diabetes Staff Training Course. Learning objectives of the course aim to build staff confidence to direct clients with diabetes towards the appropriate pantry resources.
This community-based effort turned into a policy, systems and environment change for food pantries.
"It shows how one small project can be a win-win for clients, staff and the entire community," said Pam Daniels.
Additional Resources