MSU Extension educators visit Washington D.C.
Local Extension educators visited Congressional offices to share about their work with Michigan agricultural producers as well as the impact our food safety programs have on volunteers and professionals.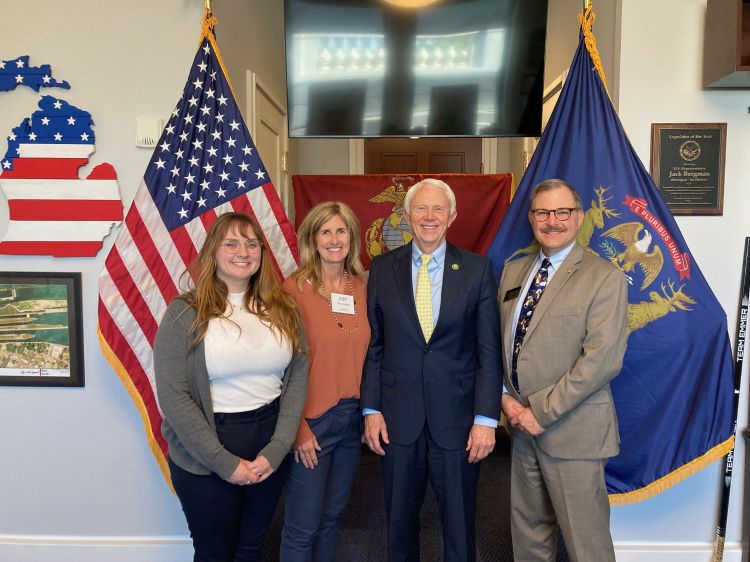 Michigan State University Extension educators, Kara Lynch, Cheyenne Sloan and Phil Durst were in Washington D.C. recently visiting congressional offices to share with members the impact of Extension on families, business and communities. Each of them is a leader in their respective professional associations and were attending the Public Issues/Leadership Development (PILD) Conference held in Alexandria, VA with fellow leaders from across the country. As a part of that conference, one day is set aside for state delegations to make visits on Capitol Hill.
Lynch, Sloan and Durst visited offices together to share various aspects of Extension education including food safety training (Lynch), blueberry production and nutrient management (Sloan) and dairy management, value-added production and farm crisis planning (Durst). They met with Representative Jack Bergman (1st District) and staff members for Michigan Congressional Members Hillary Scholten (3rd), Bill Huizinga (6th), Elissa Slotkin (7th), Tim Walberg (5th), Debbie Dingell (6th) as well as staff for Senator Debbie Stabenow.
Congressional offices can be busy places with other constituent groups visiting to encourage action or support. Yet, the MSU team was impressed with the attention they received from staff members whether they met in a private office, reception area or hallway, as space allowed. Staff members tend to be young, many in their 20's or early 30's but took notes in order to share information with the congressional members. Many were knowledgeable about aspects of Extension work.
Extension was established by Congress with the 1914 Smith-Lever Act to take the knowledge gained from research out to the people of the state who could put it to good use. This is a unique function of the Land-Grant Universities authorized in 1862 by the Morrill Act of Congress and signed by President Abraham Lincoln. MSU Extension has educators throughout the state working to help people improve their lives through an educational process that applies knowledge to critical issues, needs and opportunities.
Today, Extension is supported by federal, state and county dollars along with grant funding so that as many of Michigan's citizens as possible can benefit from the resources not just of Michigan State university, but of all land-grant institutions.
Extension educators belong to professional associations that provide professional development, recognition and leadership opportunities. Durst, based in Ogemaw County, is the current president of the National Association of County Agricultural Agents. Lynch, located in Isabella County, is a board member of Epsilon Sigma Phi and the Michigan Extension Association of Family & Consumer Science. Sloan, of Van Buren County, is a board member of the Michigan Association of Extension Agents.
Extension educators visiting with Congress members or staff is valuable to be able to share about the needs of the farmers, businesspeople or communities from those working directly with them. It also puts a face on those who serve the Congress member's constituents and can be a resource in the district for them and their staff. It emphasizes that together we serve.