MSU Extension prioritizes mental health and mindfulness for Michigan youth
Amid the global pandemic, Michigan State University Extension focused on supporting the mental health and well-being of Michigan's children, youth and their families.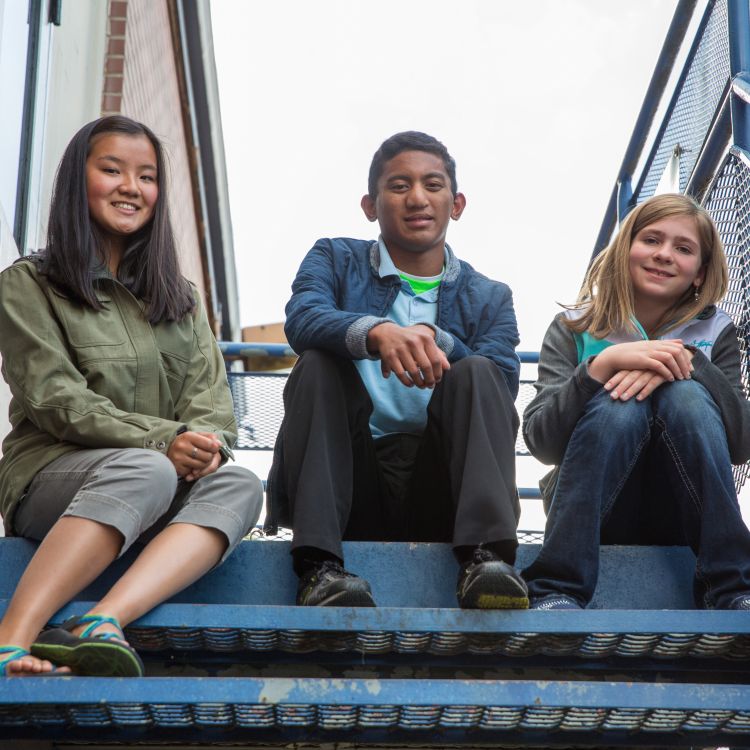 Being a kid in today's complex world can be challenging for any young person. But since March 2020, those challenges have grown exponentially as the global COVID-19 pandemic changed social engagement, removed in-person support systems and increased isolation. As these factors took a toll on youth mental health, Michigan State University (MSU) Extension responded with a focus on emotional wellness and mental well-being.
In the early days of the pandemic, MSU Extension children and youth educators Kea Norrell-Aitch and Janelle Stewart quickly revamped the "Managing Youth Stress" resource that had originally been created as part of MSU Extension's farm stress program. Adapted to address the unique circumstances created by the COVID-19 response, the tip sheet educates parents, caregivers and other caring adults about the warning signs of stress in youth, as well as ways to support children through these stressful times. The heavily circulated resource was launched in March 2020 and shared via social media, newsletters, email and more. As a result, Norrell-Aitch and Stewart were contacted to provide youth self-care tips to external outlets.
"While many teens have a sense of when they are feeling overwhelmed, anxious or depressed, they don't always know what to do about it," Norrell-Aitch said as part of an interview with the national Future Farmers of America organization. "We all get out of balance from time to time but we should strive to get back to that balance to keep our minds and bodies healthy. A self-care plan is something you can act upon whenever you feel stressed or saddened about things going on in your household, community or nation."
Norrell-Aitch also worked to expand mental health tools that allowed her MSU Extension peers to better support youth. Modeled after a resource for MSU campus staff, Norrell-Aitch launched the MSU Extension Green Folder in December 2020. The resource compliments the Youth Mental Health First Aid training that MSU Extension has delivered to 220 MSU Extension youth professionals since 2017. Through the course, staff learn how to recognize the signs and symptoms of a mental health challenge in children ages 12 to 18 and how to help a young person in crisis.
The Green Folder provides a reminder of course information, including how to recognize and support youth who may be in or have recently experienced a crisis. In addition, the resource provides a comprehensive list of mental health resources across the state so MSU Extension staff can quickly connect youth in need with the appropriate professionals. As others across the country grappled with similar mental health issues, MSU Extension quickly received requests from other state Extension services eager to adapt the tool for use in their communities.
Seeking to support youth before they reached the point of crisis, MSU Extension professionals also launched important emotional wellness programs in response to the COVID-19 pandemic. As schools faced closures, reopenings, hybrid operations and quarantines, mindfulness education became a critical method of helping youth navigate their emotions and constant change. Jill Connin, Schoolcraft County's MSU Extension 4-H program coordinator, partnered with two Manistique elementary school teachers to offer 4-H Mindful Me. Connecting virtually with the class, Connin covered important lessons such as the gift of presence, describing feelings, mood management, quiet listening and mindful eating. Through interactive activities such as yoga, affirmations and breathing, Connin helped youth understand and practice mindfulness.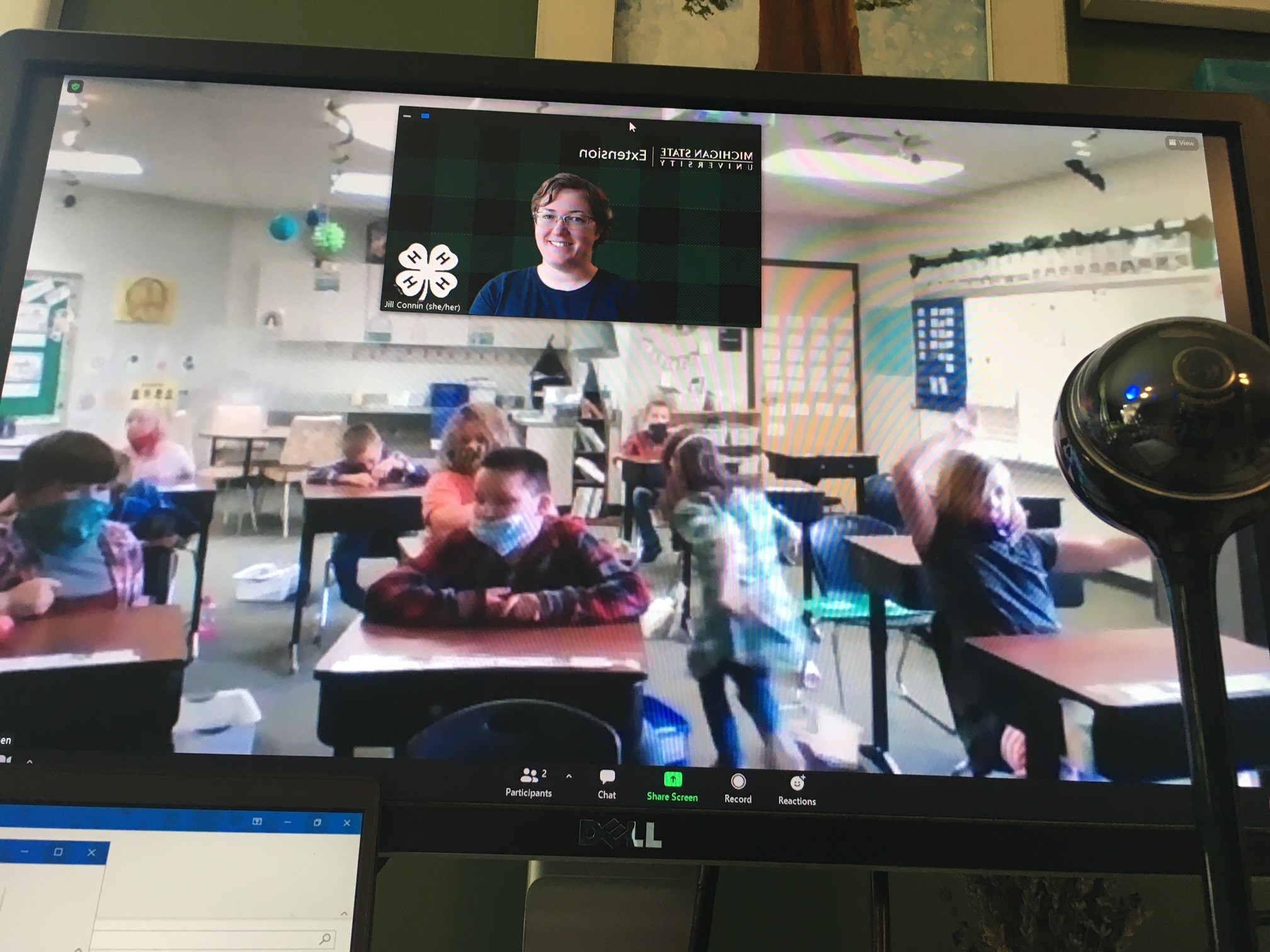 "We have started using some of the breathing techniques," said second grade teacher Karen Sherbinow. "They really do help the students calm and find their center."
The lessons proved to be so useful to some students that they asked for more.
"A few of my kids are having super-high anxiety again and I had a request for Mrs. Connin to come back," remarked second grade teacher Alyssa Larsen. "The student who requested it is one who has the most and biggest behavior issues – I am so proud of him for speaking up."
The 4-H Mindful Me curriculum was so well received in the Manistique school system that the area's Great Start Collaborative reached out to have the program adapted for children from birth to age 8 and their caretakers. Connin partnered with Jessica Price, Luce County MSU Extension 4-H program coordinator, and taught parents important mindfulness practices they can use with their children as they grow.
"My child has found new ways to cope with big emotions and is using her glitter bottle that we made as a project as well as breathing techniques to help calm down," said one parent who took part in the sessions. "It was a great program and we are so thankful to have been able to take part even with a short 2-year-old attention span."
For Michigan 4-H youth and parents and caregivers outside the school system looking for mindfulness support, MSU Extension professionals created a variety of online resources. The resources included family meditations, yoga sessions, mindfulness activities and video tips.
"The past year and a half has been a trying time for everyone, especially Michigan's children and youth," said Erica Tobe, director of MSU Extension children and youth programs. "I'm proud of how our MSU Extension professionals have prioritized the mental health of children and their families during this critical time."
In the year ahead, MSU Extension is expanding its mental health programs to include Teen Mental Health First Aid. This program will teach students in grades 10 to 12, as well as other youth-serving organizations, how to identify, understand and respond to signs of mental illness and substance use disorders in their friends and peers. The program will also help trainees develop skills to have supportive mental health conversations and how to find help for those in crisis.