MSU Extension's Cooking Matters program awarded $10,000 grant
The grant, from the AT&T Foundation, will help purchase take-home groceries for participants.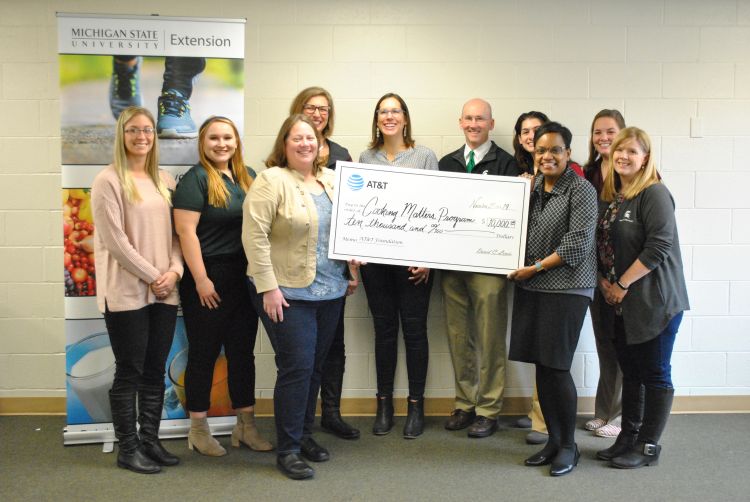 On Wednesday, November 27, the AT&T Foundation presented a grant of $10,000 to Cooking Matters, a Michigan State University Extension program that teaches people with limited food budgets how to prepare healthy foods.
The check ceremony was held at the Jackson County Extension Office and attended by Rep. Sarah Lightner and Yvette Collins, AT&T's regional director of external affairs. Also in attendance for MSU Extension were Becky Henne, state SNAP-Ed coordinator; district director Matt Shane; Erika Garner, nutrition training coordinator; Lindsey Pung-Terry, supervising educator; and community nutrition instructors Madison Koenigsknecht, Ali Rogers, Vanessa Armstrong and Angela Maniaci.
"Cooking Matters makes a difference for so many families across Michigan, teaching people how they can be healthy on a tight budget," said Becky Henne. "We are grateful to the AT&T Foundation for their support of this important program."
Each Cooking Matters course is team-taught by a culinary and nutrition educator, and adult participants take home a bag of groceries at the end of each class. The AT&T Foundation grant will support the program's "$10 Challenge," where participants use the skills they've learned in class to shop for a $10 healthy meal for a family of four.
Currently, MSU Extension offers a variety of tailored Cooking Matters classes:
Cooking Matters for Parents teaches parents with young children how to prepare and shop sensibly for healthy meals on a budget.
Cooking Matters for Families engages adults and school-aged youth together to learn about healthy eating, planning meals as a family, and working together in the kitchen.
Cooking Matters for Adults teaches adults how to prepare and shop sensibly for healthy meals on a budget.
Cooking Matters for Child Care Providers equips child care professionals with necessary skills to select safe, healthy meals on a budget for young children.
Cooking Matters at the Pantry is tailored for food pantry workers.
Cooking Matters at the Store provides participants with hands-on education as they shop for food, giving them skills to compare foods for cost and nutrition.
"Cooking Matters is about more than teaching cooking skills, it's about providing participants with the confidence to make healthy, budget-friendly choices for their families," said David Lewis, president of AT&T Michigan. "The AT&T Foundation is honored to be a part of this worthwhile program that is helping families every day."
Cooking Matters is offered at various locations across the state. To find a Cooking Matters class near you, visit your county's MSU Extension page.