MSU Forestry in Costa Rica
"Hagamos un bosque!" Let's build a forest.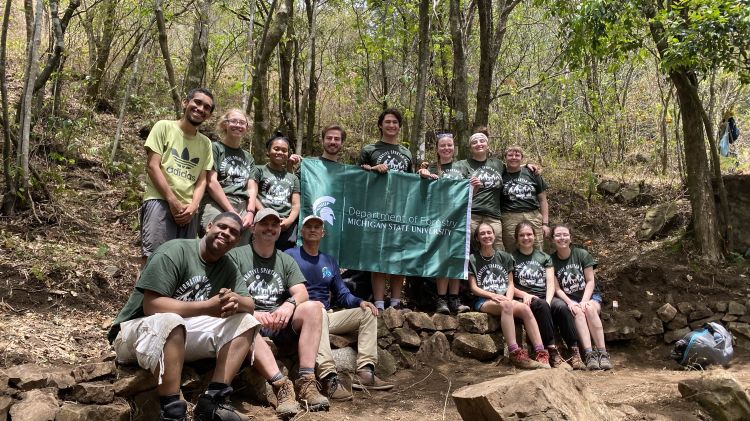 "Hagamos un bosque!" Let's build a forest. It's the phrase that led Forestry and Fisheries and Wildlife student Anna Dunnebacke to her first Alternative Spartan Breaks (ASB) experience in Costa Rica in 2022. Dunnebacke had such a great time, she decided to return in 2023. This time, she brought some forestry friends with her.
Nacientes Palmichal is a beautiful community-run lodge in Palmichal, Acosta. The goal of this community is to protect the forests that line the Tabarcia and Negro river watersheds while at the same time educating the public about forest conservation. The area, that was formerly used for cattle farming, is now used for water production and protection of local plant species.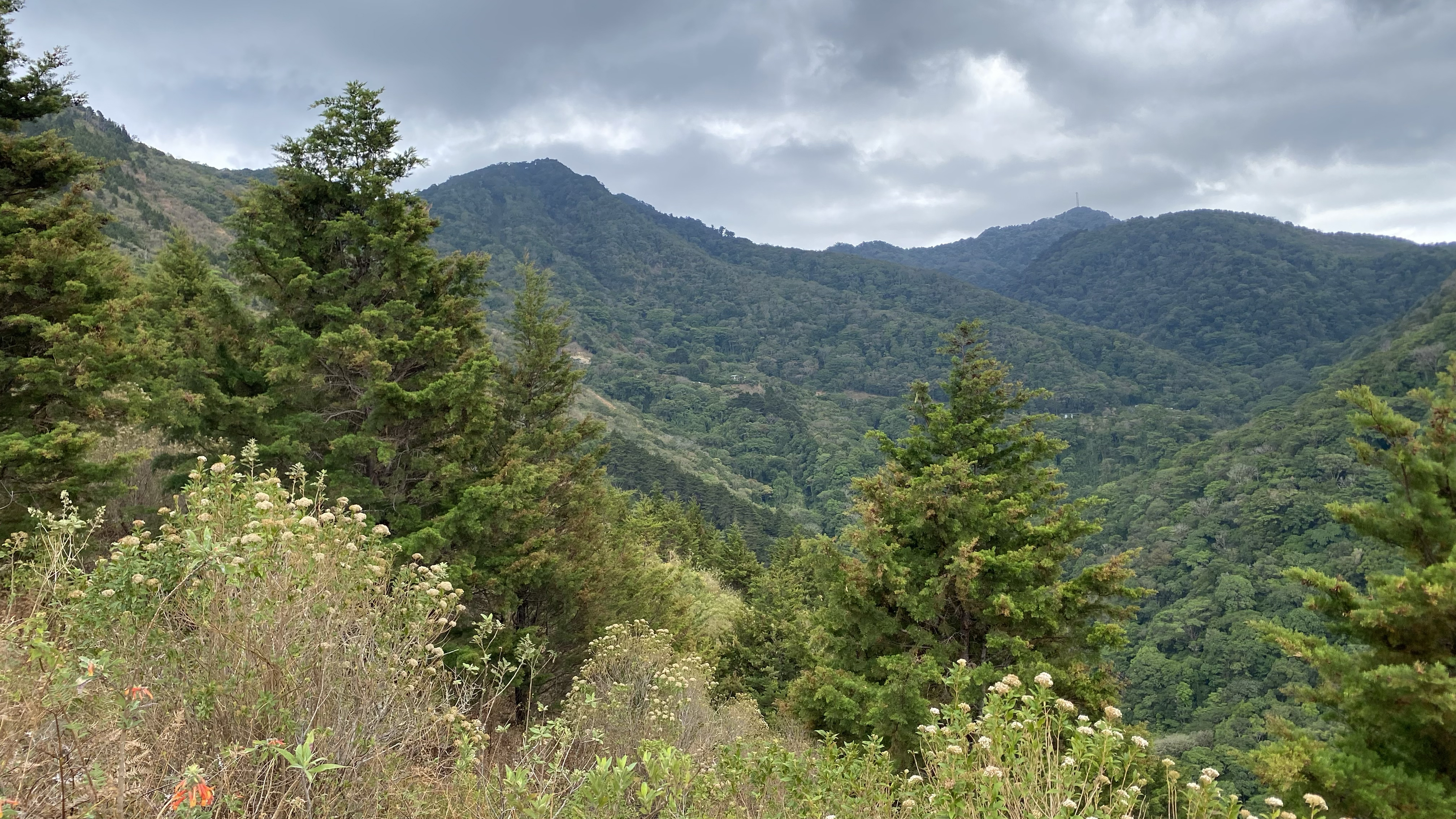 Dunnebacke was excited to return to Nacientes Palmichal, having loved her experience there in 2022. "These ASB experiences have fueled my passion for tropical forest ecology and showed me what my career could look like in regard to communication with stakeholders, topics that can be researched, as well as an everyday curiosity and passion for what I do," said Dunnebacke.
As part of the ASB program, forestry undergraduate advisor Justin Kunkle was able to take a group of ten forestry students to Costa Rica to participate in community building and hands-on practical experiences. In addition to the intense physical work, Kunkle says there was a meaningful cultural exchange as well.
Forestry student Abigail Moore recalls one thing in particular about her week in Costa Rica – the people. "I loved seeing everything about their culture, how closely they live with the environment and respect it. We talk about it here, but seeing it actually applied was really amazing."
One of the larger projects the students accomplished involved using existing materials from the forest to create a safe overlook to view the valley. Students built a natural platform constructed of large boulders and moved soil to level off the area. After identifying them as an invasive tree species, cypress trees were cut down, then cut to length and stripped of their bark, which was used for the posts and railings to finish the overlook.
In addition to the overlook, students also constructed an amphitheater to serve as outdoor classroom space. Students created a drywall of rock, including built-in seating, providing a shaded area for groups of people to meet for educational programming.
This collaboration provided an opportunity for students and allowed for the exchange of ideas with members of the reserve, in terms of forest management. They were asked for their suggestions on how to manage the area moving forward.
Moore recalls, "We talked about the cedar forest and adding a reading area, and what books could be put here to learn more about ecosystems."
Moore also said they talked about planting fruit trees, what animals would be an issue, and what trees are native to the area. "It was cool to be able to apply what we've learned in classes. There was a moment where I thought, 'wow maybe I have learned some stuff!' We all wanted to learn more about plants there, they were so different from what we see [in Michigan]."
Dunnebacke was also greatly impacted by the culture and kindness of the people at Nacientes Palmichal . "My favorite part of this experience was talking to the members of the community who so kindly shared their knowledge, their hospitality, and their time with us during the week. I felt truly emersed in the culture, and I have learned so much from my interactions with them," said Dunnebacke.
The Alternative Spartan Breaks program first started in 1991, when several students expressed an interest in helping out others in the aftermath of Hurricane Andrew. The program has continued to grow, and ASB has now sent over sent over 4,000 students across the country and the world, for over 400 domestic and international service experiences. Tina Houghton, Assistant Director of the Service Learning Center, says she really enjoys watching students grow into leadership positions. "I've met so many students that say 'I'm not a leader,' but if you give them the opportunity, based on how they want to express themselves, they really blossom," said Houghton.
In addition to Houghton's cooperation and support, the strong connection between Alternative Spartan Breaks and The Department of Forestry is made possible by Vincent Delgado, Director of the RCAH (Residential College in the Arts and Humanities) Program on Sustainability in Costa Rica. Delgado is based in Costa Rica and has been working closely with Don Hernan Ramirez, Director of ADESSARU (Rural San Jose Sustainable Development Association), for close to a decade.
ADESSARU is a community-based non-profit whose mission is to protect the Rio Negro and Rio Tabarcia watersheds using environmental education and other protection practices such as forest protection to preserve clean drinking water for more than 40,000 people near Costa Rica's capital San Jose. The Nacientes Palmichal lodge generates monetary support for ADESSARU's mission — among other benefits.
RCAH has been collaborating with ADESSARU, among a diverse network of Costa Rican community partners, since its founding as a college nearly 15 years ago. Since then, hundreds of MSU students, faculty, and units have engaged in education abroad programs and global community participatory research, design and arts projects to co-generate and support the resilience and sustainability of Palmichal and other communities across Costa Rica.
"Anna Dunneback, ASB and the Department of Forestry's collaboration with ADESSARU and the RCAH Program on Sustainability in Costa Rica is a remarkable example of the impact of immersive, sustained, international community engagement," said Delgado. "Students learn critical thinking, community engagement and collaboration skills in an international context that they can use in future public engagement and leadership in Michigan, the U.S. and around the world while communities benefit from the co-creation of knowledge, community resilience and positive change. We are delighted with this developing collaboration with ASB and the Department of Forestry and look forward to seeing it grow."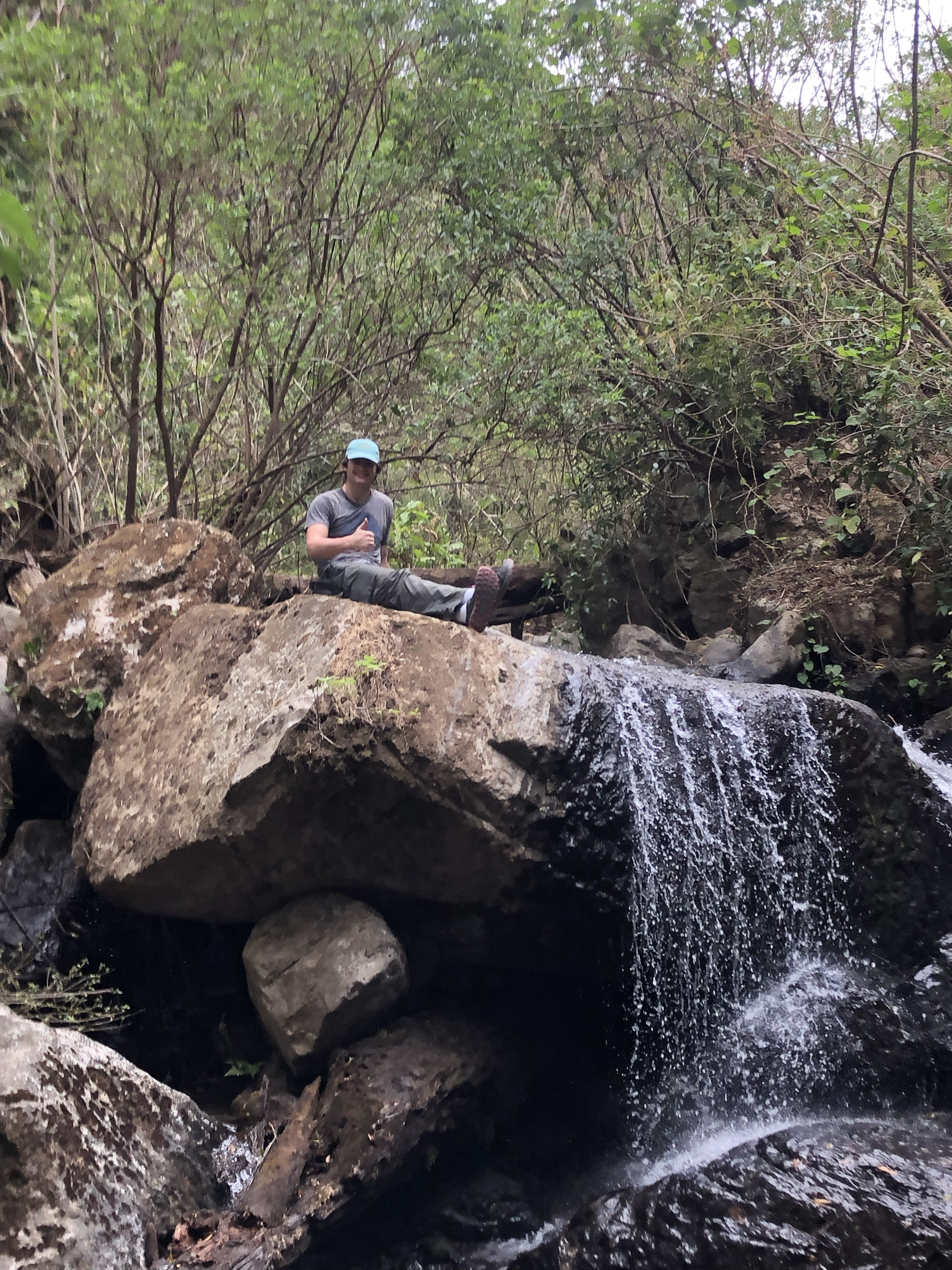 Dunnebacke reflects that this program is truly rewarding and provides students the opportunity to really grow as a person. "I'm constantly surprised by how much biodiversity there is in the world; the way that plants and animals adapt to different and changing climates is fascinating. It's also wonderful to see that there are people everywhere who truly care for the environment, and are willing to work hard for its benefit. Seeing a community that interacts so closely with the forest drives home how important forests are in every ecosystem, and that we all need to pay more attention to the ways we interact with it as humans."
The MSU Department of Forestry looks forward to returning to Costa Rica in 2024, again as part of the Alternative Spartan Breaks program in partnership with the RCAH Program on Sustainability in Costa Rica, but now including an additional partnership with RCAH. Lauren Hauler, a current RCAH student, attended the 2023 Costa Rica ASB program and has been instrumental in helping facilitate this partnership along with Delgado.
The partnership between RCAH and Forestry aims to eventually develop a semester-long study abroad program, centered in studies on Costa Rica, culminating in a week-long trip to Nacientes Palmichal over spring break, at the end of spring semester.
Students interested in this study abroad opportunity should contact Justin Kunkle.
The ASB and Forestry programs are part of an ongoing student and community-led design project to reimagine the Nacientes Palmichal First Reserve as an educational space using community participatory research and design practices. Additional MSU partners in this work in include: RCAH, the RCAH Network for Global Civic Engagement, The RCAH/EGR Design Justice Minor, the Office of Education Abroad, the College of Engineering's CoRe Experience, ASB, the Department of Forestry, the Center for Community Engaged Learning, and the Office of the Associate Provost for Undergraduate Education's First Year Seminars Abroad Program.
This work is supported by the Higher Education Multicultural Scholars Program [grant no. 2018-38413-28143/project accession no. 1015870] from the USDA National Institute of Food and Agriculture.