MSU Mobile Boat Wash program now open for scheduling
The MSU Mobile Boat Wash program is open for its 8th season of boat wash events for organizations dedicated to aquatic invasive species prevention.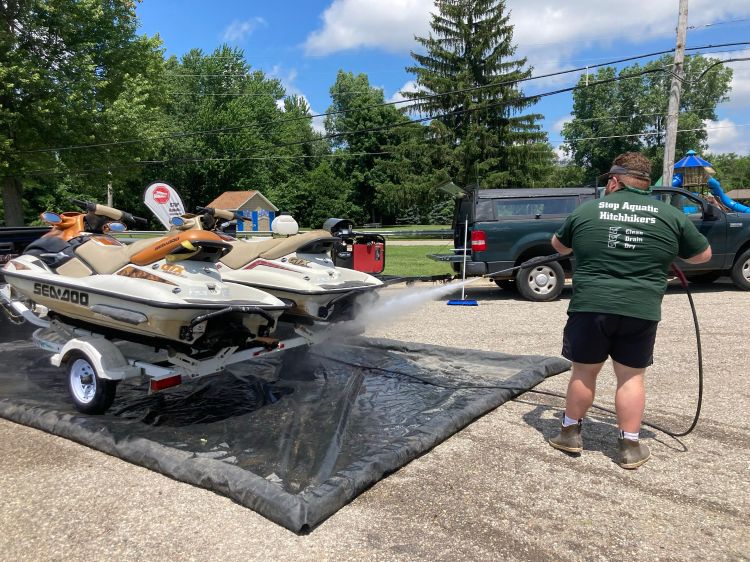 Michigan State University (MSU) Extension's Mobile Boat Wash (MBW) program is now open for scheduling for the 2022 summer season! This aquatic invasive species (AIS) educational opportunity is for any passionate organization looking for a hands-on approach to AIS boater education and to continue to protect Michigan's water bodies.
The Mobile Boat Wash program is entering its 8th season this year and the MBW crew is coming back more eager than ever to continue to provide AIS education to boaters. Due to COVID-19 modifications the past few years, the boat wash program experienced some setbacks such as being closed in 2020, followed by running a smaller crew in 2021. We are happy to announce that in the 2022 season, we will be running not one, but two full crews – meaning double the amount of boat wash events!
At a boat wash event, our MBW crews will provide a hands-on demonstration of boat decontamination to prevent the spread of AIS and talk with boaters about AIS and the simple steps they can take to help protect Michigan's waterbodies. Crews come with an extensive library of AIS outreach materials and messaging to share with partners and boaters. Lake associations, watershed groups, non-profits and local and tribal units of government are all welcome to schedule an event with us. Written permission to host a boat wash event at your local boat launch may be needed if it is owned by the Michigan Department of Natural Resources (DNR), county, or township.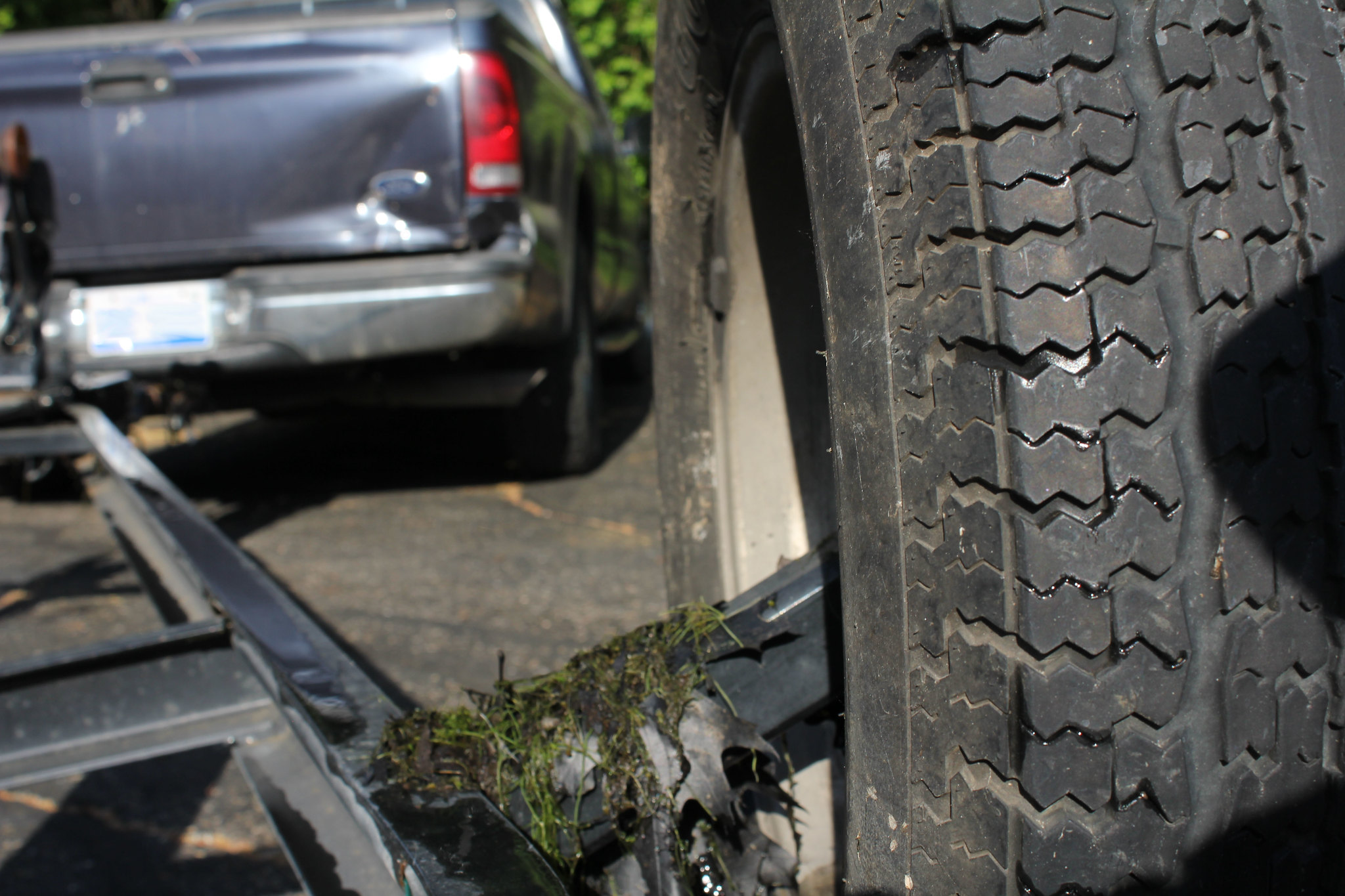 Similar to previous years, the Mobile Boat Wash is free to any organization looking to book a boat wash event, but scheduling is first come, first serve. The program typically runs from June to mid-August and our weekends are the busiest for booking. For more information on scheduling a boat wash, find more information on our website here or contact Kelsey Bockelman for scheduling options at bockelm4@msu.edu.
If you are thinking of scheduling a boat wash event, but not quite sure if it is right for you, check out these helpful facts about the Mobile Boat Wash program and what an event might need:
What is a mobile boat wash unit? A mobile boat wash is a system that utilizes hot, high pressure water to clean invasive species off of boats and trailers. The mobile boat wash consists of a washing unit on a trailer, a containment mat to park boats on recapture wastewater, as well as a couple crew members to operate the unit.
How does the public respond to these? Overall, the response from communities has always been welcoming and received well. Our 2021 MBW crew found that hosting a MBW event helps generate awareness for AIS prevention and even local lake issues. You may be surprised at how much some boaters even know about AIS already!
Should our organization have volunteers? While our small crew will provide education to boaters, it is always a great addition to have local volunteers from your community assist in talking to boaters and prioritize the value of local efforts to stop invasive species.
Will my boat launch fit the criteria for a MBW? Ideally, your launch area should be able to fit a truck and 15' trailer that boaters will pull up alongside. Additionally, loose gravel will damage the containment mat, so paved or well-packed dirt launches are best.
MSU Mobile Boat Wash Program
MSU Extension is leading the effort to implement the Mobile Boat Wash (MBW) program in cooperation with the Michigan Department of Environment, Great Lakes and Energy (EGLE). MSU Extension's Mobile Boat Wash began in 2014 and is a sister offering to the Clean Boats, Clean Waters program. The MBW program is entering its 8th full season this year and continues to grow as an effective and free AIS prevention resource thanks to funding from the Huron – Manistee National Forests of the U.S. Forest Service within the U.S. Department of Agriculture. The MBW travels across Michigan each summer decontaminating boats and providing education on the "Clean, Drain, Dry" mission. While at boat wash events, MBW crew will provide boaters and lake enthusiasts access to an extensive library of AIS prevention educational materials. This program continues to build and create lasting relationships with Cooperative Invasive Species Management Areas (CISMA's), lake associations, and local Michigan communities.
More information on the Mobile Boat Wash and Clean Boats, Clean Waters can be found on the MSU Extension website, Facebook (@MichiganCBCW), or Instagram (@michigan_cbcw). Questions about the MSU Mobile Boat Wash program can be directed to Kelsey Bockelman, bockelm4@msu.edu.