MSU Organic Farmer Training Program now in Detroit and East Lansing
New partnership with Keep Growing Detroit leads to a hands-on learning site.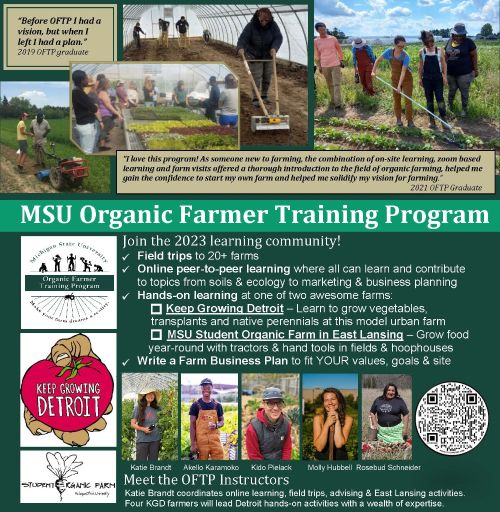 For the first time, Michigan State University Organic Farmer Training Program (OFTP) participants can choose to learn hands-on farming skills in either Detroit or East Lansing, Michigan. In addition, the full learning community will meet for interactive online class days and field trips to more than 20 farms throughout Michigan. The OFTP brings together beginning and aspiring farmers, educational gardeners, homesteaders and farmworkers of all backgrounds to learn farming skills, network with other farmers and learn from each other. Each graduate creates a viable Farm Business Plan that aligns their values, goals and skills with local community needs for nutritious, culturally appropriate foods and services like school gardens.
The new OFTP host farm, Keep Growing Detroit, grows and distributes transplants and seeds to over 2,000 farmers and gardeners in Detroit, Hamtramck and Highland Park and also organizes workshops, youth programs and the Grown in Detroit marketing collaborative. Four farmers at Keep Growing Detroit—Akello Karamoko, Kido Pielack, Molly Hubbell and Rosebud Schneider—will each lead a few of the hands-on learning days, giving Detroit participants a wide range of perspectives and expertise.
The MSU Student Organic Farm in East Lansing will continue to host hands-on learning that features tractor-scale outdoor field production alongside hand-scale, year-round hoophouse production and an Edible Forest Garden. Katie Brandt will teach many of the hands-on days in East Lansing alongside farm staff and crew.
This will be a return to the hybrid format used for the 2021 OFTP, which inspired one graduate to share:
"I love this program! As someone new to farming, the combination of on-site learning, Zoom-based learning and farm visits offered a thorough introduction to the field of organic farming, helped me gain the confidence to start my own farm and helped me solidify my vision for farming." 2021 OFTP Graduate
Online learning can be a great way to connect with people one-on-one for peer input on farm business plan ideas, for group discussions or to hear from farmer guest speakers, Michigan State University Extension educators, USDA lenders or others.
Apply for the Organic Farmer Training Program (OFTP)
The 2023 OFTP fee is $3,900, but a new scholarship fund supporting people of color from Detroit, Highland Park and Hamtramck will help to welcome a diverse learning community that is accessible to urban farmers. The OFTP is committed to anti-racist diversity, inclusion and the important work of interrupting and dismantling systems of oppression. Email oftp@msu.edu with questions.