2024 Program Update!
The MSU Organic Farmer Training Program will have 2 hands-on learning sites for 2024! The OFTP will have a hybrid format with:
10 days for hands-on learning at one of 2 farmsites:
Detroit group @ Keep Growing Detroit farm for 9 days + 1 day at the MSU Student Organic Farm
East Lansing group @ the MSU Student Organic Farm for 9 days + 1 day at Keep Growing Detroit
5 full days + 1 weekend for field trips to 20+ sustainable farms with the full cohort
17 days for interactive online learning with the full cohort
You will learn real hands-on farm skills while planning for a farm that fits your values, goals, skills, land and markets. Check out the full schedule to see how the OFTP can help you make your farm dreams a reality. This experience is defined by its learning community of aspiring and beginning farmers, farmworkers, homesteaders, educational gardeners and OFTP instructors who all support each other in learning skills for farming, business planning and creating positive community change. It worked for 2019 graduate Heather Fuson, who says "Before OFTP I had a vision, but when I left I had a plan."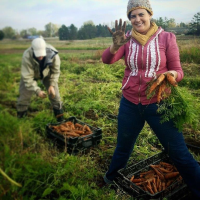 The OFTP teaches aspiring farmers in a mix of hands-on learning at one of 2 farmsites, field trips to 20+ farms and interactive online learning. Participants can choose to learn at Keep Growing Detroit or the MSU Student Organic Farm.
Click here to apply for the program and to learn about scholarship opportunities.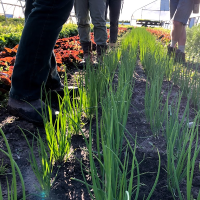 Learn more about what you can expect to do during an OFTP day.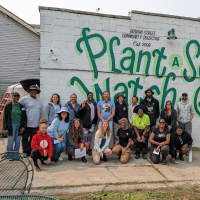 Visit over 20 farms in Detroit, Lansing, Chicago Ann Arbor, Grand Rapids and Flint.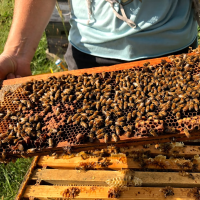 Over a dozen speakers share their expertise, insights, and answer questions throughout the Program.
View the schedule for the Organic Farmer Training Program, including dates of field trips, hands-on days and online learning days.
Students of the OFTP come from a wide variety of backgrounds, and reflect the diversity of Michigan across a spectrum of demographics, including race, gender, orientation, age and income levels.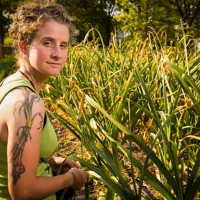 "The skills I've gained created a strong base while starting my own farm business. The experience really solidified my desire to take on farming as my life's work." Carolyn Leadley, Rising Pheasant Farm, Detroit. Read more student testimonials here.