Field and Online Activities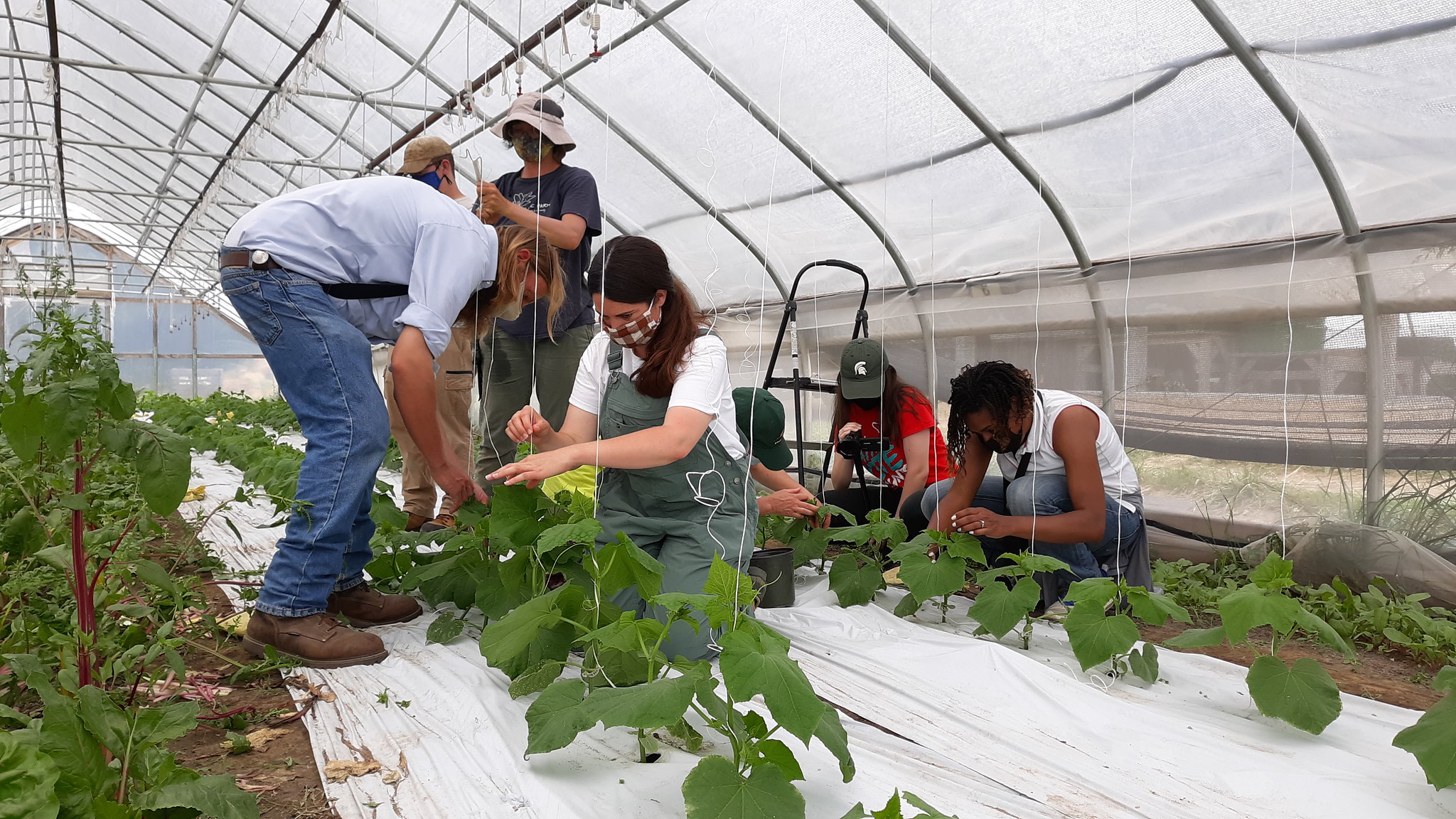 In the Field
Seeing the progress of crops in fields and hoophouses can lead to lots of discussions. Often, we split the OFTP group into 2 or 3 groups for hands-on activities, so each participant gets an opportunity to try out a new tool or skill. Some hands-on activities or farm demonstrations work well as a full group. Farm walks are an opportunity to see everything progress through the growing season. You will choose one of the following farmsites for hands-on learning.
Keep Growing Detroit Farm (NOTE: Detroit site is full for 2023)
Learn how to grow vegetable, herb and native perennial transplants, seed garlic and produce at the Keep Growing Detroit Farm. You will learn in-depth production techniques from the four farmers at KGD, Akello Karamoko, Kido Pielack, Molly Hubbell and Rosebud Schneider. KGD is a model for community engagement, partnering with over 2,000 farmers, gardeners and garden educators through their Garden Resource Program and leading the collaborative marketing program Grown in Detroit, and hosting dozens of workshops and youth programs each year. This is a great hands-on farmsite for urban farmers, intensive production techniques and anyone near Detroit.
MSU Student Organic Farm
Learn how to grow vegetables in the field with tractor power, in the hoophouses with human power and in the Edible Forest Garden with the power of permaculture. The Student Organic Farm has hosted the Organic Farmer Training Program for over a decade and you will have the opportunity to learn from long-time farmer and farm educator Katie Brandt and from Student Organic Farm Manager Darby Anderson.
Online
Group discussions, vision sharing presentations and Farm Business Plan Presentations allow the cohort to learn from each other. We also split into small groups in Zoom breakout rooms to brainstorm ideas for a participant's farm or to get feedback on your Farm Business Plan ideas. The OFTP workbook allows a space to think through your farm plan and class topics.

Field Trips
We visit 20+ sustainable farms throughout Michigan as part of the OFTP! This is the place to see example for how to make your farm vision a reality.
Lectures and Readings at your own pace
Lectures by OFTP instructor Katie Brandt and supplemental videos are available online to ensure plenty of class time for hands-on activities, farm walks, group discussions and guest speakers. Students have access to many books and resources through MSU.