Students of the Organic Farmer Training Program come from a wide variety of backgrounds and reflect the diversity of Michigan across a spectrum of demographics. Everyone has something to bring to the table, whether it is experience farming, in business, non-profits, education, or something else entirely.Participants learn as much from each other as from the course, teachers, guest speakers, and field trips. Students will break into groups and provide feedback and insights to each other throughout their farm planning process.
Read on to learn more about everyone in the OFTP learning community.
OFTP Instructors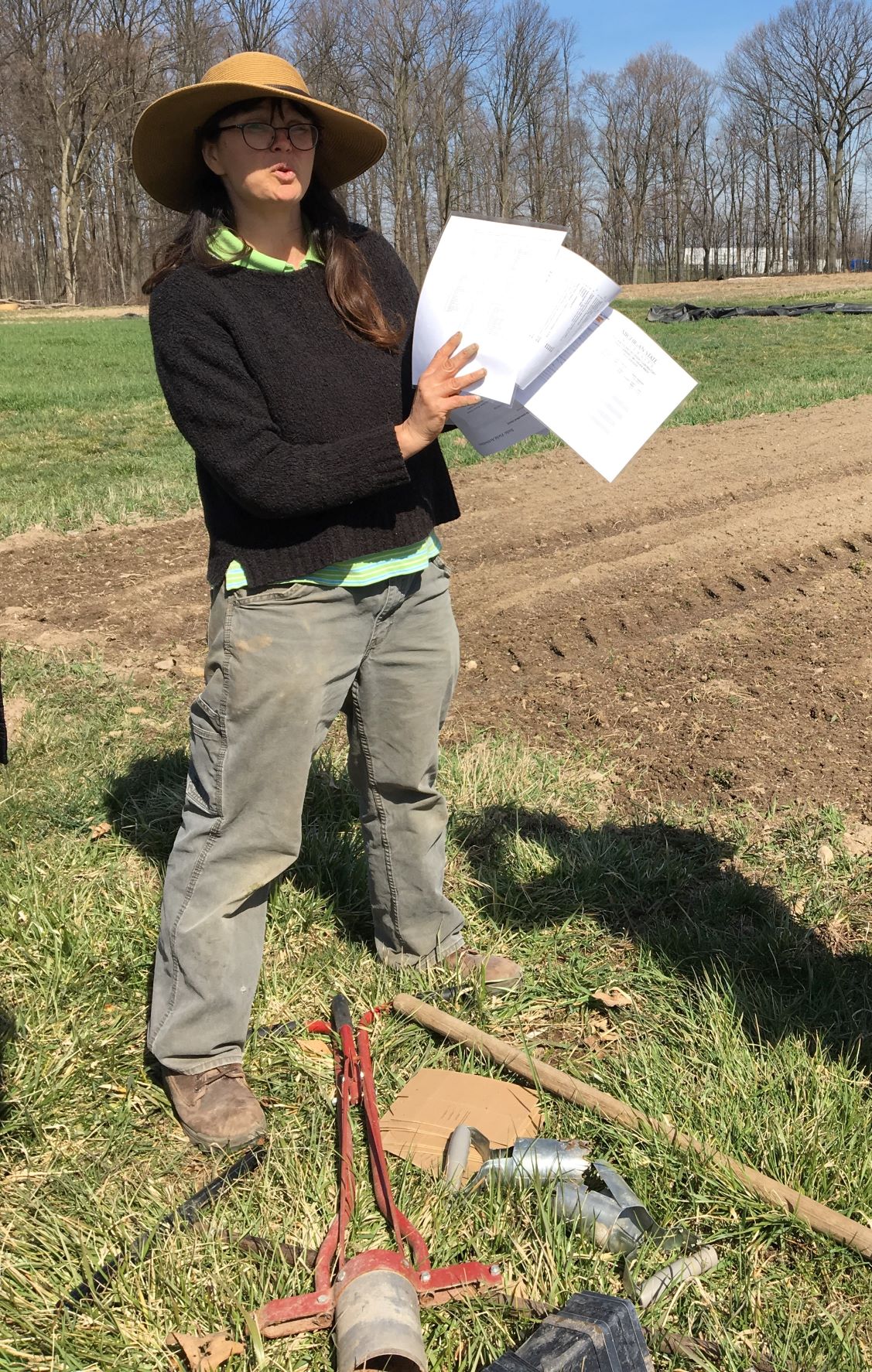 Katie Brandt
she/her
OFTP course organizer; online faciliator; field trip coordinator; East Lansing hands-on activities lead;
MSU Student Organic Farm - Educational Programs Manager
Katie Brandt's two decades of farming experience inform her every day as she is working alongside aspiring and beginning farmers to translate their skills and vision into attainable farm goals and farm business plans. Her main project is teaching and organizing the MSU Organic Farmer Training Program, which is a mix of field trips, online discussion and hands-on activities to help people make their farm dreams a reality. In 2023, the OFTP added a new learning site at Keep Growing Detroit, so people can choose to learn in Detroit or at the MSU Student Organic Farm in East Lansing.
Katie also leads the Michigan Sustainable Farm Mentors Program and is planning Michigan's mentorship program for the new USDA Transition to Organic Partnership Program. She works with Michigan SARE coordinator Sarah Fronczak to promote SARE grants and resources, assist SARE grant authors, map beginning farmer resources, and connect underserved farmerss with SARE.
Katie spent 5 years as a farmworker on small-scale, organic farms before co-founding Groundswell Community Farm in West Michigan. Over a dozen years, Groundswell grew from 2 farmers tilling bare land with hand tools into a successful farm employing 10 farm workers to grow over $200,000 of vegetables annually on 7 acres. During that time, she attended Grand Valley State University, where she designed an on-farm research project about organic controls for Striped Cucumber Beetles to earn an MS in Biology. In her free time,Katie enjoys biking, playing with her 11-year-old son and walks outdoors with her partner Jill.
Akello Karamoko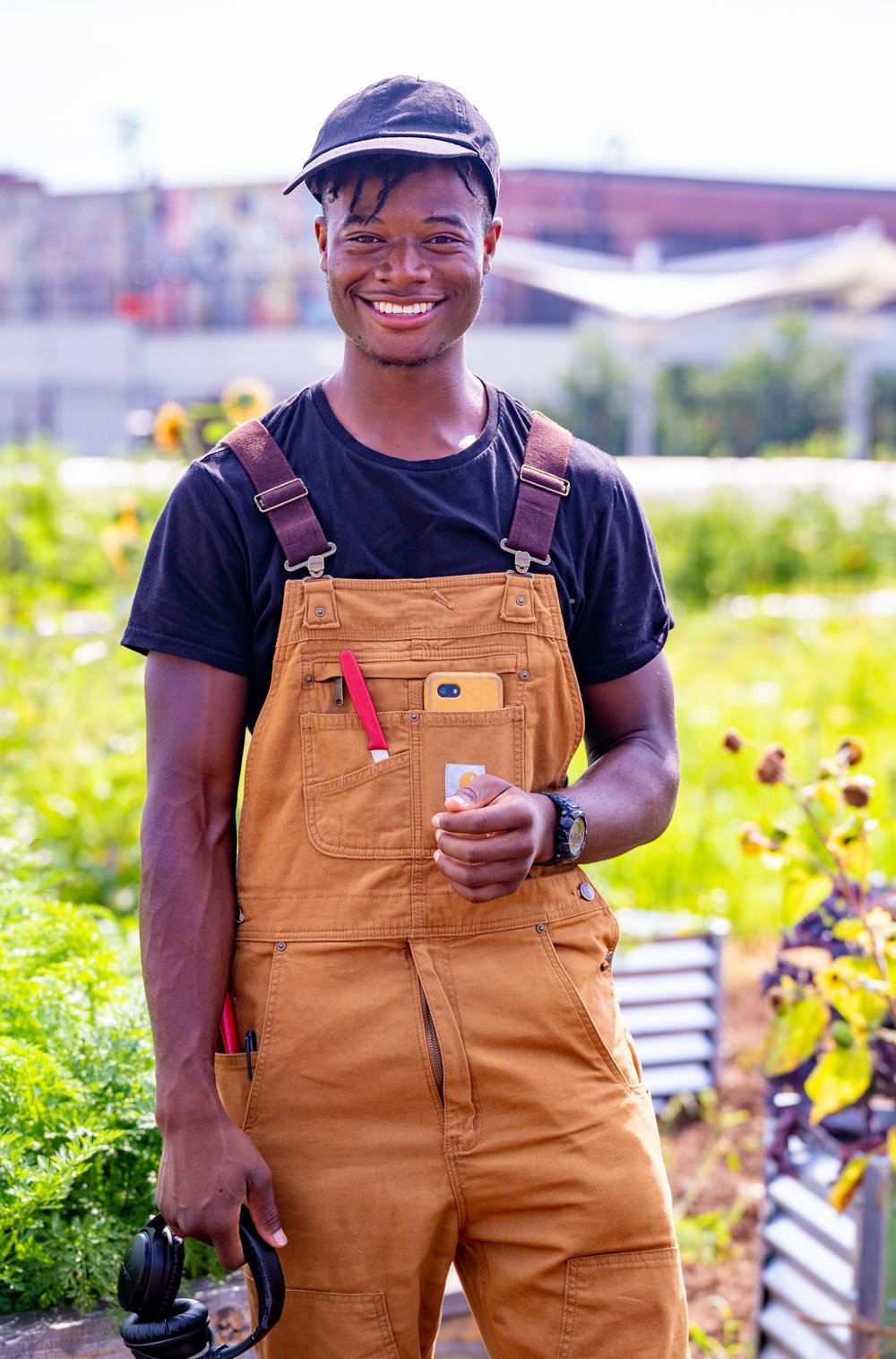 he/him
Detroit hands-on activities instructor for OFTP; Keep Growing Detroit Farm Manager
Akello Karamoko is a farmer at the Keep Growing Detroit Farm. He is a native Detroiter that has always had a green thumb. He planted his first apple tree at 11 years old and sold peppermint and sage at his church when he was thirteen. Farming as a career path was hardly on the minds of other youth growing up in Detroit, but he sought out programs to learn how to plan, grow, harvest, and sell his own organic crops. He's trained in programs like 4H Gardens with Dr. Wesley Godfrey, KGD's Urban Agriculture Youth Apprenticeship program, MSU's Organic Farmer Training Program, NFU's Beginning farmer institute. He has worked for the Food Warrior Program with Detroit Black Community Food Security Network (DBCFSN) and City Food's Good Food Ambassador program. His purpose is to provide similar opportunities for others. He also wants to inform others about their rights to healthy and culturally appropriate foods. He recognizes that while America's agricultural sector is shrinking, exposure has always inspired innovation. He plans to provide the next generation with the spark to partake in organic agriculture.
Kido Pielack
he/him
Detroit hands-on activities instructor for OFTP; Keep Growing Detroit - Education & Infrastructure Manager
Kido is a native Detroiter who has been working in the field of Urban Agriculture for the past 15 years. His passion for plants and people led him from a career in organic landscaping to an apprenticeship in Urban Agriculture and studies with the MSU Student Organic Farmer Training Program to his current position at KGD. Kido manages the adult education programming including the Urban Garden Education Series and The Sweet on Detroit Beekeeping Program. He also coordinates efforts to support Detroit gardens with infrastructure improvements including rainwater catchment systems and hoop houses. Kido is also a board member for the Michigan Organic Food and Farming Alliance. He loves sharing his skills with others and believes that in the classroom everyone has something to share and there is always something new to learn.
Molly Hubbell
she/her
Detroit hands-on activities instructor for OFTP; Keep Growing Detroit - Market Manager
Molly has worked in and around agricultural communities for over 20 years. Before moving to Detroit in 2012, she lived and worked in Vermont where she studied plant & soil science, ultimately receiving a BA from The University of Vermont. She found her passion for land stewardship and cooperative agriculture through her work at The Intervale Center in Burlington, VT, and brings this passion to her current position supporting market gardeners through Grown In Detroit. Molly see's farmland as an integral part of the Detroit cityscape, and advocates for small-scale growers whenever she can. She received her permaculture certification from The Yestermorrow Design/Build School, and enjoys helping growers design their farms for both profitability and resiliency. In addition to working at KGD, Molly is a proud member farmer of City Commons CSA. She is a potter, tinkerer, and loves playing in the dirt on her own farm in the Northend.
Rosebud Schneider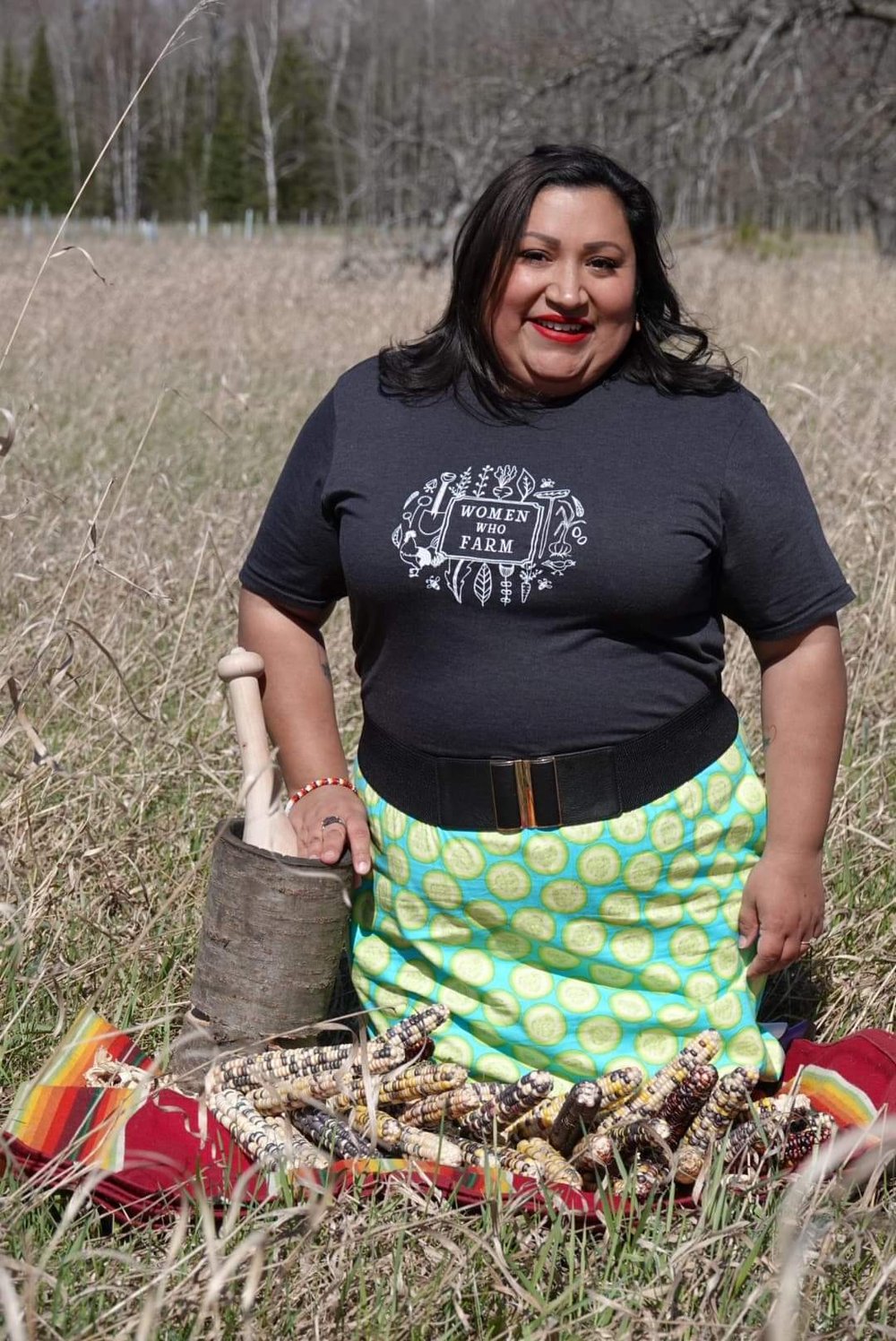 she/her
Detroit hands-on activities instructor for OFTP; Keep Growing Detroit - Farmer
Rosebud is a farmer, producer and community organizer, born and raised in Detroit. Her involvement with indigenous food sovereignty work spans over the last 15 years; first as a breastfeeding educator and maternal infant homevisitor with Healthy Start and WIC and then as a farmer and nutrition educator with the Sacred Roots food sovereignty project in Detroit. Her time with Sacred Roots illuminated the passion Rosebud has to feed and care for her community. She also expanded her roots throughout the Detroit Agriculture network as a farmer at KGD Farm and former board member at Keep Growing Detroit. As a farmer and producer here in this community, she continues to provide traditional foods across turtle island. Rosebud remains dedicated to supporting the health and wellness of our community by educating on the importance of revitalizing Indigenous foodways. Her lifelong goal is to give her children and the coming generations the knowledge and skills to live a well-rounded healthy life woven with our ancestral ways.
You & the OFTP Learning Community!
Urban Farmers, Schoolyard Gardeners, Farmworkers, Homesteaders, Food System Changemakers, Beekeepers & more....

We learn from each other! This course is intentionally designed to focus on peer-to-peer learning, discussions, brainstorming and seeing farms and farmers in action. You will have the opportunity to design your learning AND your farm plan to fit your values & goals and you personal & community needs.