MSU researcher awarded grant to develop low-cost sensor monitoring system for Great Lakes farmers
Younsuk Dong, specialist in the MSU Department of Biosystems and Agricultural Engineering, is leading a project to make sensors more accessible for farmers in Michigan and Indiana.
Younsuk Dong, specialist in the Michigan State University (MSU) Department of Biosystems and Agricultural Engineering, is leading a three-year, $426,000 project to increase adoption of a low-cost irrigation sensor monitoring system among farmers in Michigan and Indiana.
The project, funded by the U.S. Department of Agriculture Natural Resources Conservation Service (USDA NRCS), focuses on using sensor technology to help improve irrigation efficiency and manage plant diseases.
The cross-disciplinary project team includes Martin Chilvers, MSU Extension field crops pathologist and assistant professor in the Department of Plant, Soil and Microbial Sciences; Steve Miller, former Extension irrigation specialist; Lyndon Kelley, Extension water management and irrigation educator in St. Joseph County; Keith Mason, MSU Enviroweather project coordinator; and Bruce MacKellar, Extension field crops educator in Van Buren County.
Dong's system measures soil and leaf wetness and sends the data to farmers through digital mediums. This data is then used to optimize the timing and frequency of watering crops.
"Proper irrigation can help save water, energy, labor and equipment, which result in greater return on investment for farmers," said Dong.
Affordability and efficiency
Despite the benefits, only a small percentage of Michigan farmers have adopted sensor technologies.
"Commercial-grade sensor systems aren't affordable to most farmers," Dong said. "Raw data from these sensor systems inform farm management decisions, but are often difficult for farmers to interpret on their own. We want to make this process easier."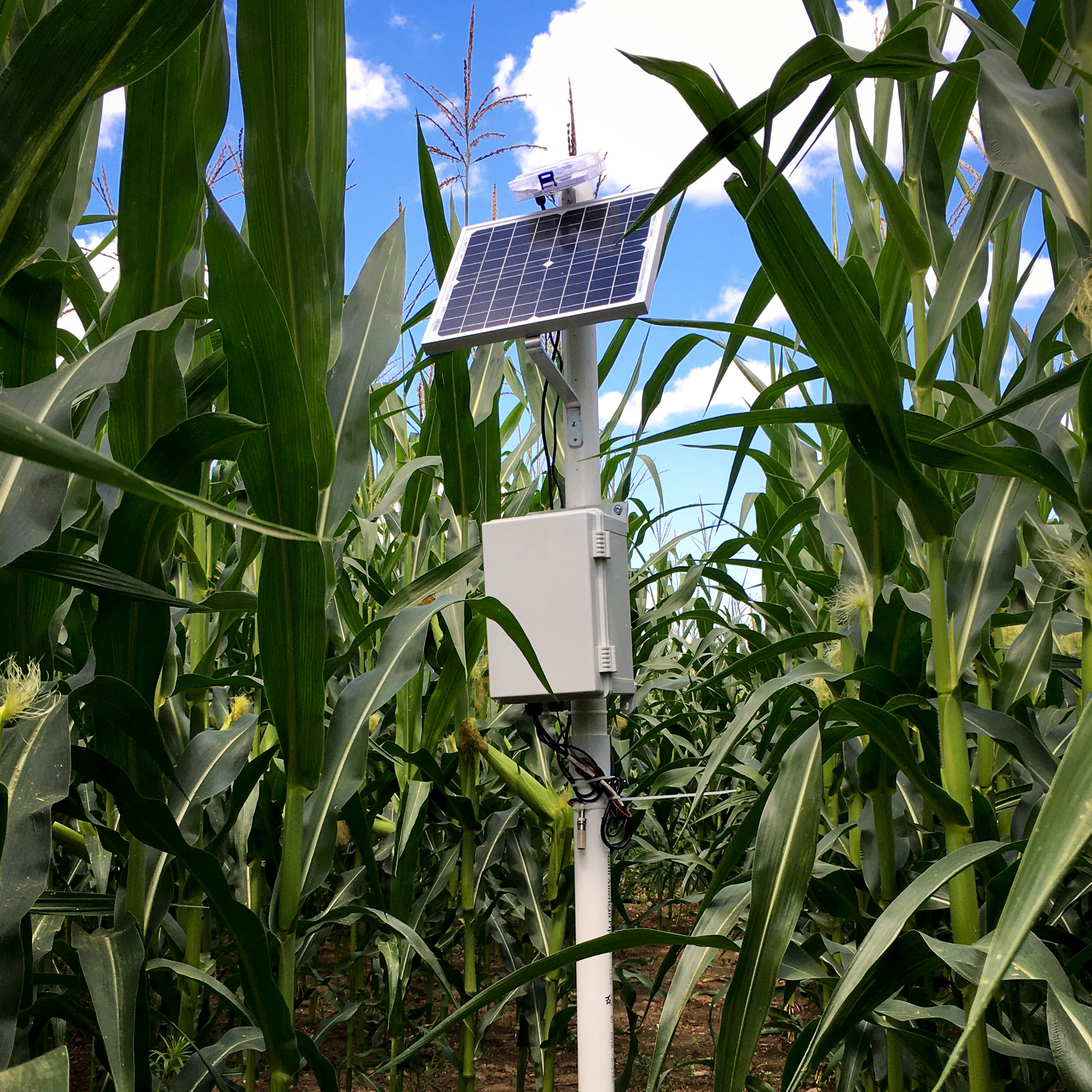 Dong worked with Miller to develop a low-cost sensor monitoring system that's easy for farmers to use. These sensors will be installed in fields, where they'll gather data on soil moisture and leaf wetness. Farmers will be able access this data on their phone, computer or tablet with an internet connection. The data will have simple indicators, likely some type of color-coded system, that tell farmers if and when they need to irrigate.
Dong and his colleagues plan to give in-person demonstrations on how the technology works to farmers in Michigan and Indiana.
"It's important for farmers to see how this technology works on a real farm," Miller said.
"The goal is to demonstrate this low-cost sensor monitoring system on different irrigated fields in Michigan and Indiana to show farmers its effectiveness in helping to improve water efficiency and disease management," Dong said.
The low-cost sensor monitoring system Dong and his team are developing aids in water conservation efforts, allowing farmers to use less water in more efficient ways to irrigate their crops.
"We want farmers and growers to only use the water necessary to make optimal return on the investment from the use of that water," Miller said.
Minimizing plant disease
Over-irrigation not only wastes water resources, it can also drive diseases such as corn tar spot, and white mold in soybeans and dry beans. These diseases have the potential to significantly decrease crop yield.
The pathogens that cause corn tar spot and white mold thrive in environments of prolonged leaf wetness. If the crop canopy stays wet for too long, or if there are too many leaf wetness periods in a given time frame, it's more likely that fungal pathogens will grow and infect the plant.
"Every time you irrigate, you create a leaf wetness event and then potential for the pathogen to infect the plant and exacerbate disease," Chilvers said. "So, really, what it comes down to is minimizing the number of leaf wetness events, minimizing the number of irrigation applications to minimize disease."
Chilvers hopes to use the low-cost sensors in other work and collaborations supported by Michigan Corn, the Michigan Soybean Committee, Michigan Bean Commission, the Michigan Potato Commission and Project GREEEN.
"Managing irrigation is going to be very, very important in minimizing disease," he said. "Younsuk's work will really give us some capacity to leverage against other grants and projects."
Outreach, education and collaboration
Dong plans to present his work on irrigation sensors at industry events, such as the Michiana Irrigation Association Workshop, Great Lakes Fruit and Vegetable Expo, Extension webinars and Virtual Field Days.
"There's a lot of ways we can reach out to farmers," he said.
Approaching irrigation management and conservation from multiple perspectives allows for more comprehensive research and education programs for farmers.
"It's interesting to talk to an engineer about this work, since we just do things a little more differently in the biology world," Chilvers said. "But that's a great thing, right? It's really nice to do this work that crosses different disciplines."
"We work with people like Marty (Chilvers) for disease issues. We work with other research groups to learn more about data collection," Miller said. "And we have Extension educators on the ground, which is really essential, because having people in the field builds our trust with the local irrigators."
Miller said the most rewarding part of his job is helping farmers adopt a new technology.
"Getting producers to use a new irrigation technology and recognize its value is why I do what I do," he said.
Dong shares a similar sentiment.
"I was taught that engineers turn science and technology into something useful and meaningful to communities," he said. "It brings me great joy to know that this low-cost sensor monitoring system will make a difference for farmers."