MSU outreach program targets Invasive pests threatening Michigan trees
Thousand Cankers Disease, Asian Longhorned Beetle and Hemlock Wooly Adelgid targets of new outreach project that seeks to get residents involved by providing a network for tracking and reporting possible new invasive species.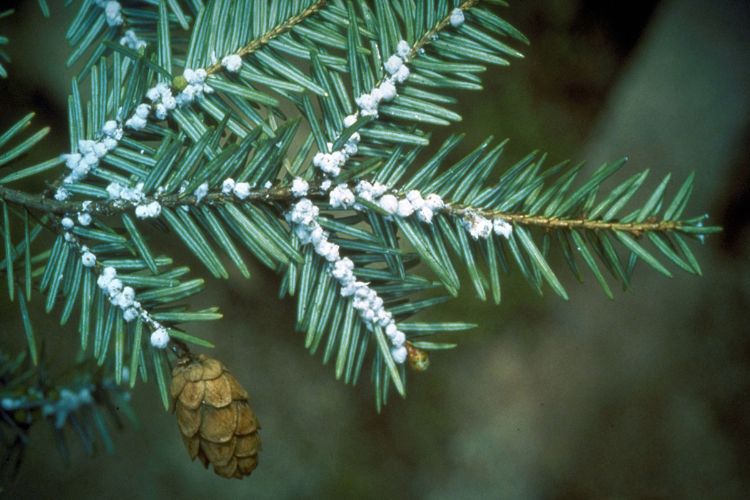 A new threat called Thousand Cankers Disease of walnut poses a high risk to Michigan's walnut trees. Thousand Cankers Disease (TCD) is called a disease complex as it involves both an insect called the Walnut Twig Beetle (Pityophthorus juglandis) and the fungal disease Geosmithia morbida that work together to kill walnut trees.
First identified in Colorado, TCD now affects walnut trees in several western states and has more recently been found in states closer to Michigan. To date, Thousand Cankers Disease of walnut has been confirmed in Indiana, Ohio and Pennsylvania – just south of Michigan's southern border, as well as in Tennessee. Since 2001, Thousand Cankers Disease has caused widespread mortality of walnut in Colorado and other states. This has prompted forest health and regulatory officials across the country to be on high alert for the presence of Thousand Cankers Disease within their own state lines.
Thousand Cankers Disease has not yet been detected in Michigan, but Michigan's forest health experts are on the lookout for it. As part of the effort to reduce the chances of Thousand Cankers Disease moving into Michigan, educators and researchers at Michigan State University are launching a statewide effort to help residents learn about the risks and impacts of invasive forest pests. Funded by the Michigan Invasive Species Grant Program, the MSU "Eyes on the Forest: Invasive Forest Pest Risk Assessment, Communication and Outreach Project," links research with outreach and communication projects through the MSU Department of Entomology and Michigan State University Extension.
MSU is developing educational and outreach activities to target three major invaders that pose serious threats to Michigan trees and forests if they become established and spread. The target pests include: Asian Longhorned Beetle; Hemlock Woolly Adelgid; and Thousand Cankers Disease of walnut. All three of these invasive pests can kill their host trees and if they do invade Michigan, they could become a devastating problem.
One of the unique aspects of this project will be the creation of a network of "Sentinel Trees" across the state. The ultimate goal is to create a network of trained volunteers who agree to "adopt" an individual tree, then periodically monitor and report on the condition of the tree over time. An extensive volunteer network greatly increases the chances that new pests or other problems will be detected early, before substantial damage occurs.
This project is just getting underway and should be fully operational later this year. For more information about the Eyes on the Forest project, contact Dr. Deb McCullough at mccullo6@msu.edu or Russell Kidd, Eyes on the Forest Outreach Coordinator at kidd@msu.edu.