'My dream is to help solve the problems of food insecurity'
BHEARD doctoral fellow Clement Kubuga has witnessed the struggles of peasant farmers in his native Ghana.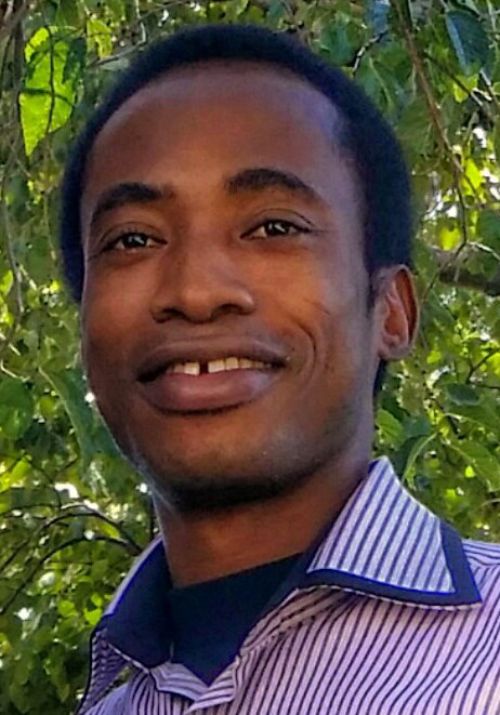 BHEARD doctoral fellow Clement Kubuga has witnessed the struggles of peasant farmers in his native Ghana who toil day in and day out to provide the bare necessities and keep their families fed. As he works toward his Ph.D. in human nutrition at Michigan State, Kubuga's goal is to eradicate hunger not only in his hometown and country but across the globe.
"Like my ancestors, my dream is to help solve the problems of food insecurity and malnutrition in Ghana, and throughout the world," Kubuga said.
Kubuga is one of 13 Borlaug Higher Education for Agricultural Research and Development (BHEARD) doctoral candidates who will travel Oct. 14-16 to Des Moines, Iowa, for "Borlaug 101: Fundamentals of Global Food Security."
This year's Borlaug Dialogue symposium – which celebrates the 101st anniversary of the birth of World Food Prize founder, Dr. Norman E. Borlaug – will bring together an outstanding lineup of international leaders, experts and scientists for three days to discuss and analyze how best to sustainably and nutritiously feed the 9 billion people worldwide by 2050.
"The more I read about his works and his role in reducing hunger, the more I am inspired to acquire more knowledge to fight hunger and malnutrition," Kubuga said. "I am looking forward (to the symposium) discussions on confronting malnutrition through using orange fleshed sweet potato, and nutrition and the environment – both of which should be of tremendous help to my dissertation work."
*****
Kubuga will travel to Iowa along with 11 other BHEARD doctoral fellows:
In her native Cambodia, Hour envisions building a stronger link between agricultural colleges and relevant public, private and nonprofit agencies in order to improve the quality of extension services to small stakeholder farmers – which ultimately, she hopes, will lead to stronger food security.
"The contribution of agriculture to Cambodia's economic development has been dismal at best," Hour said, "even though it employs most of the labor force. Many of them are women who live in poverty.
"The opportunity to participate in the Borlaug symposium will support my dissertation (Value-Chain Analysis of Cambodia Fish Production and Food Security with an Impact Assessment of the Small-Scale Fish Technology Adoption) work and at the same time enable me to pursue my vision for food security in my home country."
Regina Enninful is a second-year BHEARD scholar from Winneba, Ghana, who is working as a graduate research assistant and studying crop physiology at Kansas State University
"I hope to gain broader perspective on the challenges with feeding the world now and in the years to come," Enninful said, "as well as gain insights into future opportunities.
"I find it interesting that Dr. Borlaug has a forestry background like I do, reaffirming my belief that 'the farm has always not been far from the forest' and that knowledge could be directed to the need for feeding the world."
*****
Often referred to as the premier conference in the world on global agriculture, the Borlaug Dialogue will feature expertise and diverse perspectives of governmental leaders; policymakers; farmers; CEOs and executives from agribusiness and non-governmental organizations; and scientific, academic and development experts from around the world.
Some of the featured speakers include:
Chelsea Clinton, Vice Chair, Clinton Foundation
Sheryl WuDunn, Pulitzer Prize Winner, banker and co-author: A Path Appears: Transforming Lives, Creating Opportunity
Her Excellency Florence Chenoweth, Minister of Agriculture, Liberia
Tom Vilsack, U.S. Secretary of Agriculture
Howard Buffett, Chair of Board, The Howard G. Buffett Foundation
David W. MacLennan, President and Chief Executive Officer, Cargill
Discussion topics will include:
Inspiring young women and girls to pursue education and careers in STEM (science, technology, engineering, and mathematics)
"The Secretary's Roundtable," led by U.S. Secretary of Agriculture Tom Vilsack
Confronting malnutrition through biofortified nutritious crops such as Orange Fleshed Sweet Potato
Restoring soils and a focus on their foundational role in achieving global food security
The impact of aquaculture and marine fisheries on food production, nutrition and the environment
The role of precision agriculture, data and information technologies in production, conservation and resilience
A special session – "Ebola, One Year Later" – is a follow-up to the devastating Ebola crisis and its impact on agriculture. Florence Chenoweth, Minister of Agriculture of Liberia, and Monty Jones, 2004 World Food Prize Laureate and Special Adviser to the President, Sierra Leone, will report on the current food security situation and agricultural outlook in Ebola-impacted countries.