National Invasive Species Awareness Week: Flowering rush
This plant is an up and coming aquatic invasive plant in the Saginaw Bay Watershed.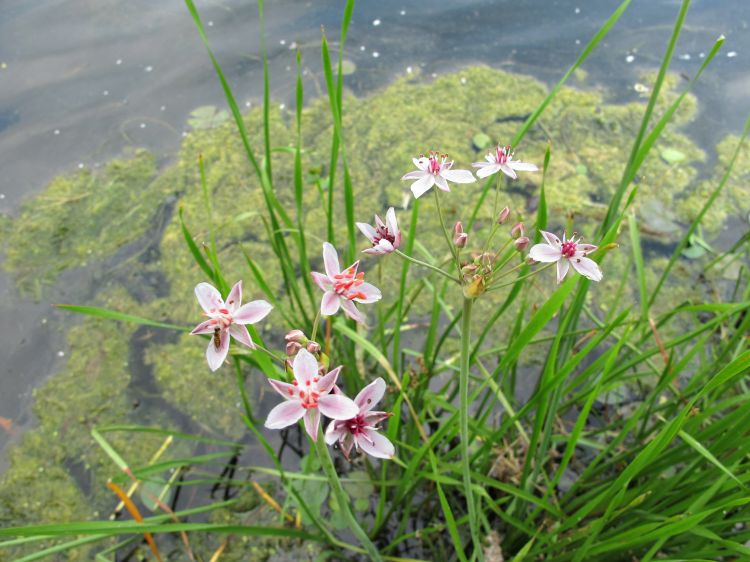 National Invasive Species Week 2017 is Feb. 27 to March 3. Invasive species are plants, animals, and other organisms that are not traditionally found in a given location (in this case the Great Lakes) AND are having a negative impact of some kind, whether ecological, economic, social, and/or a public health threat.
To help bring awareness to these threats, Michigan State University Extension and Michigan Sea Grant are featuring articles on invasive species that have invaded or have the potential to invade Michigan's environment. This article features the invasive flowering rush.
Many invasive aquatic plants have beautiful flowers such as flowering rush and purple loosestrife but don't let their beauty fool you as they wreak havoc on aquatic environments. Purple loosestrife has been found throughout the Saginaw Bay Watershed for many years, however flowering rush is just now being found and more abundant than experts thought. It was first noted in the Shiawassee River State Game Area and Shiawassee National Wildlife Refuge, but now sighting have been recorded in the Bay City State Recreation Area along the shoreline of Saginaw Bay.
Flowering rush is a restricted species under Michigan's Natural Resources Environmental Protection Act meaning "it is unlawful to possess, introduce, import, sell or offer that species for sale as a live organism, except under certain circumstances." The Michigan Invasive Species Program states the ecological impacts of flowering rush as it "out-competes native species for resources and can hinder recreational activities like boating."
Organizations like the Saginaw Bay Cooperative Invasive Species Management Area (CISMA) and their partners are working on mapping and managing flowering rush. You can assist with flowering rush mapping by learning how to identify flowering rush and report sightings in the Midwest Invasive Species Information Network (MISIN). The MISIN flowering rush educational module will assist you in learning how to identify the plant through key characteristics such as a distinctive pink flower, and triangular stems with curly tips. Once you learn how to identify flowering rush the free MISIN app allows you to easily report invasive species sightings.
Flowering rush is an aquatic invasive plant that lives along the edges of lakes, streams and wetlands. It is a perennial plant that grows to a height of 3-5 feet. The pink flower that blooms in June makes it easy to identify at that time. This plant is spreading throughout the Saginaw Bay watershed with the majority of sightings along the Shiawassee and Saginaw Rivers. It is important for invasive species managers and the public to help map the extent of flowering rush through MISIN. Knowing the extent of flowering rush will allow managers and organizations to prepare efficient management plans.
To learn more about flowering rush take a look at Michigan's Status and Strategy for Flowering Rush Management plan.
Read the complete 2017 Invasive Species Series:
Michigan Sea Grant helps foster economic growth and protect Michigan's coastal, Great Lakes resources through education, research and outreach. A collaborative effort of the University of Michigan and Michigan State University and its MSU Extension, Michigan Sea Grant is part of NOAA-National Sea Grant network of 33 university-based programs.