Natural resource enterprises are discussed at two MSU Extension events in October
Natural resource enterprises and the entrepreneurs that bring them to life were in the spotlight this past October as Michigan State University Extension's Natural Resource Enterprise team hosted Daryl Jones to speak at two workshops.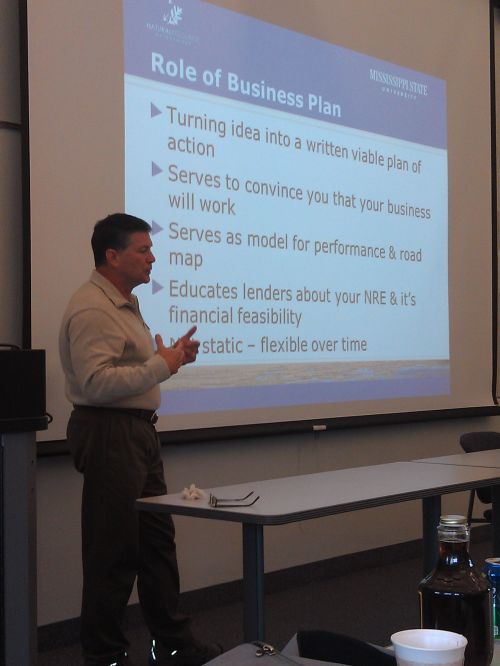 Daryl Jones is a wildlife biologist at Mississippi State University and serves as the coordinator for the Natural Resources Enterprises Program. The program, which is highly successful in Mississippi and other partnering states, provides landowners options for creating small business ventures based on natural resources. The business opportunities allow the landowners to earn extra income while incorporating conservation and stewardship into their activities.
What are natural resource enterprises?
Natural resource enterprises are businesses that rely on any type of natural resource to develop a product. The list of what can be considered a natural resource enterprise is always evolving as people come up with new, innovative ways to provide a service or product based on natural ecosystems. Some examples of natural resource enterprises are: leasing land for hunting, berry growing and picking, maple tapping and syrup production, renting canoes along a river or providing dog sled rides through the winter landscape. These enterprises allow landowners to offer their property up for others to enjoy, while providing an extra or alternative income source. In addition, the sustainability of each of these enterprises relies on the landowner to actively manage the property in the long term.
Why are natural resource enterprises important?
Natural resource enterprises are important because they allow landowners to diversify, and likely increase the income they receive from their land or water resources. This can be an important factor to many landowners, especially when faced with the economic challenges and weather variability we have seen in recent years. For example, if a farmer has a natural resource enterprise in addition to row crops, he/she has options for income in the face of an economic setback due to weather and/or market conditions.
In early October, Michigan State University Extension's Natural Resource Enterprise team brought Jones to northern Michigan to speak at two different events about the basics of starting and sustaining a natural resource enterprise.
The first event, hosted by Michigan State University Extension's Natural Resource Enterprise team, was titled, "Natural Resource Enterprises: Providing Opportunities to Landowners in Michigan." The workshop was geared toward training natural resource professionals, and focused on the basics about advising landowners of enterprise options and management considerations. Other details such as start-up funding, business plans and liability were also discussed.
The second event was a conference hosted by Michigan State University Extension called Connecting Entrepreneurial Communities (CEC). The CEC conference was targeted toward representatives from various community organizations (business, education, government, chamber, service, etc.) that all have an interest in learning how to make their community more conducive to entrepreneurial growth. The conference employed its unique format for a third year in the East Tawas, Michigan area with breakout sessions held in different local businesses or community locations, such as the history museum. Jones' sessions were presented within the "Shops at Harbor View" indoor mini-mall, which offered an intimate venue for the presenters and the attendees.
Jones' presentations highlighted the array of natural resource enterprises as well as a variety of considerations when beginning a natural resource based business. He remarked that hosting people on your property requires the owner to be an entertainer. People come to learn about the resource, but want to have fun doing it. The presentations were attended by members of the local tribal community, business owners and economic development representatives.
Participants thoroughly enjoyed Jones' presence at both events and plan to continue to encourage the creation and expansion of natural resources enterprises throughout the state. Michigan is home to a variety of forested and water resources that are important to the economic stability of its residents. Natural resource enterprises can enhance the economic potential of these resources while ensuring the ecological sustainability of the resources into the future.