New stone fruit Integrated Pest Management guide for beginners available online
A new series of how-to fact sheets, collectively called Stone Fruit IPM for Beginners, developed for new growers and scouts of stone fruit is now available online.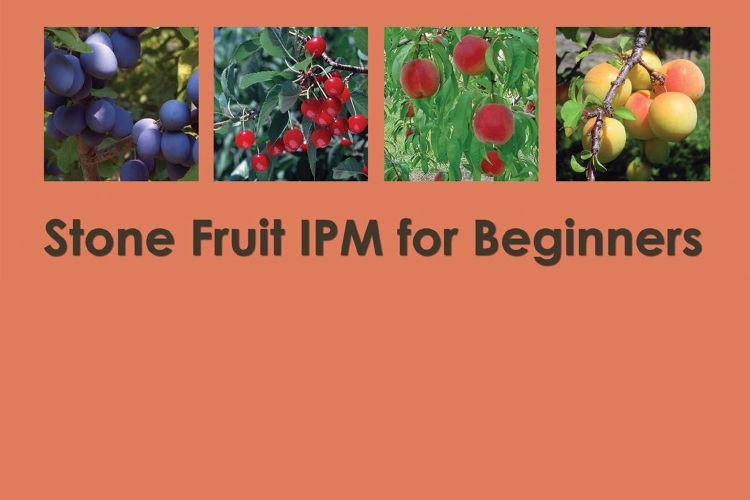 Stone Fruit IPM for Beginners educates new growers by laying the foundation for integrated pest management (IPM) of stone fruit pests and diseases. This guide provides examples of IPM practices used in commercial stone fruit production of the 21st century and outlines the necessary tools and skills needed to successfully grow stone fruits. Using the calendar of stone fruit growth stages and scouting guidelines, growers can get a snapshot of key pest and disease concerns over the course of the season. Additionally, IPM tactics such as how to use pheromones to disrupt insect reproduction, optimizing the timing of control measures using weather-based models, and using pesticides effectively while reducing harm to non-targets are included in the guide.
IPM is a set of strategies and tactics growers use to manage crop pests. The goal of IPM is to increase production efficiency, reduce production costs, reduce worker and consumer exposure to pesticides and protect the environment to support sustainable production of marketable products. Effective IPM programs rely on an understanding of pest biology in relation to the crop produced in a particular region.
The series can be downloaded as a single PDF file, or as individual factsheets. Included are two handy scouting calendars, one for cherry and plum, the other for peach and nectarine. These are convenient tools to help learn the common insect and disease issues likely to arise in these crops, when they are most likely to be a problem, and what tactics can be used to provide early detection and prevention.
To download the series, visit: https://www.canr.msu.edu/ipm/agriculture/fruit/stone-fruit-ipm-for-beginners.
"The Stone Fruit IPM for Beginners" series was produced by members of the Great Lakes Fruit Workers in cooperation with Michigan State University Extension and Cornell Cooperative Extension. This work is supported by the USDA National Institute of Food and Agriculture, Crop Protection and Pest Management Program through the North Central IPM Center (2014-70006-22486).