New video series shares tips for farmers selling to local restaurants, retailers and institutions
Hear insights from 14 farmers, food entrepreneurs and marketing experts.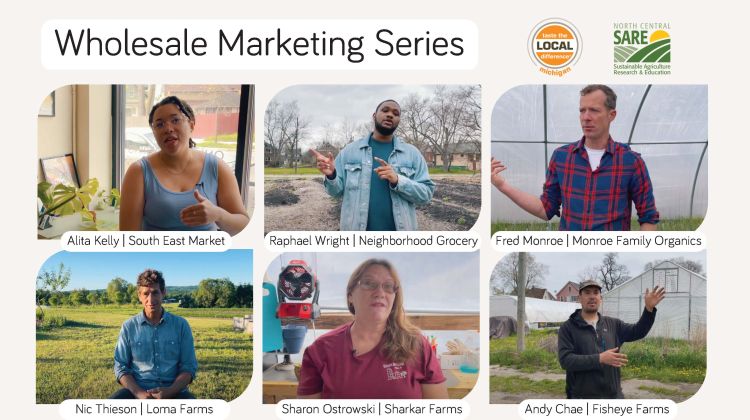 The Wholesale Marketing and Food Business Marketing 101 video series weave together interviews with farmers, food businesses and marketing experts to help farmers break into the wholesale market and promote their farms online. The videos were created by Taste the Local Difference with support from U.S. Department of Agriculture (USDA) North Central Region Sustainable Agriculture Research and Education (NCR-SARE).
Selling farm goods to restaurants, retail stores or institutions requires specific skills that you can either learn from years of direct experience or from the voices of people at each point in the local wholesale food chain. The Wholesale Marketing video series could save you years of learning through trial and error.
Each of the four videos and the toolkit of resources are freely available to all, including:
Taste the Local Difference (TLD) created a second video series with SARE funding, Food Business Marketing 101. This includes three videos: Why is marketing important?, Three Online Marketing Methods for Businesses and Developing & Maintaining Your Digital Marketing Strategy. This series shares insights from staff at Taste the Local Difference on how to market your business through a website, social media and other online marketing strategies. With support from Michigan Department of Health and Human Services, Taste the Local Difference has also created the Fresh Food Connections video series that combines videos on cooking, local farms and farmers' markets.
Taste the Local Difference is "Michigan's local food consulting, media and marketing agency." They market local farms through the Find Food & Farms online database and a printed Local Food Guide each year. In addition, Taste the Local Difference serves as a full-service marketing agency for local farms and compiles other directories for SNAP, farm to school and farm resources. Farms can post a listing for free or pay for a Taste the Local Difference partnership and other advertising, marketing or consulting services.
NCR-SARE supported this video series through Michigan SARE Mini-grants. SARE offers resources for farmers to learn from other farmers about innovative farming techniques for environmental sustainability, economic viability and farmer/community well-being. SARE also supports farmers, researchers and educators through six grant programs focused on sustainable agriculture. For more information about SARE grants and resources, visit Michigan SARE Program or the SARE website.