New free Greenhouse Energy Conservation Guide available
Download this free document to learn about production strategies and technologies to reduce greenhouse energy costs.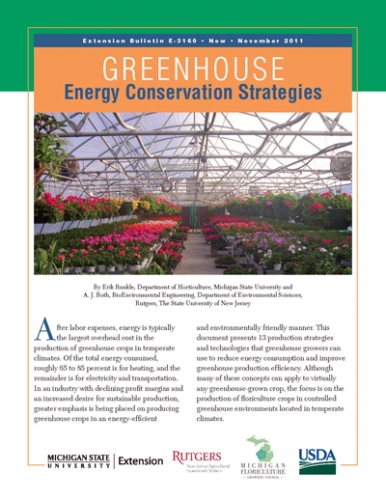 Energy is typically the second largest overhead cost in the production of greenhouse crops in Michigan and other northern states. This MSU Extension bulletin, developed by Erik Runkle, MSU floriculture Extension specialist, and A.J. Both, agricultural engineer at Rutgers University, presents 13 production strategies and technologies that greenhouse growers can use to reduce energy consumption and improve production efficiency. Some of the practices discussed include:
Installing efficient photoperiodic lighting when growing long-day plants.

Managing greenhouse temperature based on the crop and finish date.

Installing and maintaining retractable curtains.

Installing infrared anti-condensate polyethylene film.

Replacing an inefficient heating system with a more efficient one.
This 16-page document, in PDF format, can be downloaded free at the MSU Greenhouse Energy Cost Reduction Strategies website. It also includes links to resources for more information on the different topics. The target audience of his document is greenhouse producers of floriculture crops located in temperate climates, although many of the concepts can apply to other greenhouse-grown crops.
This publication was funded by the Michigan Floriculture Growers Council, who received a Michigan Department of Agriculture and Rural Development grant through the USDA Agriculture Marketing Service Specialty Crop Block Grant Program-Farm Bill.
Erik Runkle's work is funded in part by MSU's AgBioResearch.