Northwest Michigan fruit update – April 28, 2020
Apples and some sweet cherries are at green tip and growers have started apple scab management programs.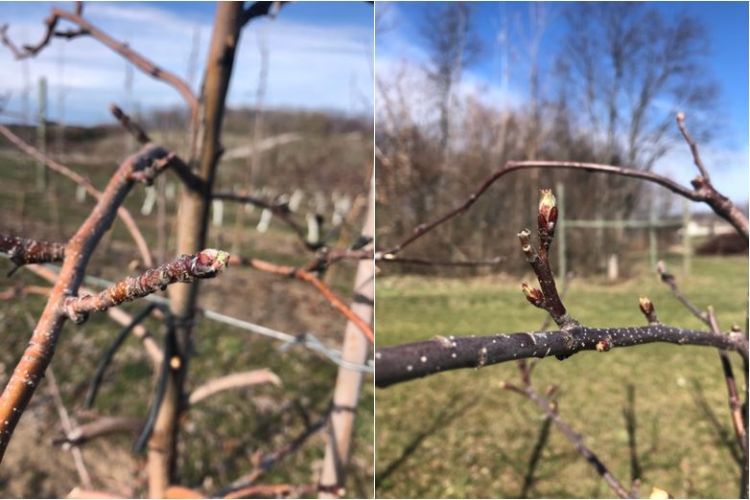 Weather report
Cool conditions still dominate the region's weather over the past week. This cooler weather has also been accompanied by high winds. There have been wind gusts but also consistent windy conditions. Most of last week was dry until yesterday and into last night, April 27); yesterday's rain event dropped 0.38 inches of rain at the Northwest Michigan Horticulture and Research Center. Relative humidity is still high as of this morning, April 28, and there is a considerable amount of fog.
We have accumulated 91 growing degree days (GDD) base 42 and 18 GDD base 50. We are behind our 25-plus year average, which is 185 GDD base 42 and 75.4 GDD base 50. We are close to two weeks behind our normal for this time of year.
The forecast is predicting more cool weather for next week. More rain is also expected today and tomorrow; some regions could receive up to 2 inches of rain. There is a chance for thunderstorms in some areas.
Crop report
We cut sweet cherry buds and did find a few flowers that had been killed by the cold mornings last week. However, even if there are flowers that have been damaged by cold temperatures, we can still set a full crop. At this point, the sweet and tart cherry crops in northwest Michigan are looking good. The weather forecast is also looking favorable for the coming week with no freezing temperatures in the near future. Crops have been moving slowly with the continued cool temperatures. However, the buds Nikki Rothwell brought home last week moved along quickly in her warm kitchen. As soon as temperatures warm, crop development is going to move quickly.
At the station, Gala are further along than Honeycrisp (Photo 1). Sweet cherries are at side green to green tip depending on variety and tart cherries are at late side green with some trees at early green tip.
Growers are planting trees and honey bees have been moved into orchards in preparation for bloom. There have been some reported losses of honey bee hives, but Meghan Milbrath of the Michigan Pollinator Initiative says that is pretty typical for this time of year. At this time, they do not know what the causes of losses are this season. Hives that stayed in the state have been slow to build up their colonies this spring, likely due to cool spring conditions. Overall, Milbrath reported good health in bee colonies.
Bees and hive activity have picked up on warmer days and bees have been foraging on flowering weeds like common chickweed and hairy bittercress in orchards (Photo 2). Reducing flowering weeds in orchards is just one of several suggestions that aim to minimize pesticide risk to bees.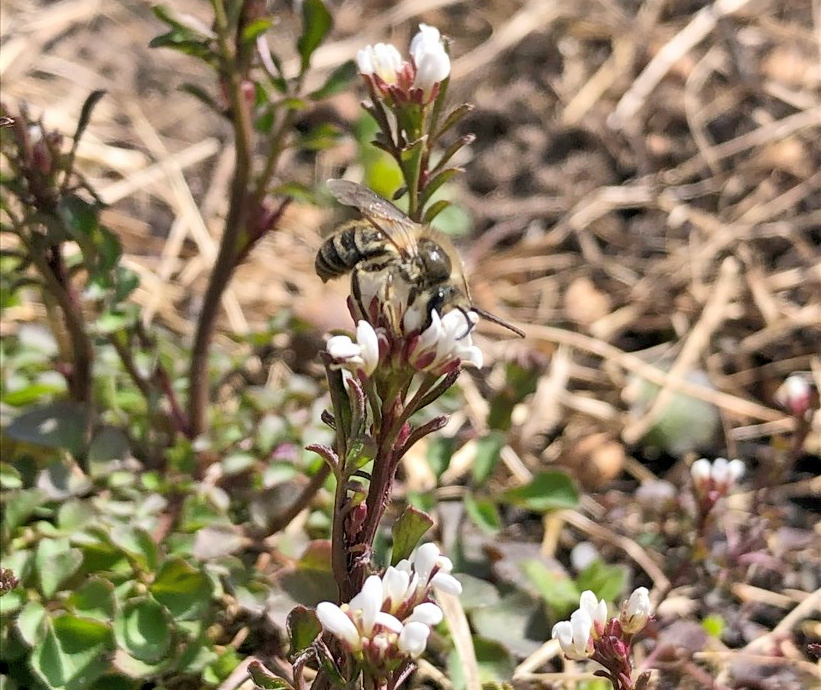 Pest report
Monday, April 27, was a busy day for many apple growers that were spraying ahead of the rain that came on in the afternoon. Growers were covering apples to protect from scab infection; copper applications would have also provided some benefit for fire blight if the bacteria were present. The three RIMpro models (Benzonia, East Leland and Williamsburg Tower) are reporting that apple scab ascospores were ejected during Monday's rain. Michigan State University's Enviroweather is currently reporting that Bear Lake, Benzonia, Kewadin, Elk Rapids and Williamsburg are in the midst of scab infection periods. In other areas, the wetting period is still ongoing, and this period will last until the relative humidity drops below 90% and the proportion of leaf wetness for the hour is less than 0.25. The Enviroweather model is also reporting "no risk until after green tip" for some locations including the research station. However, if green tissue is present (and it is at the station), this recent rain could have been an infection period depending on average temperatures during the wetting period.
The Mills (1944) table modified by A. Jones can be referenced to assess the potential for an infection period; this table can be found on Enviroweather and on page 104 of the E0154 Michigan Fruit Management Guide. For example, the model for the research station says "no risk until after green tip," but we had an average temperature of 43 F and over 21 hours of wetting. Therefore, the most wetting period was indeed a scab infection period. If current conditions stay wet or if conditions dry and we receive another wetting event within 8 hours, this could be a long infection period to kick off the scab season; rain is predicted for Wednesday, April 29, and possibly Thursday this week.
Some growers were also covering cherries targeting bacterial canker. We remind growers that we have copper resistance in Pseudomonas, so copper sprays are not likely effective in controlling this disease. In sweet cherries, San Jose scale was a target in orchards with a history of this pest. As a reminder, some materials such as Lorsban and copper can cause phytotoxicity in sweet cherries once green tissue is present. At the station, many sweet cherry varieties have green showing.
We have had a few reports of weak or dead trees with black stem borer damage (Photo 3). The damage, entry/exit holes and galleries, would have been caused last year as these beetles are not yet emerging this season. However, black stem borer is an earlier season pest typically active in May in our region. This is one of the pests that we will be monitoring for in northwest Michigan along with our MSU fruit team colleagues as part of the 2020 Statewide Monitoring Network. We will provide details on when to set traps to monitor for the beetles in a future report.