Northwest Michigan fruit update – June 5, 2018
With the recent heat and moisture, tree growth has accelerated and fruit is sizing quickly. Thinning is a priority for growers this week.
Weather report
The weather across the region has been variable for the past week. The heat wave has ended last Thursday, May 30. During this warm period, daytime temperatures were in the mid- to high-80s and into the 90s. Nighttime temperatures were also warm, and we hovered in the 60s for the overnights. Temperatures dropped over the weekend to more seasonal conditions.
We have accumulated 723 growing degree-days (GDD) base 42 and 420 GDD base 50. These accumulations have increased considerably with the recent heat, and before these high temperatures, we were behind our 20-plus year average. Currently, our GDD accumulations are above-average by a few days.
We have also had multiple rainfall events in the past week. At the Northwest Michigan Horticulture Research Center, we received 0.2 inch May 30, 0.33 inch May 31, 0.22 inch June 1, 0.36 inch June 3 and 0.03 inch June 4. The total amount of rainfall at the Northwest Michigan Horticulture Research Center for the past week was just less than 1.25 inches.
GDD accumulations as of June 4, 2018, at the Northwest Michigan Horticulture Research Center

Year

2018

2017

2016

2015

2014

2013

28 Yr. Avg.

GDD42

723

701

763

714

624

663

709.7

GDD50

420

341

414

380

333

379

366.4
Growth stages at the Northwest Michigan Horticulture Research Center as of June 4, 2018
Bartlett Pear – 11 millimeter fruit
Potomac Pear – 13 millimeter fruit
Mac – 12 millimeter fruit
Gala – 9 millimeter fruit
Red Delicious – 10 millimeter fruit
HoneyCrisp – 10 millimeter fruit
Montmorency – 10 millimeter fruit
Balaton – 10.5 millimeter fruit
Hedelfingen – 10.5 millimeter fruit
Gold – 10 millimeter fruit
Napolean – 10 millimeter fruit
Riesling – 10–16 inch shoots
Crop report
The combination of heat and recent rainfall has accelerated tree growth. We have tremendous growth on apples and sweet cherries at the Northwest Michigan Horticulture Research Center. With the increased growth, growers need to be sure to be covered prior to rain events. Because of the heat of recent weeks, crop development over the Michigan fruit belt is considerably close. Development of fruit crops is comparable in all fruit growing regions in the state, which is noticeably more similar than in years past. Almost all tree fruits in the northwest region, sweet and tart cherries and apples, are 10-12 millimeter in size at this time.
We are still estimating the crop load at this time. The sweet cherry crop is sizing well, and there seems to be a good set. However, we are just starting to see some fruit color and these fruits are likely going to drop. The tart cherry crop also appears to be sizable, but we have had reports from growers about a lighter crop than expected in particular areas of northwest Michigan. However, the overall U.S. tart cherry crop is looking big at this time. We had considerable bloom in apples, and the Michigan crop is estimated to be excellent. We are recommending that growers be diligent about thinning to obtain good size and fruit quality.
Thinning should be on all apple growers' minds this week. The current weather conditions are cool, which is not optimal for thinning applications. However, depending on the forecast, temperatures are predicted to rise for the remainder of the week with rain in the forecast on Saturday. Chemical thinners work best above 65 degrees Fahrenheit, and Wednesday and Thursday, June 6 and 7, have predicted highs in the mid-60s. This forecast suggests aggressive thinning is needed to reduce the size of the crop and to minimize hand thinning later in the season.
According to Michigan State University Extension educator Phil Schwallier, we began this season with a tremendous capacity for a large crop, and growers will need to work to reduce the size of the crop to achieve high quality fruit. Data collected from the Clarksville Research Center shows we have a high number of fruit setting per numbers of clusters measured (Fig. 1). These data indicate that we have to be diligent in thinning efforts to achieve that target number of fruits per cluster.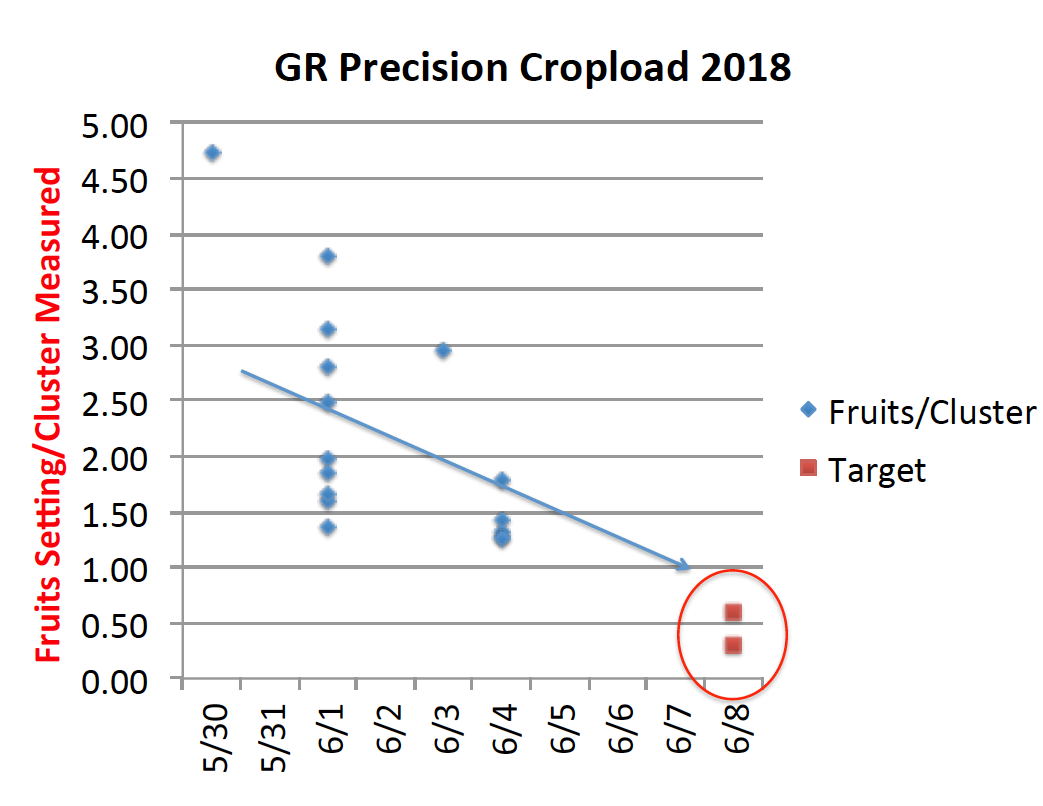 Figure 1. Fruit setting/cluster measured at the Clarksville Research Center.
We have been conducting precision orchard management measurements at the Northwest Michigan Horticulture Research Center in a block of Honeycrisp planted in 2013. Based on initial measurements, the canopy had the potential to produce 600 fruits per tree, and the optimum crop load is 32 apples per tree (5 percent of the initial crop load). We applied Maxcel at 1quartt per 100 gallons on May 24. We measured fruitlets again on May 29, and our number of fruits per tree was reduced to about 76, approximately 21percent of the target crop load (Figs. 2 and 3).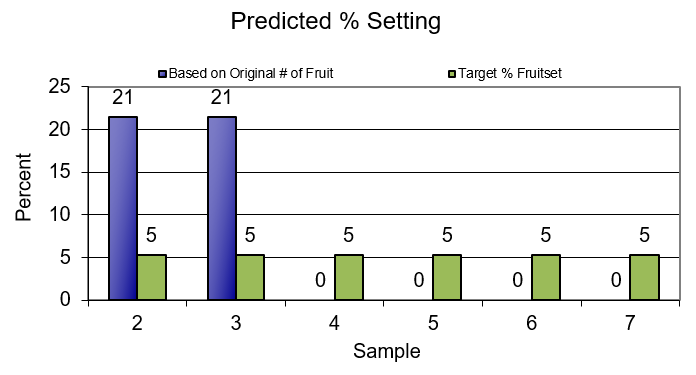 Figure 1. Predicted percent setting.
Figure 2. Predicted number of fruit setting.
This crop reduction was due in part to the thinning application, but also be due to natural thinning (perhaps in the recent heat) as well as other factors such as pollination. We held off on spraying thinner over the weekend and measured the fruitlets on Monday, June 4. The number of expected fruit per tree (i.e., crop load) did not change over the weekend, and we are still at about 21 percent of our target crop load. These data indicate we need to apply another thinning application to remove more fruits from the trees. We will apply NAA at 8 ounces, a quart of Sevin, and a surfactant.
Additionally, fruitlets are sizing and many of the fruits measured yesterday range from 4-9 millimeters in size, which are approaching the optimum thinning window. Lastly, the most recent carbohydrate model for the Northwest Michigan Horticulture Research Center suggests there will be no stress in the coming days, and our tree carbohydrate status is a +38-42g/day. This model recommends increasing the rate of chemical thinners by 30 percent, and this model echoes Schwallier's recommendations to thin aggressively.
Apple Carbohydrate Thinning Model for Northwest Michigan Horticulture Research Center
Apple Carbohydrate Thinning Model Results

Date

Max Temp
(°F)

Min Temp
(°F)

Solar Rad
(MJ/m2)

Tree Carbohydrate Status (g/day)

Thinning Recommendation

Production

Demand

Balance

4-Day Ave Balance

5/1

79

62

21.8

0.00

18.37

-18.37

-14.8

-

5/2

70

49

13.6

0.00

15.62

-15.62

-15.49

-

5/3

59

44

18.4

0.00

11.91

-11.91

-15.84

-

5/4

62

42

14.6

0.00

13.28

-13.28

-16.33

-

5/5

70

50

24.0

0.32

21.48

-21.16

-21.06

-

5/6

63

47

20.6

1.36

18.38

-17.02

-22.02

-

5/7

70

37

26.8

3.49

17.34

-13.85

-19.05

-

5/8

82

55

24.9

1.33

33.53

-32.20

-16.48

-

5/9

73

47

7.5

0.00

25.00

-25.00

-10.3

-

5/10

56

38

22.8

7.23

12.39

-5.16

-6.68

-

5/11

50

34

13.0

4.77

8.33

-3.56

-10.55

-

5/12

62

40

24.2

8.73

16.22

-7.49

-12.47

-

5/13

67

44

26.7

10.24

20.73

-10.49

-13.38

-

5/14

74

51

19.6

6.94

27.62

-20.68

-11.08

-

5/15

68

52

26.2

12.56

23.77

-11.21

-6.68

-

5/16

78

48

27.3

14.51

25.64

-11.13

-6.92

-

5/17

68

47

26.4

17.64

18.95

-1.31

-0.71

-

5/18

75

49

27.1

18.51

21.59

-3.08

-0.43

-

5/19

63

48

7.5

2.88

15.03

-12.15

2.13

-

5/20

62

39

26.1

24.60

10.93

13.68

5.28

-

5/21

67

43

14.2

13.34

13.52

-0.17

-0.87

-

5/22

67

51

25.7

24.42

17.27

7.15

-10.3

Apply standard chemical thinner rate

5/23

77

51

27.1

25.69

25.22

0.47

-21.39

Decrease chemical thinner rate by 15%

5/24

81

56

26.8

24.69

35.62

-10.94

-32.41

Decrease chemical thinner rate by 15%

5/25

87

66

25.1

17.90

55.78

-37.87

-42.59

Decrease chemical thinner rate by 30%

5/26

83

64

25.7

24.57

61.79

-37.22

-45.7

Decrease chemical thinner rate by 30%

5/27

85

63

27.1

28.90

72.52

-43.62

-55.67

Decrease chemical thinner rate by 30%

5/28

84

60

20.4

24.33

75.99

-51.65

-60.87

Decrease chemical thinner rate by 50%

5/29

89

58

26.0

34.28

84.60

-50.32

-46.08

Decrease chemical thinner rate by 30%

5/30

84

65

14.5

11.77

88.88

-77.11

-31.17

Decrease chemical thinner rate by 15%

5/31

75

67

14.3

15.14

79.54

-64.40

-21.09

Decrease chemical thinner rate by 15%

6/1

69

48

23.1

56.64

49.15

7.50

3.21

Increase chemical thinner rate by 15%

6/2

74

52

28.4

70.27

60.94

9.33

9.54

Increase chemical thinner rate by 15%

6/3

64

53

6.6

12.57

49.37

-36.80

19.32

Increase chemical thinner rate by 15%

6/4

70

51

28.5

85.24

52.44

32.80

37.07

Increase chemical thinner rate by 30%

6/5

61

44

17.2

66.21

33.38

32.83

38.06

Increase chemical thinner rate by 30%

6/6

68

43

22.8

87.34

38.88

48.46

32.98

Increase chemical thinner rate by 30%

6/7

70

54

22.3

84.65

50.46

34.19

35.27

Increase chemical thinner rate by 30%

6/8

75

51

21.3

86.92

50.17

36.76

42.53

Increase chemical thinner rate by 30%

6/9

75

57

15.6

67.27

54.75

12.51

6/10

73

55

25.7

107.17

49.57

57.60

6/11

73

53

26.1

110.44

47.21

63.23
Pest report
Most of the region was wet over the weekend, and these conditions were favorable for tree fruit diseases. Although temperatures have been cooler more recently, orchard pests have been active in the more seasonable temperatures. In this year's seemingly condensed season, plants and insects alike have developed rapidly, which has been a challenge for growers to balance orchard tasks.
Weeds have grown quickly over the last two weeks; hence, in addition to pest and disease management, mowing and herbicide applications are underway. Keeping the weeds at bay will improve airflow/drainage, which can help to minimize pest and disease pressure. Multiple wet days and windy conditions in the last week have not been favorable for spray applications, but the forecast is calling for more moderate temperatures and calm days, which will be a good window to get into the orchard before the wet weather that is predicted for the end of the week.
We have not observed symptoms of fire blight infected shoots at this time. Cooler temperatures will slow the disease progress and delay symptoms, but flagging terminals could begin showing up later this week if infection occurred. Many orchards were at petal fall late last week and there will be little fire blight infection risk in cooler weather over the next few days if tag blossoms open. Monday, June 4, was very windy and trauma blight could be a concern if windy conditions damaged or tattered leaves or shoots. Additionally, thinning windows are tight this season with rapid fruit growth—it will be a challenge to make these applications.
Primary apple scab progress has continued to move along and according to RIMpro estimates, spore discharge was heavy during rains on May 30-31 and Sunday, June 3. Some of these periods of wet weather were relatively long (from 10-27 hours) and resulted in multiple infection periods across the region. Some areas received rainfall on Friday, June 1, but moisture dried quickly and most areas were a few hours shy of an infection period.
At this time, the Ridge area has continued to report apple scab spore discharge at monitored sites and primary apple scab is ongoing across the state. Continue to keep highly susceptible fruitlets and green tissues covered from this disease as well as powdery mildew. The Northwest Michigan Horticulture Research Center is about 80-90 percent through primary apple scab at this time, and RIMpro predictions suggest we will need several more rain events before primary apple scab season is officially over.
The Northwest Michigan Horticulture Research Center's codling moth biofix was set for May 28. On Friday, June 1, we had an average of seven moths per trap with two new moths detected over the weekend (Table 1). Weekend temperatures were cooler and evening rains were not good conditions for codling moth activity. However, warm conditions last week were ideal, and we had several reports of high moth catches in commercial blocks. In some orchards where trap numbers were above treatment thresholds, growers plan to target codling moth eggs with an ovicide.
The treatment timing for the egg stage begins at 100 GDD base 50 after biofix. Degree-days accumulated quickly during the recent warm weather, and the Northwest Michigan Horticulture Research Center reached 100 GDD on May 31—just three days after biofix. However, egglaying should continue in the coming days and egg hatch is not expected until 250 GDD base 50 after biofix (i.e., next week). After we reach 250 GDD base 50 after biofix, codling moth control should begin to target larvae.
Over the warm Memorial Day weekend, sweet cherries sized rapidly and plum curculio were on the move and laying eggs. Although conditions have been cooler lately, plum curculio activity is ongoing and egg-laying scars are apparent in tart cherries, sweet cherries, and apples at the station. We have also received reports that plum curculio damage is noticeable in some cherry orchards. Pyrethroid insecticides generally provide shorter residual activity compared with other insecticide classes. Lastly, if you are considering premix insecticides, ensure that the amount of active ingredient in the premix is sufficient for effective control of the target pest.
This is the second week of San Jose scale male activity and we found a sizable increase in the number of males in traps at the station (Table 1) and in our commercial monitoring site. Scale numbers in traps were in the single digits last week and some traps caught more than 70 males this week. The next opportunity to take action against scale will be when crawlers emerge. Crawler emergence typically occurs about 14 days after male flight begins, 500 GDD base 51 (estimated for June 11); this timing also often coincides with bloom of the catalpa tree.
We set pheromone traps to monitor for obliquebanded leafroller moths in apples and cherries at the station this week. We have observed a few relatively large larvae and anticipate the first generation of moths to begin flight soon. Biofix for obliquebanded leafroller is the first date of sustained catch, and biofix is used to estimate when management tactics should be used to target summer generation larvae.
Baited yellow sticky traps to monitor for cherry fruit fly were also deployed this week. Cherry fruit fly traps should be placed high in the tree canopy and on outer branches (i.e., not the interior of the canopy). Previous research suggests that trap visibility plays a key role in improving trap catches of fruit flies. Cherry fruit fly populations have been low in recent years as spotted wing Drosophila management has likely impacted cherry fruit fly detections. We have not detected spotted wing Drosophila in northwest Michigan at this time.
We have not observed cherry leaf spot lesions in treated orchards at this time. Following a relatively long wetting period and with cooler temperatures in the forecast, some growers may be considering using Syllit + Captan for cherry leaf spot. While this is an excellent combination for cherry leaf spot, this mix will not be effective for powdery mildew.
Previous research has shown that targeting powdery mildew at first cover with an effective chemistry can provide effective seasonal control of mildew. Hence, some growers may be opting to for a Gem + Captan or Flint Extra + Captan for this next round of cherry leaf spot and mildew management; including Captan in this strategy is critically important for resistance management purposes as the active ingredient in Gem/Flint Extra (trifloxystrobin) is a single-site fungicide with high risk for resistance development. Flint Extra became available in 2018 and the product Gem will be phased out after 2018.
First cover timing is also a good opportunity to use an SDHI chemistry to target these diseases; Captan should be included with applications of an SDHI for resistance management purposes.
Table 1. Average number of cherry and apple pests in the Northwest Michigan Horticulture Research Center trap line by date.

Cherry Pests

14-May

21-May

28-May

4-June

American Plum Borer (APB)

Set

5

6

7

Lesser Peachtree Borer (LPTB)

Data not available

Set

4

11

Greater Peachtree Borer (GPTB)

Data not available

Data not available

Set

1.3

San Jose Scale in sweet cherry (SJS)

Set

0

6

73

Obliquebanded Leafroller (OBLR)

Data not available

Data not available

Data not available

Set

Cherry Fruit Fly (CFF)

Data not available

Data not available

Data not available

Set

Apple Pests

14-May

21-May

28-May

4-June

Oriental Fruit Moth (OFM)

0

0

0

0

Spotted Tentiform Leafminer (STLM)

12.5

18

31.5

25

Codling Moth (CM)

Set

0

0.5

7.5

San Jose Scale (SJS)

Set

0

5.5

24

Obliquebanded Leafroller (OBLR)

Data not available

Data not available

Data not available

Set