Northwest Michigan welcomes two new FoodCorps service members
MSU Extension Grand Traverse begins first year as a new FoodCorps service site.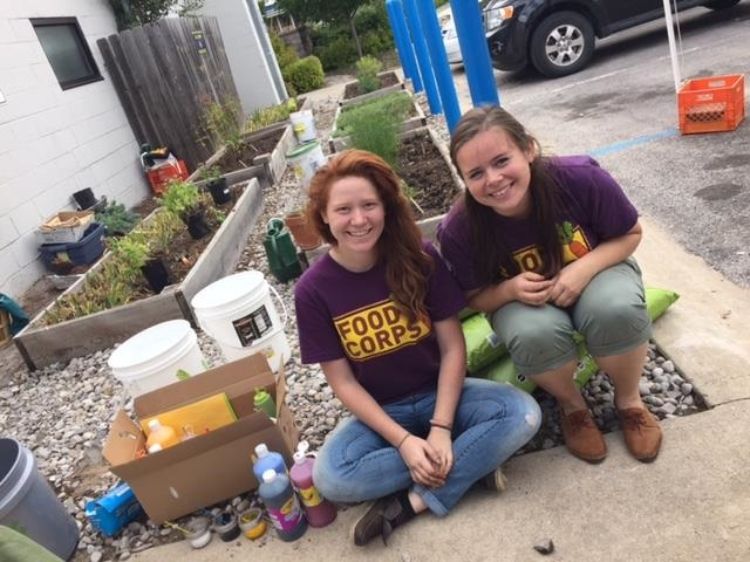 Over 180,000 children reached, nearly 37,000 pounds of produce, and 671 garden projects. These statistics represent a snapshot of the impact FoodCorps service members have made within the last year. FoodCorps is a nationwide team of AmeriCorps leaders who collaborate with communities to make schools healthier place for kids to eat, learn, and grow. In the process, a new generation of leaders are trained and launched into lifelong careers of impact across the fields of food and health. Michigan State University Extension Grand Traverse County is thrilled to be named a local FoodCorps service site with the Groundwork Center. Local service sites fulfill the central role in supporting service members to accomplish shared goals.
Meet the new FoodCorps service members
Mikaela Taylor (Hosted by Michigan State University Extension, Grand Traverse County)
Mikaela is thrilled to live, learn and serve in the beautiful Northwest Michigan! Raised by parents dedicated to serving their communities, and holding a Bachelor of Arts degree in Environmental Studies with a specialization in Environmental Justice from the University of Michigan, Mikaela was granted with a solid foundation to utilize as she actively serves schools in the Northwest Michigan community. Through her service with Michigan State University Extension Grand Traverse County, she seeks to build partnerships with food service workers, farmers, school administrators, teachers, parents and community members in order to grant students access to resources and support those who are invested in guiding them. She is eager to be a part of the process as students learn about their food, where it comes from, and how it contributes to their overall health and wellness.
Stephanie Cumper (Hosted by Groundwork Center)
A graduate from Central Michigan University, with specialties in International Relations and Nutrition, Stephanie is eager to continue counteracting the negative impacts of impoverishment and food insecurity via active engagement in Northwest Michigan schools. She firmly believes that it is vital that the youth of America are capable of understanding the origin of foods, the structure and policies of food systems, and how to grow foods. Stephanie intends to tackle her service with vibrant devotion and enthusiasm, with the understanding that any change towards the collaboration of school curriculum and connecting kids to healthy, local food is a success.
What will their service include?
Stephanie and Mikaela will provide service to Frankfort and Platte River elementary schools in Benzie county and Traverse Heights and Interlochen Elementary in Grand Traverse County.
Knowledge: collaborate 2-3 teachers in each school building in order to continue to build and execute our database of farm to school lessons that both meet standard curriculum requirements and are capable of being performed by a teacher in the absence of a service member, in order to foster sustainability of our farm to school program
Engagement: continue to develop community partnerships with volunteers, parent teacher organizations (PTO) and Master Gardeners to create long-lasting school garden plan. They will also provide basic gardening resources, programming and advice as needed.
Access: conduct taste tests in school cafeterias and collect data from these taste tests to provide food service with information to support student local food preferences. They will also work with food service staff to source and prepare food for tastings, classroom activities, and new recipe development.
In addition to these areas of service, Stephanie and Mikaela will each focus on a specialty area throughout the year. Stephanie will focus on curriculum development in partnership with the Traverse Bay Area Intermediate School District. Mikaela will develop local food and nutrition resources and provide support for food service professionals. Mikaela and Stephanie have gotten off to a tremendous start. In just their second week of service, Mikaela and Stephanie spent the 9/11 National Day of Service restoring the garden at Father Fred Foundation.
Want to learn more?