One more opportunity to attend Breakfast on the Farm this summer
Don't miss the opportunity to join the thousands of people who have attended Breakfast on the Farm events in Michigan.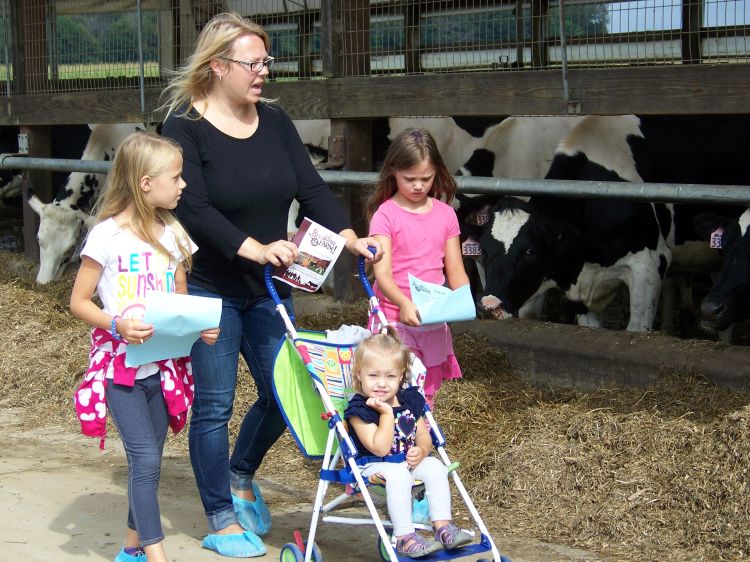 There is only one more opportunity to attend a Michigan State University Extension Breakfast on the Farm event in 2015. On Saturday, August 29, Jennifer and Bruce Lewis and their family will be opening their dairy farm to visitors for the final event of the season. The farm is in Hillsdale County and promises to showcase modern dairy farming. The farm address is 4840 Sand Lake Rd., Jonesville, MI 49250. The event is free to attend; however tickets are needed to eat breakfast. For a list of ticket locations visit www.breakfastonthefarm.com and select "Find a Breakfast". The event runs from 9 a.m. to 1 p.m. with breakfast being served until noon.
The Lewis' farm, Pleasant View Dairy, houses more than 650 cows and the family grows 2,700 acres of corn, soybeans, wheat and hay. Visitors to this event will see how farmers take care of their animals and the environment and what they do to produce safe, wholesome and nutritious milk.
98 percent of Michigan dairy farms are family owned and the Lewis' are proud to be one of them. They are third-generation farmers and are opening up their farm so consumers can see first-hand where their food comes from. People will leave the farm with a much better understanding of the care and dedication that is necessary to produce milk that is safe and nutritious. For many of the visitors, this will be a once in a lifetime opportunity to tour a modern dairy farm.
Following the farm-cooked pancake breakfast, visitors will be invited to tour the farm. The tour is a self-guided walking tour so comfortable, sturdy shoes are recommended. Educational stations will be set up throughout the farm and knowledgeable volunteers will be on hand to answer questions.
This event is made possible through generous financial support from local and statewide sponsors. For more information about the Hillsdale County Breakfast on the Farm, visit www.breakfastonthefarm.com or contact Mary Dunckel at dunckelm@anr.msu.edu or Ashley Kuschel at kuschela@anr.msu.edu.