Panel of construction industry leaders engaged audience at Feb. 13 SPDC Industry Seminar Series at Michigan State University
The MSU School of Planning, Design and Construction held its 13th Industry Seminar Series event on Wednesday, Feb. 13, 2019, in East Lansing. The event featured a panel of four industry leaders.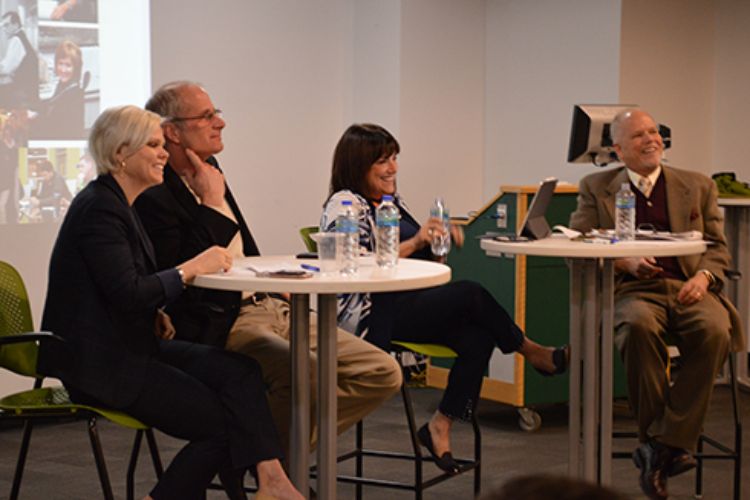 The MSU School of Planning, Design and Construction held its 13th Industry Seminar Series event on Wednesday, Feb. 13, 2019, in East Lansing. The event featured a panel of four industry leaders, including:
Unfortunately, Glieberman was not able to participate due to poor weather conditions; however, he sent his slides, and the moderator presented them and discussed his career in the industry. The panelists covered a variety of topics within residential development and construction.
Joseph Maguire, president and CEO of Wolverine Development Corporation, is the facilitator of the Series and served as the moderator of the panel discussion. The series continues to be popular with local alumni and industry leaders and helps to show SPDC students real-world examples of what is possible to achieve upon graduation.
Sinem Mollaoglu, Construction Management program director welcomed the panelists and students. The presentation began with each of the panelists discussing their personal career journeys and what their current roles look like at their respective companies.
Schroeder was the first to speak and noted that she originally had no interest in construction or real estate when she began her career. After spending time with others who were in the industry, she was tricked into taking her Sales Person Exam by her friend Tom. Two weeks later, he surprised her with gift-wrapped business cards, because she passed her test, starting her career in new home sales.
She began her career in the late 1970s when the market was booming, stating that she had "instant success" with customers lined up down the halls to meet with her to write a contract.
"My entire career is based on hard work, passion and a lot of love. That is really what it took for me. I gave it my all. Seven days a week was not enough. I was working 10-, 12-, 14-hour days. You give what you have to be successful," Schroeder said.
When the bottom fell out of the market, she took time off to build a family but eventually started back up by getting involved with the National Association of Home Builders.
"If you can get yourself to the national convention once a year, I highly recommend it. It is a wealth of information between the classes, programs, people and networking," Schroeder said.
"I tried to become more and more educated about what was happening in my industry nationwide by reading about customer service, marketing and sales. You would be amazed at the differences in the different parts of the country."
After working in a few different companies and investing herself into a variety of projects, Schroeder said she and her best friend Bob Schroeder recognized something was missing from the housing marketplace.
"We called it pizzazz. We talked about a purple cow. We wanted something new, unique and different. We wanted to appeal to the masses," she said.
"Fate as fate would have it, we had an opportunity literally drop into our laps."
Darrel Kessler had a large plot of land on the northern border of East Lansing. It was originally zoned for mobile homes but was re-zoned into single-family site condos. Before they were even a company, he called them to see if they were interested.
Straight from the airport after a state convention, Bob and Karen visited the site in the dark. They originally planned to go back in daylight, but after turning on the TV and reading a headline that stated "Land annexed into East Lansing will bail out East Lansing Schools," they called Kessler immediately.
"Over a cup of coffee and a handshake, we entered into an agreement," Schroeder said.
Kessler gave them an office, and Mayberry Homes began. Within a month, they were established within the industry, and within a year, they had built and sold 100 homes.
"We put together a product that we believed didn't exist in our current marketplace, and it was so well received. A lot of that goes back to NAHB, learning the market and knowing who the right players are," she said.
Mayberry Homes has built three St. Jude dream homes. They have also built a home with Home for Troops, worked with St. Vincent Catholic charities and were a part of Extreme Makeover Home Edition along with the School of Planning, Design and Construction.
"We've won two national service awards, which is number one in my book. That's who we are; that's our culture. Costumer service is first and foremost," Schroeder said.
Next, Davis shared a few images of projects with the audience and spoke about her personal journey.
Similar to Schroeder, Davis also got into homebuilding by mistake after graduating from MSU with a degree in business and marketing.
After accepting her first job at Toll Brothers, Davis said "what started as a marketing job, turned into a big passion for the industry."
She had a job in sales management when Michigan began to soften, so she moved to Chicago and took a job as vice president of sales for MI Homes in Ohio.
"The recession taught all of us who were still in the business one thing: Go back to your roots. There's really only three things you do, which are build, sell and close homes," Davis said.
She currently works with Ryan Homes handling the sales, production, service and costing aspects.
Through the ups and downs of the market, Davis said people often asked her why she stuck with real estate.
She responds with, "What else would I sell? What else would I manage? It is all so boring. I couldn't imagine selling anything else. At the end of it, someone has something they will remember forever: A home."
Davis said that one of her favorite things about the industry is that she believes no other career gives someone the variety of experience in all the aspects of business.
"Two-years out of college, one-year out of college, what other industry could someone give you the keys to a business, and you get to run it? There aren't a lot of other opportunities like that," she said.
Maguire gave a nod to Davis by saying, "To enter the industry, get good at something," similar to how Davis began in marketing.
Following this, Maguire gave a quick summary of Glieberman's current roles and how he is now devoting his life to the greater good. He said Glieberman believes his big break to be the Woodward Place at Brush Park in Detroit where he built an upscale 550-unit townhome community when he was the CEO of the Crosswinds Communities based in Novi.
Stoskopf was next to speak, and began by telling the audience to find their passions.
He said he never expected to be one sitting on this panel, but gave the advice to "find your passion, be open to opportunities and take advantage of those opportunities."
After moving between many different states, Stoskopf said they should put a big sign out that says "Michigan is open for business," because of the job opportunities.
After his time in the U.S. Air Force, Stoskopf took a job with Lockheed Martin Cooperation where he was tasked with keeping the contract for the facilities worth $30 million a year. After his suggestion to model commercial companies, he said they were able to competitively defend the contract through commercial methods, deeming this how he began in construction.
After a job with Granger Construction, he joined the Home Builders Association of Southeastern Michigan as their executive officer in 2008, which "took everything I'm passionate about and rolled it up into one job."
Stoskopf urged students to "do the best you can in the job you have, and you'll get other opportunities."
After the introductions, the panelists were led by Maguire to discuss three different topics. The first was a comparison of small, medium and large builders and developers.
Davis spoke first saying that she likes large companies and programs, because if one is open to opportunity, there are a lot of opportunities that can come that way, especially if you are willing to move around the country.
She also said she feels there is more structure in a large atmosphere, and that they can provide a framework that is backed by a lot of research.
Davis said that being involved with large companies has exposed her to a diversity of housing and has helped her to be competitive.
On the opposite end, Schroeder said when she worked in a corporate company in Detroit, she felt it was restrictive and impersonal, and said she enjoys smaller companies.
She looks at a small company as a family, saying it becomes more personal and you have more of an opportunity to work with the owners whose name is on your check.
Stoskopf added his take by saying that one is relationship-driven, while the other is policy-driven.
"It is really just finding where you fit," he said. "There is a lot more responsibility and a lot more risk going with a small business."
The second topic was about how to start your own business.
Stoskopf encouraged the students to become members of their local Home Builders Association, because they can meet people who can help them along the way.
Additionally, under this topic the panelists answered questions from students about custom home builders versus track-type builders, balancing land acquisition versus product, and earning a PhD to start a business.
The panelists wrapped up by discussing the third topic, which was current trends, such as labor-saving methods and technology and senior/aging-in-place housing.
All three of the panelists talked about how labor is an ongoing struggle, because fewer people are entering the skilled-trades.
Davis said, "It isn't just about cost. There aren't even enough people."
Learn more about these events at SPDC Industry Speaker Series.