Phragmites, invasions harm riparian property values: Part 1
Non-native invasive Phragmites affect waterfront owner property values and related local ecosystems.
Invasive plants harm property values and ecosystems by damaging infrastructure and limiting access to water and recreation. A few invasive plants in particular have an extensive root system and multiplying rhizomes which can damage buildings, roads, and other structures as they spread. Roots and rhizomes have been known to grow through asphalt in roads and damage wooden structures such as docks, boardwalks, and safety paths.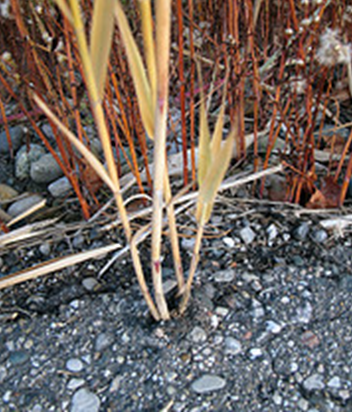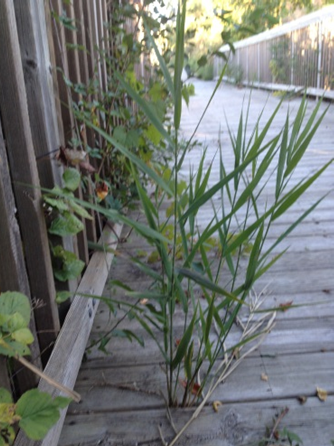 The first photo shows Phragmites growing through and damaging asphalt on the side of a road as it spreads from the nearby ditch. This requires constant cutting and costly patching of broken up roadways increasing the cost of road maintenance. Invasive plants can affect your ability to enjoy natural areas, parks, campgrounds and the like, reducing the value of your enjoyment of those locations. Phragmites spread is growing through and damaging a wooden safety path in a local park in the second photo. This hinders walkability and discourages repeat visits from tourists.
Other difficult invasive plants include Japanese knotweed, which has been known to grow through foundations, retaining walls, and sidewalks! Damaged structures like these require expensive repairs and contribute to reduced lake property values. According to an article in This is Money.co.uk, banks sometimes will not grant a mortgage on a property infested with Japanese knotweed and may insist on employing a professional to manage it before financing the property. This is because that invasive plant has been known to destroy buildings and landscaping reducing the bank's equity in the property.
Aquatic invasive species plant incursions limit access to water and recreation. Buyers pay a premium for lakefront homes because these properties have beautiful views and offer access to water for swimming, boating, fishing, and other recreation. When invasive plants grow in the water or on the beach, they hinder recreation activities, block views, obstruct lake access, and damage walkways, landscaping and docks. Ultimately creating costly fixes and, if left unmanaged, potentially lowering the property values.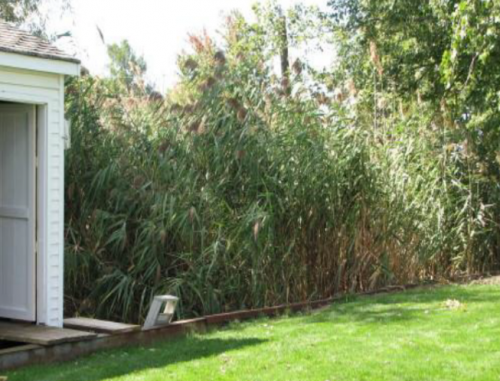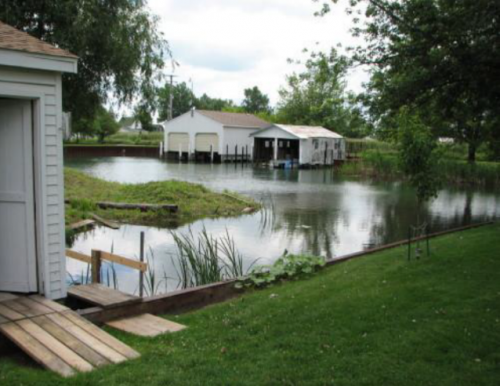 Before and after photos of a boat house on a canal access on Lake St. Clair. On Deer Lake, before treatment, the Phragmites infestation obscured not only the desired views of the lake it also started blocking open access to a boat launch and a public swimming beach. The lakes became inaccessible for recreational uses lowering lakefront property values.
Please contact Beth Clawson, MSU Extension educator, for more information about invasive aquatic plants.To learn more about invasive organisms and invasive aquatic plants contact Michigan State University Extension Natural Resources educators who are working across Michigan to provide aquatic invasive species educational programming and assistance. You can contact an educator through MSU Extension's "Find an Expert" search tool using the keywords "Natural Resources Water Quality."