Pigeon pea, white yam might make perfect crop combination in Ghana
White yam is a profitable crop for Ghana's smallholder farmers, but poses two big problems.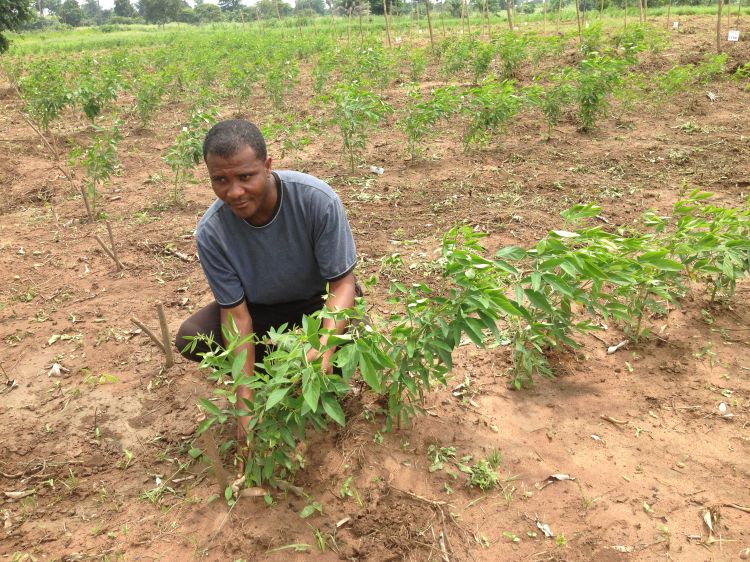 White yam (Dioscorea rotundata) is a profitable crop for Ghana's smallholder farmers, but poses two big problems: the plants need to be staked, which eats up about a third of production costs; and yams pull many nutrients out of the soil, forcing farmers to constantly search for new land and often clear forests in search of fertile ground.
A leguminous shrub, pigeon pea, could address both problems. A partnership between Michigan State University (MSU) and the Borlaug Higher Education for Agricultural Research and Development (BHEARD) program is learning how.
The goal of BHEARD, supported by the U.S. Agency for International Development, is to develop agricultural scientists and increase agricultural research capacity in partner countries. The program is named after Dr. Norman Borlaug, an American biologist, humanitarian and Nobel laureate who has been called "the father of the Green Revolution."
MSU's Alliance for African Partnership (AAP) recently awarded a $100,000 grant to two MSU assistant professors, two BHEARD students from Ghana and an economist from Ghana's Council for Scientific and Industrial Research (CSIR) to study a combined pigeon pea/yam cropping system. Besides providing food and feed for livestock, pigeon pea fixes atmospheric nitrogen to the soil and provides stakes for yams.
The project's principal investigator is Dr. Cholani Weebadde, an assistant professor in MSU's Department of Plant, Soil and Microbial Sciences. The other investigators are Dr. Hashini Galhena Dissanayake, an assistant professor in MSU's Department of Entomology, CSIR's Dr. Patricia Acheampong, an agricultural economist, and BHEARD's Eric Owusu Danquah and Princess Hayford, both students in MSU's Department of Plant, Soil and Microbial Sciences.
Hayford brings extensive experience with pigeon pea, a new crop for Ghanaian farmers, to the project. Owusu Danquah, pictured above, studied white yam production extensively before joining MSU in fall 2016. He sold Weebadde, his mentor at MSU, on the potential of combining pigeon pea and yam in a single cropping system. Weebadde asked Owusu Danquah to help write the AAP grant proposal during his first semester.
"(Owusu Danquah) is a smart person, very enthusiastic and full of energy," Weebadde said. "I wanted him to do more than he thought he could do."
The AAP grant pays for Owusu Danquah's travel and field work. Starting in 2017, he'll travel from Michigan to Ghana every summer and plant crops in CSIR research fields located in forest and forest-savannah zones. He must establish the pigeon peas first, so they will grow enough biomass to fertilize the soil and stems thick enough to be used as stakes. Later in the year, he'll return to plant yams in the same fields. By the second summer, Ghanaian farmers will be able to observe the pigeon pea/yam cropping system firsthand. If the farmers see the new system for themselves and realize its potential to fertilize soil and save money on stakes, they will be more likely to adopt it, Weebadde said.
Owusu Danquah is evaluating two ways pigeon pea can act as a stake for yams: plant it in an alley, with yams in between, and let the plants grow together; or plant it near the yams, cut its thick stems off and use them as stakes.
The pigeon pea/yam research will serve as a case study for the AAP project's larger goal: demonstrating the utility of interdisciplinary research and networking. Owusu Danquah will build connections with MSU students, alumni and other international researchers – connections that hopefully will still be in place after he graduates and returns home. Such peer networks are one way of addressing the "brain drain" often experienced by developing countries. Trained scientists are less likely to leave home if they have peers to consult and access to adequate resources, Weebadde said. She sees MSU's international students as future global ambassadors, paving the way to collaborative research beyond the borders of MSU and the United States.
– Matt Milkovich