Protecting natural shoreline projects from waves and ice action on inland lakes
Upcoming Certified Natural Shoreline Professional training provides instruction on how to use linear shoreline protection when designing and installing a basic bioengineered shoreline erosion control project.
Linear shoreline protection is a generic term for a class of products used in basic natural shoreline restoration projects. Linear shoreline protection is placed parallel to the shoreline to protect native shoreline plantings – the core of bioengineered shoreline erosion control – from the forces of waves and ice.
How to choose, size and install linear shoreline protection for specific site conditions is just one topic that will be covered during Certified Natural Shoreline Professional 2014 in Traverse City, February 18-20. Participants return for their hands-on field experience on June 11 during which they will have the opportunity to install linear shoreline protection as part of a basic shoreline bioengineering project. To earn the title of Certified Natural Shoreline Professional (CNSP), participants must complete all four days of instruction and pass a certification exam. Statewide, nearly 200 professional shoreline contractors and natural resource educators have earned CNSP certification since 2010.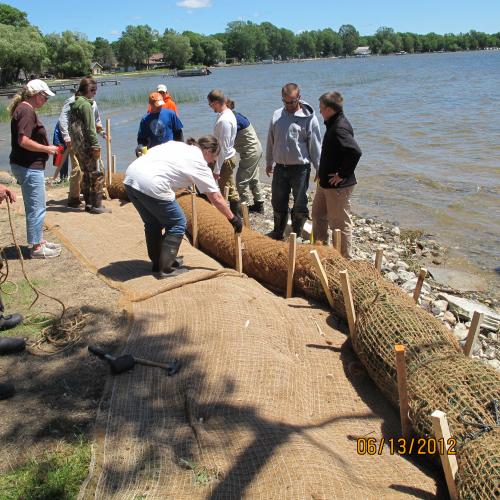 Photo: Certified Natural Shoreline Professional trainees install linear shoreline protection on South Manistique Lake in Curtis, Michigan. Credit: Jane Herbert, June 2012
One commonly used linear shoreline protection product is the coir fiber log – manufactured from coir (coconut husk) fiber stuffed into a natural or synthetic netting. Coir fiber logs are available in various lengths, diameters and densities. Those made with natural netting are totally biodegradable and, depending on site conditions, last two to four years.
There are other linear shoreline protection products on the market including aspen fiber logs which are made from aspen fibers blown into cloth bags to form a dense linear product. It is also possible to make your own linear shoreline protection in the form of brush bundles made out of native tree branches wrapped in coir fiber matting.
It is important to remember that linear shoreline protection products only protect the long-rooted native plants at the water's edge. These products biodegrade and are a waste of time, money and effort if practice changes are not made to the shoreline – such as conversion of turf grass to a native plant buffer strip. According to Michigan State University Extension, it is also important to remember that the use of linear shoreline protection in a Michigan lake or stream requires a permit from the Michigan Department of Environmental Quality Inland Lakes and Streams Program.
For a short video of a basic natural shoreline project being installed and protected with coir fiber logs and brush bundles, please visit the Michigan Natural Shoreline Partnership's CNSP training page. A link to a downloadable registration form for Certified Natural Shoreline Professional 2014 is also available.