PSM May News
PSM Department news for the Month of May 2023
Policy in the Making: Arlo Robles and Barret Wessel represent MSU on Capitol Hill.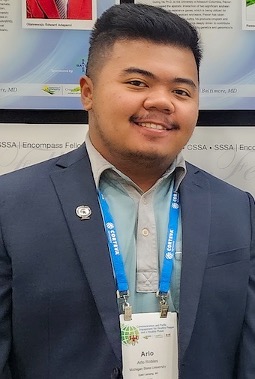 PSM's Arlo Robles (Jessica Miesel) and Barret Wessel participated in the 2023 Congressional Visits Day (CVD) in February 2023. We were also joined by certified crop advisers, people from private sectors, and officials from the tri-societies (ASA-CSSA-SSSA). There were at least 50 participants in the event, and we were divided based on state. I was grouped with Dr. Wessel, who was the leader for the Michigan team.
First the group was trained to have an effective congressional meeting and how to craft and practice our message. Then, they attended scheduled meetings with the legislative assistants of Rep. John Moolenaar, Rep. Elisa Slotkin and Senator Debbie Stabenow.
"Our goal was to ask 2024 funding support for agricultural research, specifically $500 million for the Agriculture and Food Research Initiative (AFRI) and $50 million for the Agriculture Advanced Research and Development Authority (AgARDA)," said Robles. "We also did drop-ins in the offices of other Michigan senators and representatives, left behind a colorful brochure, and asked for email addresses, so we can reach out in the future."
This was the first time that Arlo participated in advocating funding for ag research. "I got invited the Bayer Encompass Fellowship program. It was indeed a memorable experience for me. With enough training and experience, I think I can advocate more confidently for ag research funding and talk with legislators to ask for support.
Arlo is currently pursuing a MSc degree in Crop and Soil Sciences at Michigan State University with interest in how biochar can restore and improve soil health. He earned his Bachelor's degree in Agriculture (major in Soil Science) at the University of the Philippines - Los Baños in 2020. He then worked in the agricultural office in his hometown, where he was mainly responsible for soil fertility evaluation of small-hold farms.
This was the second time that Barret Wessel has done a Congressional Visit Day. " I went as a PhD student in 2020, the last in-person CVD before the pandemic," said Barret."These fly-ins are easy and fun, more people should do them."
Cooking Up a Broader Market for Michigan Beans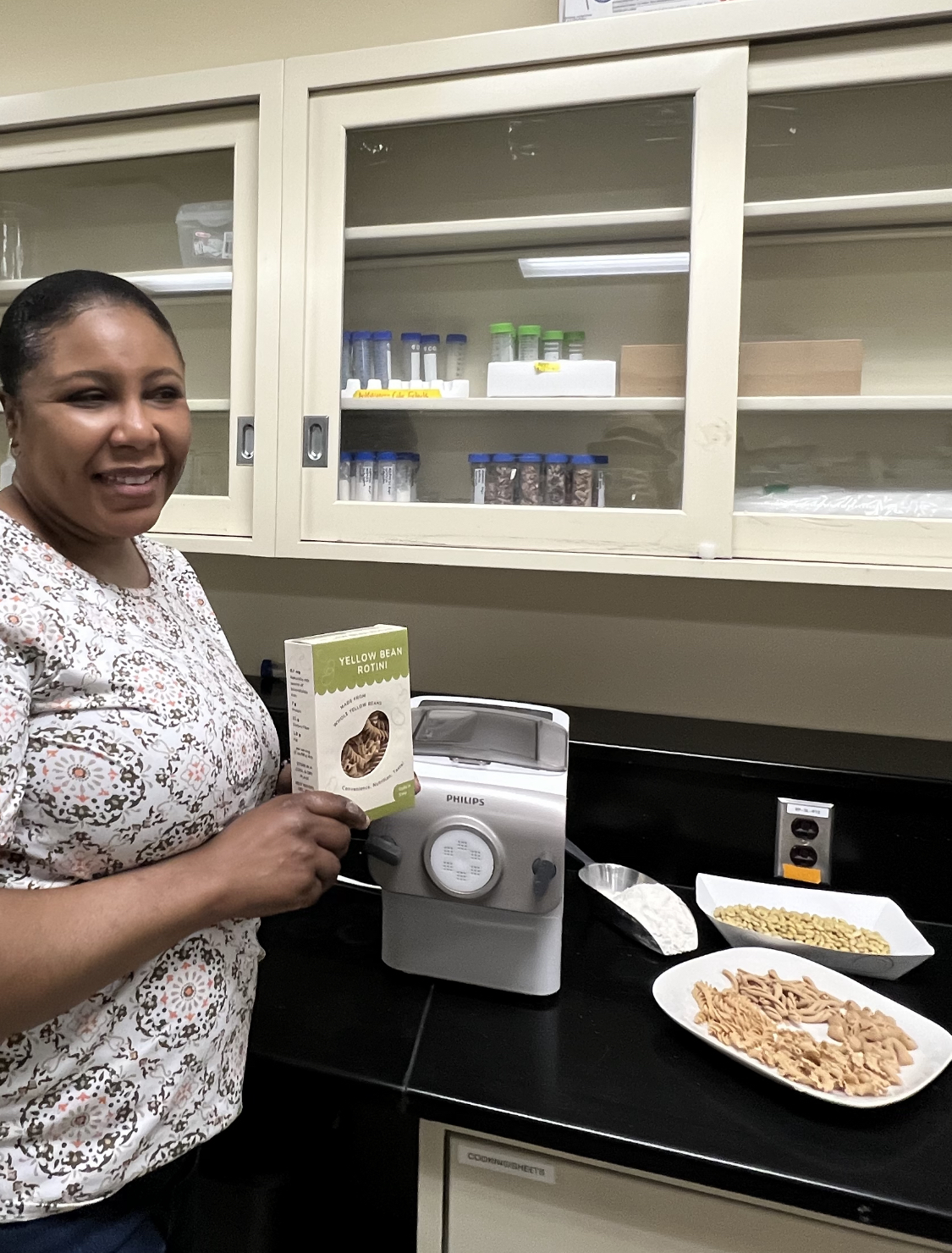 USDA-ARS Food Legume Quality Genetics Lab, Sharon Hooper creates a new pasta and maybe more consumers.
Dry beans are a nutrient-dense food – rich in protein, dietary fiber, minerals, and folate. Here at MSU, researchers work closely with Michigan farmers to develop and produce the best beans possible for the region. Michigan is now the 2nd largest producer of dry beans in the U.S, yet consumption remains relatively low.  
Sharon Hooper (PhD, Cichy lab) who works in the USDA unit on the 3rd floor of PSSB, studied chemistry in school but has always had a passion for food. Sharon was raised in Jamaica, where her family feasted on mother's home cooking, using freshest ingredients—often right from the garden. After getting her PhD in Food Science, Sharon created her dream job—bringing quality food products to the benefit of people who eat the beans, and of farmers, who produce them.
Sharon and her colleagues work together with MSU bean breeders to create flour and other products to add to the market. Recently, she created a pasta using a unique of yellow bean and cassava flour.  "It tastes good, looks right, and maintains shape throughout the boil," Sharon said. "We are aiming to enhance the market for dry beans.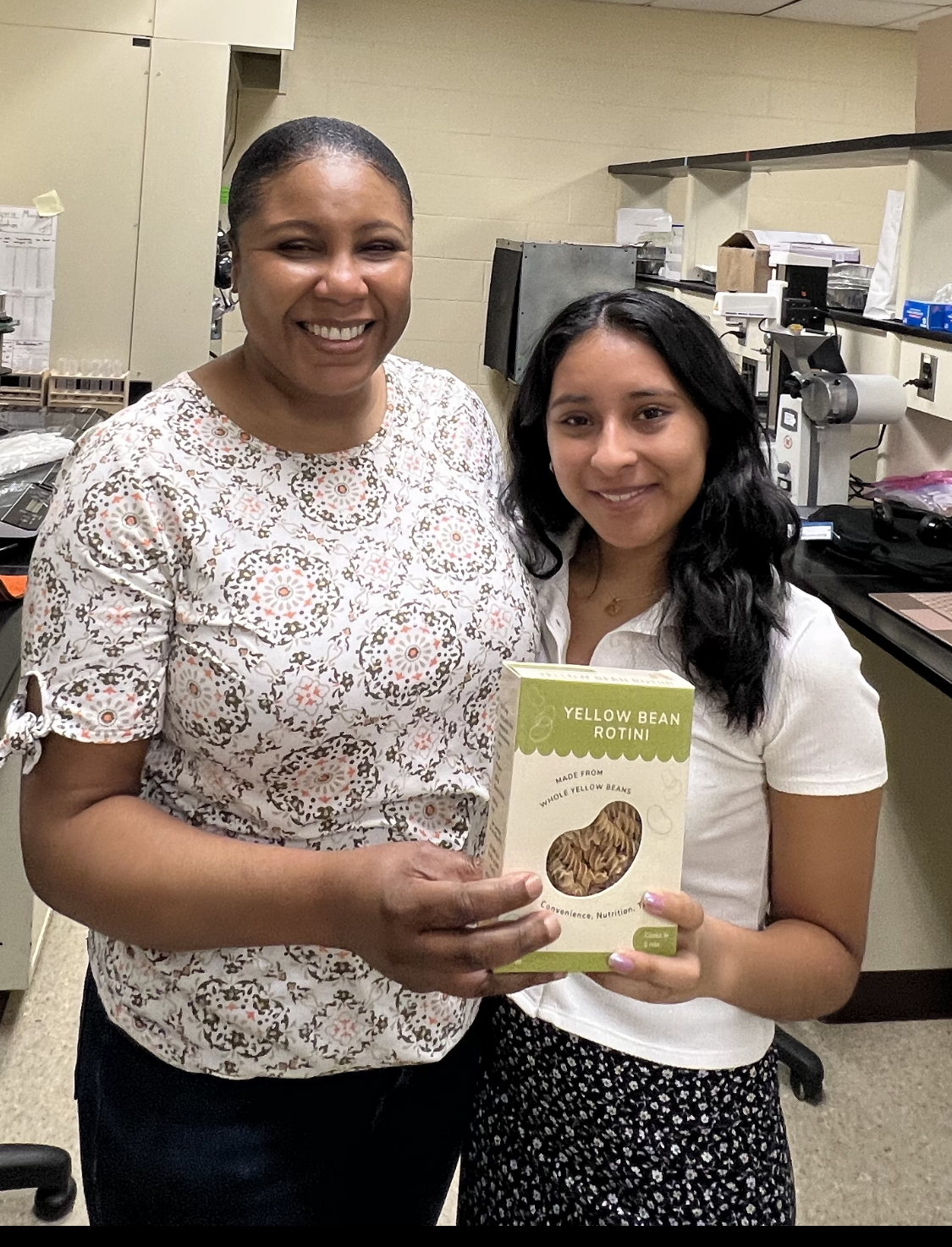 And it seems to be working! The proof is in the publications: "Dry bean pastas are nutritionally superior to wheat pasta with higher protein, minerals and resistant starch concentrations, as well as lower total starch content and glycemic value," Sharon and colleagues wrote. "While consumers preferred the flavor, texture and appearance of the wheat pasta to the dry bean pasta, 36% of participants said they would definitely or probably purchase the dry bean pastas from the light-colored beans (i.e. white kidney, navy, and otebo). These results suggest that single variety fresh dry bean pastas have commercial potential in the U.S as healthy gluten free pasta options."  https://doi.org/10.1007/s11130-019-00732-y
Falling Tree Collaborative: setting science to music to reach new ears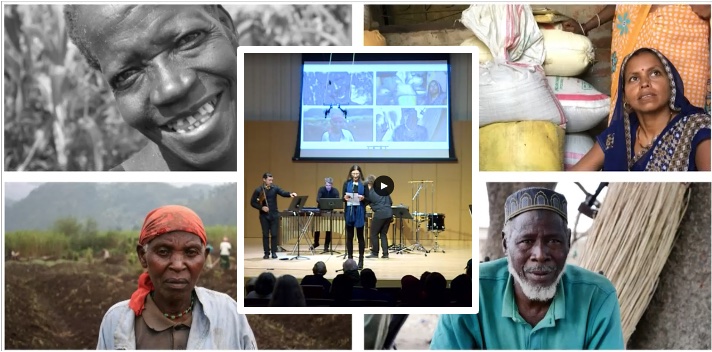 Krista Isaacs recently participated in "Falling Tree Collaborative - Plant Bio/Composition," a visual and musical broader impacts project that brought together scientists, musicians, and a live, sold-out audience at a presentation hosted by College of Music Artist-Faculty & Guest Recital Series sponsored by WKAR during the April 2023 Science Festival (available to view here).
In the hour-long presentation, plant biologists Kadeem Gilbert, Krista Isaacs, Phoebe Zarnetske, and Berkley Walker each present their research interspersed with performances of original musical compositions by Libby Meyer, Lisa Coons, Lyn Goeringer, and Spencer Arias.
While it was a challenge to edit an entire career to 5 minutes, Krista's research story fit well with the "climate change, sustainable food production and general wonder of our shared natural world" theme of the program. In her presentation (which begins at 32:00 in the program), she connects her experiences with the farmers she works with in the world, to musical composition, and the experience of listening.
"It is incredibly validating," Krista says. "Composer Libby Meyer was able to pull out the concept (and title of her piece) 'From a place of listening' from my stories of working in the field. This is very much how I practice science and she reminded me why I do the type of science I do."
The PI on the NSF grant, Berkley Walker in Plant Biology, picked the scientists and composers. The project began with workshops, designed by MSU's Center for Interdisciplinarity, "to help us bridge concepts between science and music, and how they shape meaning and our understanding the world," Krista says.
"I was excited when Krista agreed to participate since she also gives voice to people who are often unheard when it comes to understanding what traits of plants are most important for those that actually grow them," says PI Berkley Walker, assistant professor MSU Plant Research Laboratory/Plant Biology. "I was inspired to combine music and science as a postdoc when I hosted a similar event at the University of Illinois with a friend that was studying composition. It is a nice format because it forces us to learn about some new science and then pause to reflect on it as the music plays. For the grant we re-imagined this event as a way to give voice to the silent processes of plants, or the proverbial tree falling in a forest."
Falling Tree Collaborative - Plant Bio/Composition
Part of the College of Music Artist-Faculty & Guest Recital Series sponsored by WKAR.
This event is streamed by WKAR Public Media, click here to watch this event online.

The Falling Tree Collaborative is a partnership between scientists and composers with the goal to increase scientific literacy through presentation and musical performance. This concert is funded in part by the National Science Foundation (Award Number: 2030337) and the MSU Center for Interdisciplinarity.
Eunice Foster leads successful Africa Engagement Workshops "bringing the world together through agriculture"

Eunice Foster recently hosted a series of workshops designed to introduce students interested in working in Africa to scholars who do. PSM graduate students Fayeann Iobst (Linda Hanson) and Ethan Weinrich (Monique Sakalidis) participated in the workshops.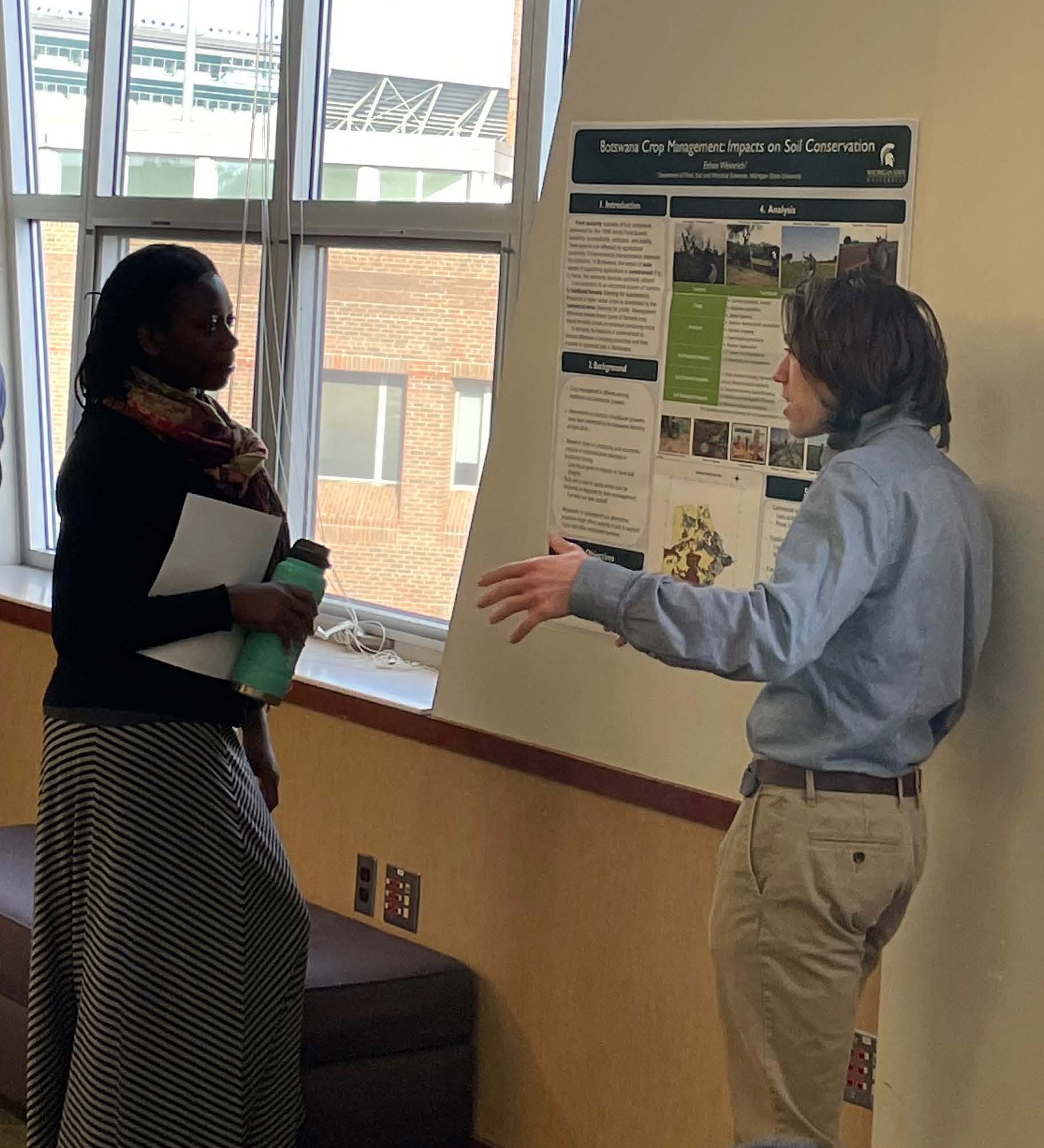 Fayeann Iobst (Linda Hanson)
I was happy to be a part of the program. I met many PhD scholars from various countries in Africa and learnt about their work. I also got to personally interview one of the scholars because she was from the country that I chose to research and gained many insights into her life and the culture. I hope to visit that country and look forward to future collaborations.
I learnt of the beautiful resources and many opportunities that are available for cultural immersion and networking. I was able to share this with my family and they are also interested in visiting South Africa and other countries in Africa. I am thankful that Dr. Foster took the challenge of giving the students at MSU an opportunity to be a part of her cultural growth and research network. It was worth the investment. Thank you.
This was a great opportunity for me to clear my mind of many of the stigmas and misperceptions about Africa and its people. I am eager to visit and get to know other young professionals who are from Africa. My perception of South Africa has been positively transformed.
Ethan Weinrich (Monique Sakalidis)
I got the chance to learn more about farming in a country in Africa that I had very little prior knowledge of. I have experienced some of the agroecosystems in Kenya and Senegal, but I learned entirely new things about how the unique agriculture of Botswana is shaped by history, climate, soils, culture, and socioeconomics. These affect farmers' practices and influence soil conservation measures in cropping systems. I've learned more about some of the challenges farmers face around the world.
Working with the participating AAP scholars, who have insights that are based both on expertise and experiential knowledge, was incredible for guiding my research.
Overall, this has helped me determine how I can benefit from literature and the knowledge of people in my network to characterize an agricultural setting even before getting a chance to travel to another country.
Also, the visiting scholars from Botswana that I collaborated with are Dr. Irene Segopolo and Dr. Pulane Mswela (who is working in this department currently in the Li lab!).
Update from Afar: Greg Bonito, Lisa Tiemann and Francis Trail are all away this semester. Greg and Francis are on sabbatical and Lisa is in Kenya on her Fulbright Award

Frances Trail spent 3 months at the beginning of this year at Texas A and M in the lab of Brian Shaw,
using state-of-the-art confocal microscope and local expertise in microscopy of fungi to unravel some novel structural features of the asci (spore guns, shown in a squash mount of a fruiting body on the screen) from Fusarium graminearum, a devastating pathogen of wheat and barley, and created this lovely image (left). She also took time out to see the great blooms of Texas bluebonnets (right).
During his year-long sabbatical, Gregory Bonito spent some time the lab of Dr. Pilar Junier in the Laboratory of Microbiology at the University of Neuchâtel, Switzerland, to study fungal-bacterial interactions, and their role in biochemical cycling and plant growth. Dr. Bonito has been doing some field work, visiting and advising mushroom growing operations, advising and working with students, and he has presented his research at multiple research institutions. During his time at the University of Neuchâtel, Drs. Bonito and Junier were notified that their collaborative DOE Science Focus Area Project "Bacterial:Fungal Interactions (BFI) and Their Role in Soil Functioning", lead by PI Patrick Chain and his research team at Los Alamos National Laboratory, was funded for another 3 years!
"Fulbright Scholar Lisa Tiemann is also away this semester, working in Kenya with the Chief Executive Committee Member for Agriculture and the Chief Officer and the Deputy Chief of Agriculture in Uasin Gishu county. An article on the County Government of Uasin Gishu Facebook site acknowledges the significance of the work:
"The County Government of Uasin Gishu is focused on creating an environment to support the realization of high and quality agricultural production. "Officials from Michigan State University in the US, are working with the County, to undertake, among others, soil research and analysis.
Speaking while hosting the visiting delegation, County Executive Committee Member for Agriculture, Edward Sawe, praised the collaboration, saying it will spur agricultural production and the findings will also be crucial in advising farmers to spur production and ultimately making profits.
Dr. Lisa Tieman, a soil scientist from Michigan State University (USA), said the soils that were collected from farmers visited back in 2016 indicated high acidity levels, adding that soil samples that are being taken now will be analyzed to understand the changes in the soil chemistry and soil biology (microbiota) and why yields are steady, increasing or declining."
Updates from New Faculty: Jim Moran and Chris Blackwood gear up for great research programs
New Lab and Equipment for Jim Moran


Jim, who joined MSU in August 2022, has begun to move, refresh, and reinvigorate the Stable Isotope Core Facility, which is in the process of moving to the 5th floor of PSSB.
Previously housed in NatSci, the move to PSSB signifies a new phase for the lab—and for Jim.
The transition to new space and new direction will bring new "new capabilities and services, and we will be open for samples from around MSU," said Jim. Some previous equipment will be moved over from the space in NatSci, as well as long-term technician Hasand Gandhi, who has been part of the facility for more than 25 years.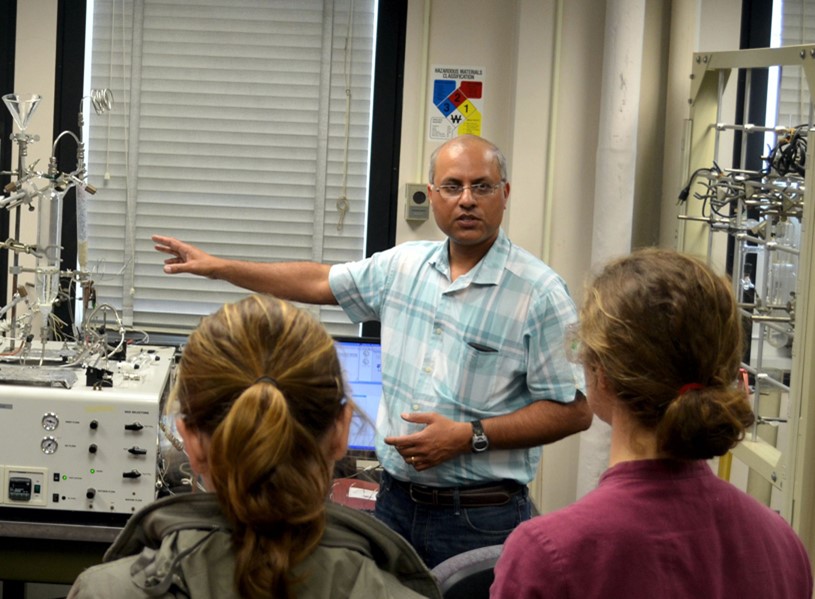 "We have a fledgling website to cover the facility capabilities: Stable Isotope Core Facility" Jim said. "The facility can be beneficial for a wide range of activities at MSU and KBS, as we can use stable isotopes to track (and quantify) processes in ecology, microbiology, plant sciences, soil sciences, chemistry, and more.
" As we modernize the core facility we can increase sample throughput as well as offer additional types of sample analyses, which will benefit some of the other labs on campus," said Jim. "For example we would like to increase the capability to also enable analysis of nitrogen stable isotopes (15N)."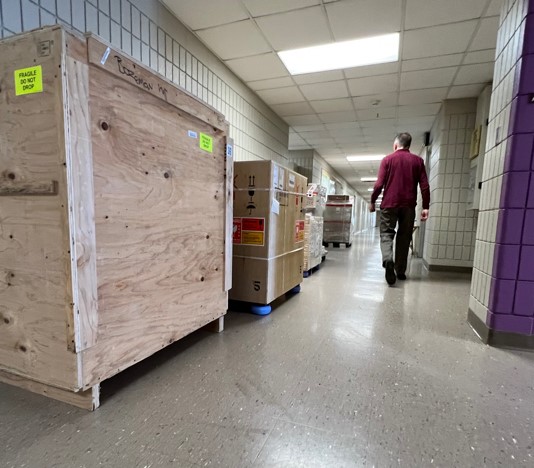 Current Research
Moran's appointment at MSU is 75% Integrative Biology and 25% PSM, and "45% research," Jim said, "so am looking to develop multiple research programs." Most recently, Jim and colleagues have been working with a new tool known as Capillary absorption spectroscopy (CAS), which has potential applications for studying biogeochemical transformation associated with soil microbial processes, plant-microbe interactions and rhizosphere studies. As well, "low power demand and transportability make it suitable for use in the field," Jim said. ***
CAS would be new to MSU and Jim is working toward developing the capability in the new lab. "There is no commercially available system for CAS yet but it would be nice to change that. I am a part of a couple patents using CAS coupled to laser ablation to generate stable isotope data (from my previous work at PNNL)."
Eyes on the future
During his time here, Jim plans to further explore the mechanisms of plasticity, and how that leads to improved plant performance and nutrient acquisition. "In the years ahead what I would like to find out – how can plant roots optimize their nutrient recovery by targeting areas with higher levels of nutrients to "invest" in increased root mass? Do they build more roots in that area? Or do they somehow make roots in a particular area more active?
Originally from Upstate New York, Jim Moran did his PhD work at the Penn State, studying Methanosarcinales biogeochemistry, implication for methane cycling, and continues to use stable isotope studies to explore a number of different environmental systems. Jim joins us from the Pacific Northwest National Laboratory. Jim describes his work in a presentation given at Kellogg Biological Station 21 April 2023 available to view on the MSU MediaSpace.
Chris Blackwood


Over the next few months, Chris's lab will be working on a variety of projects for which they have ongoing NSF funding - as well as finding new field sites in Michigan and getting involved with projects here. Chris presented his current research at a recent seminar, available to view on the MSU MediaSpace.
"One of our major research areas seeks to understand how ecosystem characteristics are shaped by the mycorrhizal fungi that colonize roots of dominant trees. This work is being done in forests in the temperate region in the U.S. - in New York, Ohio, and Indiana. In addition, we are asking similar questions about oak species that are distributed across an elevation gradient in the Talamanca Mountains in Costa Rica. These projects are helping us make predictions about how the species composition and biogeochemistry of forests will change with climate change and other anthropogenic disturbances. For example, we also collaborate with the Cuyahoga Valley National Park in Ohio on a forest restoration project, trying to bring trees back to mines that were stripped of dozens of meters soil decades ago for topsoil and gravel.
Our other major research project addresses how recently diverged species can experience intense and distinct challenges to co-existence when they encounter each other in the wild, potentially resulting in ongoing evolutionary mechanisms and also limiting geographic distributions. We are investigating this in 24 North American species in the genus Lobelia across their native range. There will be several thousand miles of traveling in our future this year to fill in sampling gaps!
I will be teaching, but I'm still developing courses for the Michigan State University student body. At Kent State I regularly taught the courses General Microbiology and Soil Biology to juniors and seniors, as well as a graduate class in Ecosystem Ecology. I also co-led the Environmental Science and Design Research Institute since its founding in 2017, which allowed me to support a broad spectrum of work on environmental issues and interact with people having many diverse perspectives. As one of many activities associated with this institute, I co-taught a class in Biodesign along with faculty from Architecture and Fashion. We brought two student teams to the International Biodesign Challenge, one of which won the Outstanding Science Award. Along this vein, I have also been the guest scientist in KSU courses in Poetry, Digital Media, Urban Landscape Design, and Environmental Studies."