Reflections on the World Food Prize (Part I): No contribution is too small
Twelve BHEARD scholars traveled to Des Moines, Iowa, on Oct. 13-15 for the World Food Prize symposium. The spirit of Dr. Norman Borlaug inspired each of them to share their thoughts on how best to end world hunger.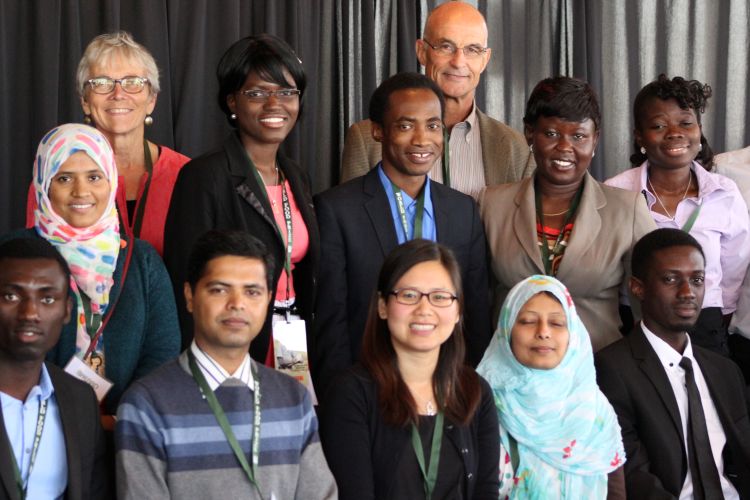 BHEARD scholars and their program co-directors gather for a group photo at the World Food Prize in Des Moines, Iowa. Pictured here are (front row, from left) Emmanuel Kyereh, Mynul Islam, Thany Hour, Shamsunnaher and Nana Baah Peprah-Ameyaw; (top row, from left) Ferdous E-Elahi, Anne Schneller, Mary Adjepong, Clement Kubuga, Fred Derksen, Gifty Sienso and Regina Enninful.
Twelve BHEARD scholars traveled to Des Moines, Iowa, on Oct. 13-15 for the World Food Prize symposium. The spirit of Dr. Norman Borlaug inspired each of them to share their thoughts on how best to end world hunger. Here is the first installment of reflections.
Edwin Siyame, North Carolina State University: During my time at the World Food Prize conference I was greatly inspired by how people can make a difference in the fight against hunger: if you are dedicated (to fight hunger), you can make a difference.
The event refocused my goal to contribute to food security using my research in a way that when I go home, I will make sure to apply the knowledge and skills obtained in my studies to contribute to reduction of hunger in Malawi. It was inspiring to interact with the former Head of State, Her Excellency Joyce Banda, and learn how she has greatly contributed to poverty reduction in Malawi and beyond.
I was also inspired by how Sir Fazle Hasan Abed – the 2015 World Food Prize Laureate – started his organization in Bangladesh (BRAC, formerly known as Bangladesh Rural Advancement Committee) and how much impact he has made. It started on a small basis but it has grown to be one of the world's largest organizations dedicated to fight hunger.
To me this shows that a journey of a thousand miles starts with one step! I will never underestimate my work and effort in helping to reduce poverty.
I personally would like to thank the University of California-Davis and Michigan State University for arranging this important event. It is my prayer that more resources will be allocated for Borlaug fellows to attend this event in the future. I'm sure they will develop a new perspective on how to contribute to worldwide food security.
*****
Mary Adjepong, Michigan State University: It was a great privilege and source of inspiration for me this past week to meet scientists and scholars from all over the world at the World Food Prize, mainly because there are very few scientific publications in my home country of Ghana.
My experiences as a Ph.D. student at Michigan State University have taught me to undertake projects that are worthy of publishing in reputable journals. However, it's also important to follow the words of Ambassador Kenneth Quinn, president of The World Food Prize Foundation, and the inspiration of Dr. Borlaug: "We should take new ideas directly to farmers and judge our work not by learned publications but by impact in the farmer's field."
I have been greatly inspired by this statement knowing that if my research had no field application nor impact on human lives, then the value of published papers would be worthless. Therefore, I have pledged to make sure every research I undertake will have various applications in the field and will influence human lives.
Mentoring young women in science and technology courses has always been my passion. By setting and achieving goals, I have gained a broader perspective on how much I can help others. This is very important to me because empowering women is one great step to solving the hunger issues in the world.
This event has affected me personally as I saw firsthand the challenge ahead to eliminate hunger from the world. As much as it is a global issue, it is also my personal responsibility to make this world a better place through sacrifices. Sir Fazle Hasan Abed – the 2015 World Food Prize Laureate – sacrificed his job to solve a problem in his immediate world, which alone is worth emulating.
"Food is a moral right," said Dr. Borlaug.
Hence, my quest to be a hunger fighter has just begun. I know my project is going to take a dynamic turn as implementation of my project to help Ghanaians is highest on my priority list.
*****
Mynul Islam, Ohio State University (photo at right): I was excited to learn that BHEARD selected me to participate in the 2015 World Food Prize, a prestigious event and great opportunity to meet the leaders of different agricultural sectors. The anticipation continued to build while traveling from the Des Moines airport to the hotel when I noticed the billboards and posters of Dr. Borlaug and the World Food Prize, as well as the many decorations welcoming all of the participants.
The Borlaug Dialogue on Oct. 14 featured many discussions and individual presentations from agricultural leaders, policy-makers, politicians, growers, ICT professionals and entrepreneurs. All of them presented their activities, success stories and future plans for food security, gender equity, job creation, environmental protection and education. These presentations, in particular, changed my thinking, ideology and views of life. I realized that life is not only for personal development but also for improving the welfare of all human beings.
At the awards ceremony (Oct. 15) the state Capitol became a center of thousand stars featuring the food prize laureates, lawmakers, students, fellows from all over the world and family members of Dr. Borlaug.
A documentary on Sir Fazle Hasan Abed's activities and his organization (Bangladesh Rural Advancement Committee) was displayed. It revealed a unique example of working for humanity, poverty alleviation, women in education, job creation, nutrition, agriculture and food security. Fazle Hasan Abed has dedicated his life's work to people all over the world.
Dr. Borlaug is no longer with us but his thinking, works and philosophy have made a lasting impression on the next generation of leaders. His dream of a poverty-free world should be foremost on our list of things to accomplish.
Now is our time to share rewards with the most oppressed, deprived and hungry people worldwide.
*****
Ferdous-E Elahi, Ohio State University: I was very pleased to be able to participate in the 2015 World Food Prize because I had the opportunity to meet with many professionals, scientists, social workers and representatives of different international organizations. As a Bangladeshi, it was most gratifying to meet and congratulate Sir Fazle Hasan Abed in person.
Bangladesh is a country where both manmade and natural disasters affect the economy often, but we still hope for a better future. Attending the WFP has made me more confident, proud and inspired to do better research for my home country, especially in the areas of sustainable agriculture and plant disease diagnosis.
Since USAID is also working to ensure food security in Bangladesh – providing high-quality agricultural inputs, post-harvest infrastructure development, etc. – I am optimistic that together we can provide safe, sufficient and nutritious food to 9 billion people by 2050.
*****
Gifty Sienso, Texas Tech University: As Saint Augustine once wrote, "The world is a book and he who doesn't travel only reads one page." I must admit that traveling to the WFP symposium not only gave me the opportunity to read the entire book but I also shared, listened and learned so much from both the scientific community and the business world.
However, one thing that personally affected me the most was this paraphrase from one of the speakers who said "no one single person can free the world from hunger and poverty." Though I've heard the quote before, this time it led me to wonder about my role in the fight against poverty and hunger.
I have personally felt as a Ghanaian that the problems in my country are so overwhelming that my little contribution will not make any difference. Yet, after listening to others at the symposium – especially the story of this year's world Laureate Sir Fazle Hasan Abed – I learned that no contribution is too small.
I have learned to stop thinking that my contribution is like dropping a pebble in the sea where it will never be seen. If we all drop pebbles in the sea, they will be seen. I'm confident that when I return to my home country and institution (as will every other BHEARD scholar), I will carry the dream of Dr. Norman Borlaug and transform the society around me.