Why and how to report sightings of brown marmorated stink bugs in your home or business
September 2017 update on why and how to report sightings of brown marmorated stink bugs to the Midwest Invasive Species Information Network.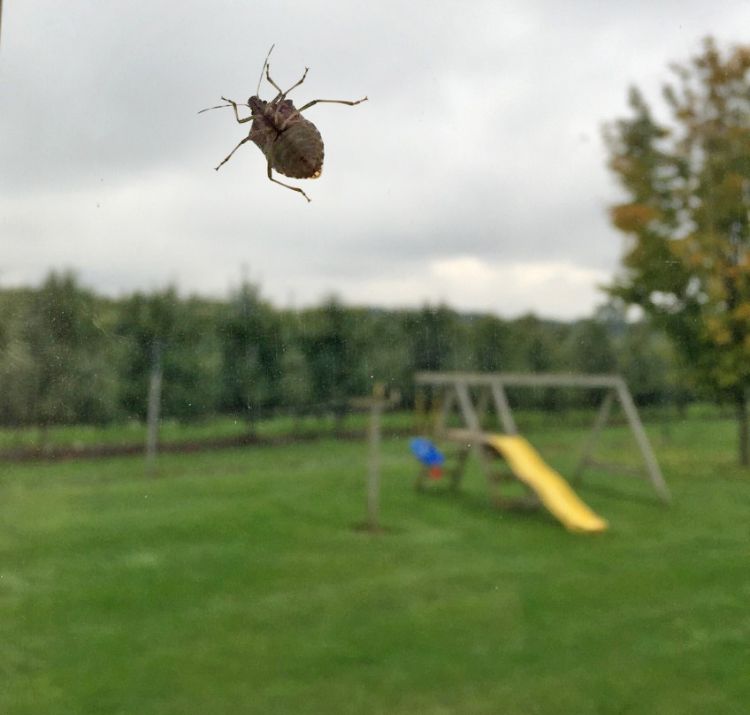 When we first published this article in September 2015, we knew very little about where the brown marmorated stink bug (BMSB) would be found in Michigan. Now, thanks to the eager reporting by many hundreds of people who saw that first article, we now know it is well-established across most of the southern half of the Lower Peninsula (see map below). If you live outside of this area, especially in the northern half of the Lower Peninsula or in the Upper Peninsula, and would like to submit a report, please follow the instructions below. Otherwise, please check out the resources at the end of this article for more information on what BMSB is, what it is doing in homes and what to do about it.
What is the brown marmorated stink bug (BMSB)?
The brown marmorated stink bug (BMSB) is a 0.5- by 0.625-inch shield-shaped insect that uses its piercing mouthparts to suck plant juices from fruits, seed pods and nuts on a wide variety of wild and cultivated plants. It was accidentally brought to North America from Asia sometime before 1996 and was first detected in Michigan in 2010. Also known by its scientific name, Halyomorpha halys, BMSB adults and nymphs – the immature stages of the bug – feed on a number of important fruit, vegetable and ornamental crops. Where it has been established for some time, it is now a major pest for growers of susceptible crops.
Part of the pattern of establishment by this pest is that it starts out as a nuisance pest in homes and businesses and then a few years later it becomes an important agricultural pest for neighboring growers. At this time of year in their native habitat, BMSB would normally look for shelter in south facing rocky outcroppings and other protected areas. The perfect surrogate turns out to be south-facing walls of man-made structures. It is important to note that BMSB do not bite humans or their pets – they are strictly plant-feeding insects. Also, they do not nest or reproduce in homes, they are simply finding a place to take shelter from the cold and will atempt to find their way out again when spring returns.
For information on how to prevent or get rid of this pest in your home, plus how to distinguish it from other common insects that are occasional home invaders, see this tip sheet from Michigan State University Extension: "The Brown Marmorated Stink Bug (BMSB): Information for Michigan Residents on a New Home Invader."
Who should report seeing BMSB?
If you or someone you know has seen this pest in or on the outside of your home or place of business, and you are outside of the area in which we now know it is well-established in Michigan (see map below), we want to hear from you! Go to the Midwest Invasive Species Information Network (MISIN) website or mobile app, register as a user (it's free) and follow the instructions for submitting a report. A few minutes of your time can be incredibly helpful in officially cataloging and tracking this invasive pest.
The MISIN website and the app are free to use – you simply register and log in, verify you do indeed have BMSB (by either comparing the bug or bugs you see with the photo in this article, by looking at the Species Factsheet provided by MISIN for BMSB or downloading the new tip sheet on brown marmorated stink bugs for homeowners), and then report the sighting or sightings. Users can also submit up to two images with every report if they are uncertain as to whether what they are seeing is BMSB. By reporting sightings of this pest, you will be helping growers in your area prepare for this pest by identifying potential new hotspots.
If you have trouble registering with MISIN and would like to report a sighting, email Julianna Wilson at jkwilson@msu.edu with your name, address (or nearest crossroads), the date you saw them and how many you have seen. Again, if you have already reported from a particular address or live within the area where we know BMSB is well-established (see map below), we do not need to hear from you. Thank you!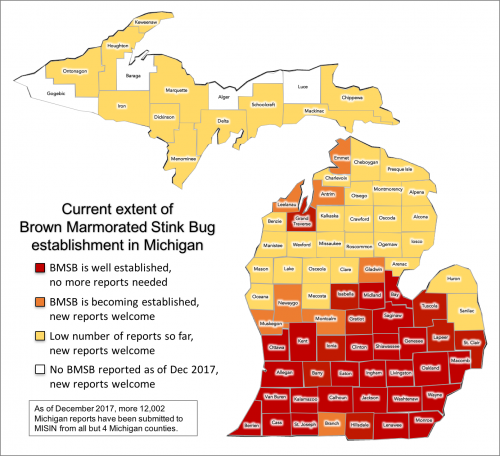 Where to find more information about BMSB