Rwandan scholar studies mycotoxins in animal feed
In tropical countries like Rwanda, mycotoxins are not well known or understood, which puts people at risk if they consume contaminated crops.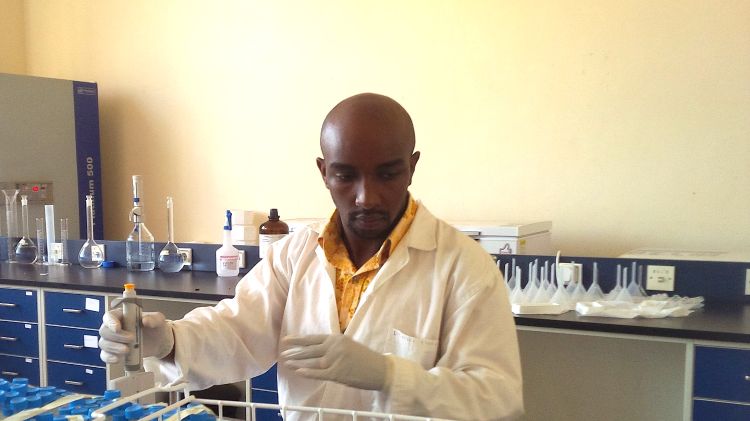 Mycotoxins are harmful toxins produced by molds. Some of them, like aflatoxins and fumonisins, are associated with certain cancers in humans. They also have a variety of negative impacts on animal health and productivity.
In tropical countries like Rwanda, mycotoxins are not well known or understood, which puts people at risk if they consume contaminated crops. Mycotoxins are also considered an economic barrier, because contamination levels in food and feedstuffs can lead to rejection in international markets.
The research of Kizito Nishimwe, a scholar with the Borlaug Higher Education for Agricultural Research and Development (BHEARD) program, is focused on the mitigation of mycotoxins and the development of management strategies for Rwanda and other tropical countries.
The goal of BHEARD, supported by the U.S. Agency for International Development, is to develop agricultural scientists and increase agricultural research capacity in partner countries. The program is named after Dr. Norman Borlaug, an American biologist, humanitarian and Nobel laureate who has been called "the father of the Green Revolution."
Nishimwe is a graduate student in Iowa State University's (ISU) Food Science Department. He expects to earn a Ph.D. in toxicology by August 2020. Back home, he's a lecturer at the University of Rwanda's School of Food Science and Technology. He said the skills he gains during his Ph.D. studies will contribute to the improvement of food safety in Rwanda – mainly via mycotoxin mitigation in the food value chain.
Nishimwe and ISU professor Dirk Maier recently secured a one-year grant from the Feed the Future Innovation Lab for Livestock Systems, with the aim of assessing aflatoxins and fumonisins in Rwandan animal feeds. Their overall hypothesis is that the development of more comprehensive and current data on mycotoxin contamination in crops and animal feeds will raise awareness of the issue among professionals and policy makers, and will inform the mitigation and control decisions they make. Having accurate data at hand also could boost Rwanda's position in the international commodity and foodstuffs trade.
Nishimwe and Maier's project has a few major goals: quantify aflatoxin and fumonisin levels in animal feeds at different points in the value chain in five different Rwandan agro-ecological zones; establish a surveillance and early detection system; raise awareness of aflatoxin and fumonisin contamination and prevention among stakeholders in the value chain; and provide input toward policies that attempt to mitigate aflatoxin and fumonisin contamination.
Though still in its early stages, the project has developed a few recommendations for Rwandan farmers seeking to prevent mycotoxins in their animal feeds:
Store maize and animal feeds under dry conditions.
Don't allow family to eat moldy maize, groundnuts or products made from them.
Don't feed cows, pigs or chickens moldy maize or groundnuts or spoiled feeds.
– Matt Milkovich