SepticSmart Week core messages
Sept. 18-22, 2017 marks the fifth annual SepticSmart week, sponsored by the U. S. Environmental Protection Agency (EPA).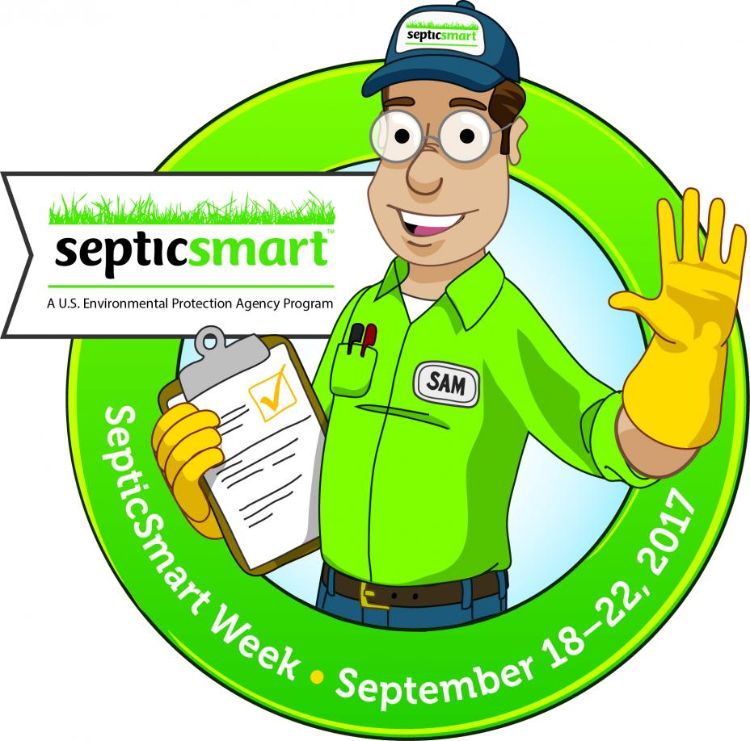 There are over 60 million people (one in five households) throughout the U.S. that are served by onsite wastewater treatment systems, also known as septic systems. That number includes over 1.2 million septic systems in Michigan alone. While septic systems used to be considered temporary – installed for use until the sewer lines were installed – that is not the case today. Septic systems are installed knowing that they will be the only wastewater treatment option for the home or business for the foreseeable future.
According to the Environmental Protection Agency (EPA), "Septic systems that are properly planned, designed, sited, installed, operated and maintained can provide excellent wastewater treatment. However, systems that are sited in densities that exceed the treatment capacity of regional soils and systems that are poorly designed, installed, operated or maintained can cause problems."
Problems that may occur as a result of a malfunctioning septic system include the release of disease-causing pathogen or nitrate contamination of surface waters. Excessive nitrogen discharges into local coastal waters can result in increased algal growth and reduced oxygen level in local waterways and lakes.
In 2013, the EPA designated the last week of September annually as SepticSmart Week to focus "on educating homeowners and communities on the proper care and maintenance of their septic system."
SepticSmart Week is promoting the following five core messages this year:
Think at the Sink: Avoid pouring fats, grease, oil and solids down the drain which can clog the drain field and cause system malfunction.
Don't Overload the Commode: Do not use the toilet as trash can. Only put things in the toilet that belong there. Items such as cigarette butts, disposable wipes and diapers, dental floss should not go down the drain.
Don't Strain Your Drain: Use water efficiently and sparingly. Stagger use of water-based appliances to avoid system overload and incomplete separation in the tank.
Shield Your Field: Avoid driving over drain field to prevent compaction of the soil and planting trees and shrubs near the field to reduce root intrusion into the field pipes.
Test Your Drinking Water Well: Test your well water annually to make sure your water supply is not being impacted by a malfunctioning septic system. Contact your County Health Departments for more information.
As part of Michigan State University Extension outreach, MSU Extension offers local Septic System and Well Use and Maintenance Workshops. Upcoming programs are scheduled for Thursday, Sept. 28, 2017 at the Washington Township offices, 59700 Van Dyke, Washington Township and on Thursday, Oct. 12, 2107 at the Richmond Township Offices, 34900 School Section Rd., Richmond Twp. Both program are from 6 to 8:30 p.m. To register for either program, click this link.
MSU Extension also has a recorded septic education webinar, Insight into Your Onsite System, along with other educational resources available to view on their Septic Education program page.
For more information on any of these programs, email gibb@anr.msu.edu or call 586-469-6440.