Forestry Graduate Student Spotlight – Shivan Gc
Shivan Gc, Ph.D. Candidate, is interested is the economics and decision making processes of natural resource management using economic models and social theories.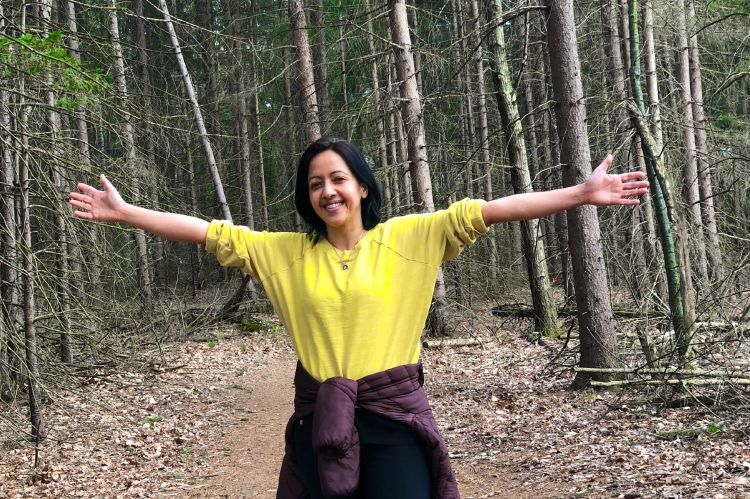 Hometown: I am a native of Kathmandu, Nepal (a small landlocked country situated in between India and China).
Degree in progress: Candidate in dual doctorate degrees: Forestry Ph.D. through the College of Agriculture and Natural Resources; Environmental Science and Policy Ph.D. through College of Social Science.
Expected graduation date (optional): Fall 2021
What is your research focus?
My primary research interest is the economics of natural resource management. I am interested to learn about decision making processes regarding natural resources with the application of economic models and social theories.
My Ph.D. thesis focuses on the logging sector in the Lake States region of Michigan, Minnesota, and Wisconsin. The logging sector is responsible for connecting forest resources with the forest products industry and loggers are the primary implementers of silvicultural prescriptions on the ground.
A competent logging sector is, therefore, crucial for smooth functioning of forest products industry and for sustainable forest management. However, the logging sector literature suggests that the industry is facing many difficulties to survive and sustain in current times. I am therefore, interested to understand the status of logging businesses, the challenges and opportunities they face, and to explore what lies in the future for this industry. This is what I intend to understand and uncover through my ongoing Ph.D. research.
What inspired your interest in pursuing a Ph.D. in forestry?
As an undergraduate forestry student in my home country Nepal, I had an opportunity to witness and understand the profound impact that a community forestry program had on restoring degraded forestlands and improving the livelihoods of rural communities in Nepal.
This made me appreciate the importance of forest management, for both the conservation of natural resources, and for meeting peoples' demand for forest products. I was thus, motivated to further my education in the field of natural resource management with an emphasis on forest economics and the policy aspect of it.
Why did you choose to study at MSU?
I chose MSU to pursue my Ph.D. degree as it offers a wide range of programs in addition to forestry that are of interest to me. Besides my chosen field of study, I wanted to develop knowledge and skill sets about other relevant disciplines so that I can appreciate and work on interdisciplinary projects and collaborate with people that have different perspectives than me.
Since MSU is a melting pot with students from all over the world who bring with them their unique backgrounds, life experiences and worldviews, it provides a wonderful opportunity for anyone to learn and grow.
What has been one of your best experiences within graduate school so far?
One of my best experiences within graduate school has been the opportunity to collaborate and learn with diverse group of students from different backgrounds and disciplines.
What do you want others to know about this program?
I want others to know that there are many possibilities in the program to carve out our own path based on our interest. Forestry offers opportunities ranging from ecological studies to social science and economics, GIS and applied statistics. You just have to figure out what you are interested in and motivated to learn about.
What are some of the best things about being an MSU student?
For me, one of the best things about being an MSU student is the opportunity I got to learn from many different experts in different departments across campus. These include forestry; agriculture, food and resource economics; social science; community sustainability; and environmental science and policy program.
Besides that, on a personal level, I got to make friends from different parts of the world and learn about their cultures. All this experience has broadened my horizon and helped me grow as a person.
Any thoughts or advice for current students?
As you all may already know, MSU offers many resources and avenues, so explore, and utilize them. Use your time on campus wisely to grow both academically and personally. But do not forget to take a break and enjoy life. After all, this is the only life we have.
What are your future plans?
After completion of my Ph.D. degree, I intend to seek a career as a research scientist in an academic institution or elsewhere where I can apply the concepts of economics for sustainable management of forest resources and for the betterment of local, regional, and national economies.