Sixth 4-H Mentoring Weekend a huge success
The sixth annual 4-H Mentoring Weekend took place at Kettunen Center from July 19 to 21, 2013. Read all the details here.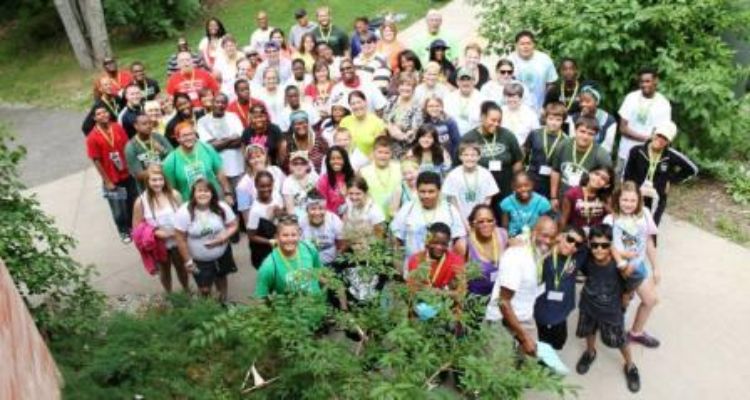 The sixth annual 4-H Mentoring Weekend took place at Kettunen Center from July 19 to 21, 2013. More than 90 participants enjoyed a weekend of both educational and silly fun. 4-H Mentoring Weekend is a multifocused event aimed at strengthening the Michigan's youth-mentoring community. The theme for this year's 4-H Mentoring Weekend was "Making Cents of Life." During this camp-style weekend, mentors and mentees from around the state engaged in activities focused on financial literacy as well as outdoor recreation, conservation education, science literacy, service learning and healthy living, while further developing their relationship as a mentoring match. In addition to exposing matches to fun and educational activities they can do together, the event builds the skills of mentors through training while also developing vital assets in youth including confidence, belonging, service to others and cultural competency.
After settling into their accommodations upon arrival on Friday night, matches participated in an opening activity featuring a scavenger hunt where
they completed "Price is Right" style games teaching them fiscal responsibility and allowing them to experience real-life pricing dilemmas. On Saturday morning, youth began "Mad City Money," a simulation where each young person chooses a profession and learns about making the financial choices associated with adulthood. During this time, their mentors enjoyed activities from the Ready to Go: Mentor Training Toolkit, a recently published curriculum from Michigan 4-H Youth Development. Other activities offered during the day on Saturday for matches to participate in included archery, canoeing, Tech X-cite, polymer clay crafts, friendship bracelet making, kickball and fishing. Saturday evening's carnival featured a variety of activities including karaoke, Wii dancing, a photo booth, smoothie making, a service project and a campfire. On Sunday, the event concluded with the ending of "Mad City Money" where youth visited with various venders selling cars, groceries, childcare, luxury items, clothing and home goods. Youth participants shared that they learned valuable lessons about making choices first based on necessity rather than desire, while their mentors agreed the lessons were valuable and planned to continue to build life skills associated with financial literacy and fiscal responsibility.
While many of the matches who attended 4-H Mentoring Weekend were first-time attendees, several more have attended nearly every year. A six-year youth participant shared, "Even though I am
graduating from high school and heading off to college this year, I hope to come back next year as a volunteer." One mentor who has attended for five years said, "This is an event that we look forward to every year. As long as you keep having it, we will keep coming back!" Senior 4-H Mentoring Specialist Lisa Bottomley shared, "4-H Mentoring Weekend is an event that not only strengthens the bond between a young person and his or her mentor, but also provides mentors and mentored youth with a community of peers who share their experiences. This community is spread across Michigan from as far north as Luce County and as far south as Wayne County and includes not only 4-H mentoring participants but also matches from our partner programs." 4-H Mentoring Weekend takes place annually at Kettunen Center on the third weekend of July. The theme for 2014 will be celebrating diverse cultures. See a video created by this year's 4-H Mentoring Weekend Press Corps on YouTube. Pictures from the event can be found on Michigan 4-H Youth Mentoring's Facebook page.