South Campus Animal Farms receive gift from Burnips Equipment
Burnips Equipment donated the use of a silage chopper for MSU South Campus Animal Farms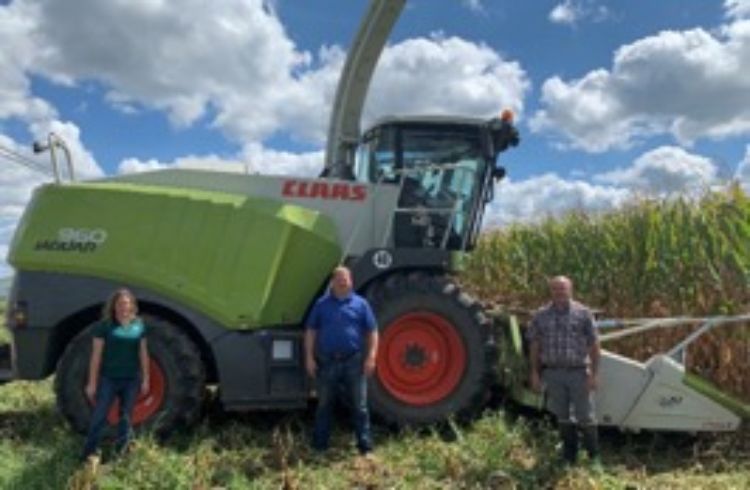 The Michigan State University (MSU) South Campus Animal Farms received a gift of the use of a silage chopper from Burnips Equipment to harvest this year's corn silage.
The silage chopper will provide high quality feed for the university's dairy farm, harvested at a more rapid rate than what can be done with MSU's own equipment. A chopper is a large piece of harvesting equipment that cuts down corn stalks and chops them into small pieces. The whole corn plant is then put into storage, anaerobically fermented and fed to the cows over the next year.
Craig Vanderkolk, owner of Burnips Equipment, has a long-standing relationship with the new MSU Dairy Farm Manager, Jim Good. Good reached out to Vanderkolk asking for his expertise in identifying ways that the farm can harvest better feed. Vanderkolk saw a need for faster equipment and wanted to help.
"I came out to give MSU suggestions on improving its current silage harvesting equipment and knew there was a better way than sinking money into old equipment," he said. "I figured I would need to put my money where my mouth is to get it done."
And, the farms benefit all around.
"Partnerships fostered between MSU and companies allow our students to see all sides of the relationships," said Faith Cullens, director of the South Campus Animal Farms. "Donations like these enrich our research by improving feed quality and enhance students' education by giving them real world applications, such as teaching the importance of proper feed harvesting and allow for the students to see high tech equipment that they will use in their future careers."
Vanderkolk, who comes from a long line of Spartans, said he hopes others will step up to leverage their expertise and provide opportunities for the MSU farms.
"To me, the first land grant university should be the very best," he said.