Southeast Michigan vegetable update – July 10, 2019
The weather has taken a turn towards hot and dry.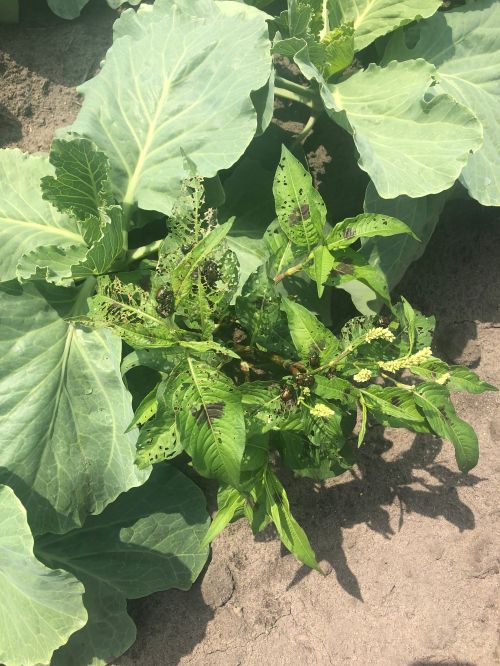 Weather
Last weekend saw isolated heavy rain in the southernmost areas of our region. The heat is pushing all kinds of crops along. The high humidity and high nighttime temperatures we had are somewhat unusual. The next 24 hours bring a chance of scattered precipitation, which models are suggesting are the best shot at rain we have for the next week. Early next week will likely see the return of hot temperatures and high dew points.
The table below shows rainfall totals for the stations in southeast Michigan, as well as degree-days calculated using the Baskerville-Emin Method. Averages for Commerce and Hudson are over five years, while Deerfield is over three years. Rainfall is in inches, with number in parenthesis indicating rainfall since the last report. For a refresher on degree-days and how to get this information in your area, see "Accessing growing degree days with Enviro-weather" from Michigan State University Extension.
Rainfall and degree day totals as of July 10

Station

Degree days (base 42)

Degree days (base 50)

5-year degree day average (base 50)

Rainfall since April 1

Commerce

1,647

1,004

1,120.5

13.1 (+0.07)

Deerfield

1,830

1,139

1356

14.78 (+1.19)

Hudson

1,700

1,046

1,219.3

12.29 (+0.34)
General notes
This season's wet spring led many crops to have shallow root systems. The reason for this is two-fold. One, plants didn't need deep roots to find water. Second, plant roots won't grow into the water table, and in some areas the water table was high for a long time this spring. Now that we have hot and dry conditions, it is hard for plants to keep up, especially on sandy soils. Wilting in the heat of the day is the most obvious symptom, especially in crops with large leaves, such as pumpkins. They should recover by the next morning, and if they haven't, take a closer look at the crown for boring insects or disease.
Another consideration of these shallow root systems comes when cultivating. Weed control has been a real challenge this year and we've reached the point in the season where pre-emergent herbicides used in May are gone. Depending on the crop and production system, cultivation is the main weed control tool available. Cultivation should be kept shallow to preserve the roots of crops. For products, check the Weed Control Guide for Vegetable Crops.
MSU has collected all of its articles, videos, podcasts and fact sheets related to this year's wet weather and delayed planting in one place. See the Delayed Planting Resources webpage for information on dealing with this challenging year.
Crop reports
Harvest of all cole crops continues, and the end of planting fall crops is nearing. Pest pressure varies. On organic farms, aphid colonies are becoming established and some of the season's first cabbage loopers have been spotted. I've seen alternaria sporadically in some fields. On broccoli, I've seen the presence of tarnished plant bug, whose feeding can cause shriveled brown areas in the head.
For cucumbers, cantaloupes and watermelons, downy mildew spores have been detected in west Michigan. There are still no reports of infected plants in Ontario or any Great Lakes States, but the weather has been extremely favorable for disease development. At this stage, these crops would be well served by a broad-spectrum protectant fungicide, such as Bravo (or another chlorothanil product), Zing! or Gavel.
Once downy is confirmed in the state and in our region, adding downy mildew specific products mixed with broad-spectrum fungicides will increase control. Downy mildew-specific fungicides that have consistently performed well in Michigan are Elumin SC, Oronodis Opti SC, Ranman SC and Zampro SC. Downy mildew is a disease that evolves resistance quickly, so make sure to rotate products by FRAC code within your downy mildew program. For more information see "Vegetable disease alert: Act now to protect cucumbers and onions."
Garlic harvest is approaching on some farms. The time plants are pulled impacts quality, pull when 50-80% of the leaves have browned for higher garlic quality,
Pepper plants have put on some vegetative growth. Plantings on black plastic are almost ready for picking to start. In bare ground production, some fields are starting to set their first flowers. Once flowering occurs, the plant doesn't divert as much energy to vegetative growth. This can be a problem, as in many plantings the plants are still quite small. Removing these flowers, either physically in small plantings or by adding nitrogen in larger plantings, will help the plants grow to a better size before fruit sets.
Squash, pumpkin and cantaloupe growers are starting to control for powdery mildew. This disease doesn't require leaf wetness to spread, so this disease can be moving through the area even as conditions are and continue to be dry. When putting together a program, it is important to know the FRAC codes of the products you are using. Powdery mildew is resistant to some FRAC codes and rotating between FRAC codes will prevent new resistances from emerging. In the Midwest, resistance to fungicides in FRAC code 1 and 11 have been detected, which impacts the efficacy of products including Cabrio, Flint, Quadris, Satori, Sovran and Topsin. See the table below for products recommended in the Midwest.
Product name, active ingredient, and FRAC code of powdery mildew fungicides. Check label for rates, as it varies by crop. The following information is from the Midwest Vegetable Production Guide and Purdue University.

Product

Active ingredient

FRAC

Aprovia Top

Benzovindiflupyr, Difenoconazole

7, 3

Fontelis

Penthiopyrad

7

Inspire Super

Difenoconazole, Cyprodinil

9, 3

Luna Experience

Fluopyram, Tebuconazole

7, 3

Luna Sensation

Flluopyram, Trifloxystrobin

7, 11

Miravis Prime

Fludioxonil, Pydiflumetofen

7, 12

Microthiol Disperss

Sulfur

M2

Merivon

Fluxapyroxad, Pyraclostrobin

7, 11

Procure

Triflumizole

3

Quintec

Quinoxyfen

13

Rally

Myclobutanil

3

Torino

Cyflufenamid

U6

Velum Prime

Fluopyram

7

Vivando

Metrafenone

50

Tenuconazole formulations

Tebuconazole

3
Early sweet corn has silks are browning. The weather pattern we are entering isn't particularly conducive for corn earworm movement. This is typically the time of year when western bean cutworm becomes active. I have placed traps for both these pests and will begin reporting on catches next week.
Reach out
Contact me at schuhmar@msu.edu or 517-264-5309 with to schedule a farm visit or ask a question.
Meetings
On July 24 from 6-8 p.m. there will be a program on propagation at the MSU Extension Washtenaw County office. For more information, visit the Propagation of Plants by Cuttings event page.
Start making travel arrangements, the 2019 Great Lakes Fruit, Vegetable, and Farm Market EXPO is scheduled for Dec. 10-12 in Grand Rapids, Michigan. We have great speakers coming in from across the country to address the production, labor and marketing issues affecting Michigan vegetable growers.